How to Throw and Epic Outdoor Movie night
How to host an outdoor movie night at home this summer. A fun and easy way to create your own blockbuster event in your own backyard.
During the summer one of our favorite things to do is to set up an outdoor movie night. There is something so magical about watching a movie under the stars!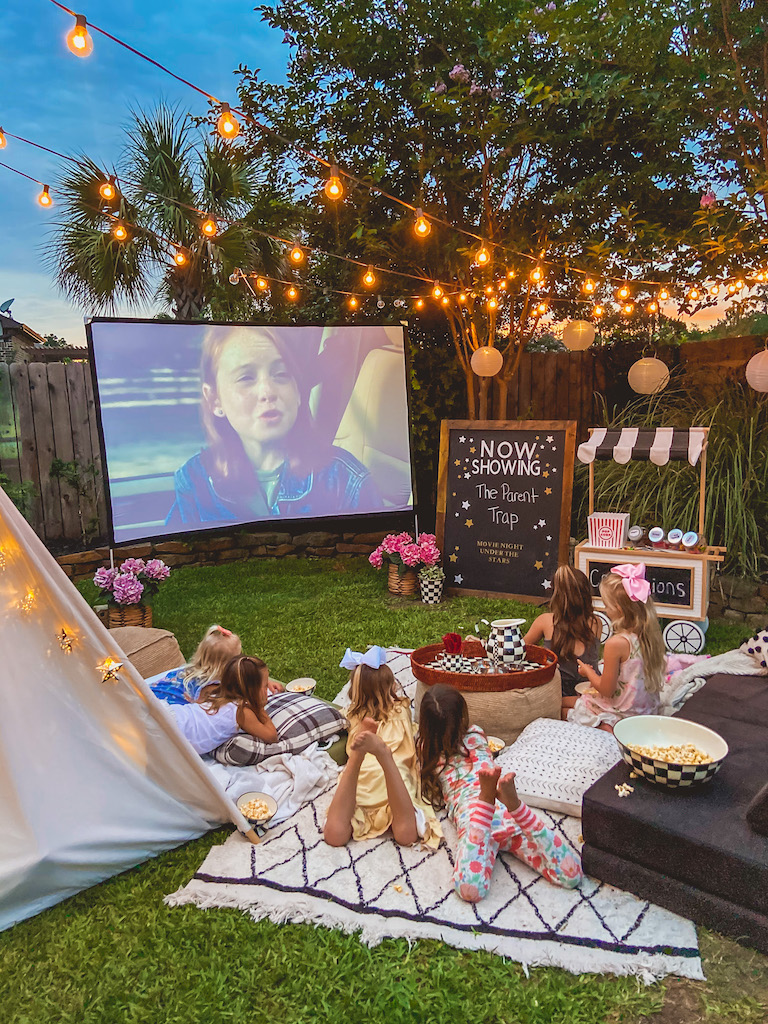 The Essentials for an Outdoor Movie Night
Setting up and outdoor movie night doesn't have to be hard! All you need are a few essentials; a projector, screen and a way to stream movies. I linked below all the products we use on our movie nights for your shopping convenience.
The projector is one of the most important items you need. I would suggest investing in a middle grade projector, this one from amazon has never let us down! It also has really great reviews which is why we purchased it in the first place.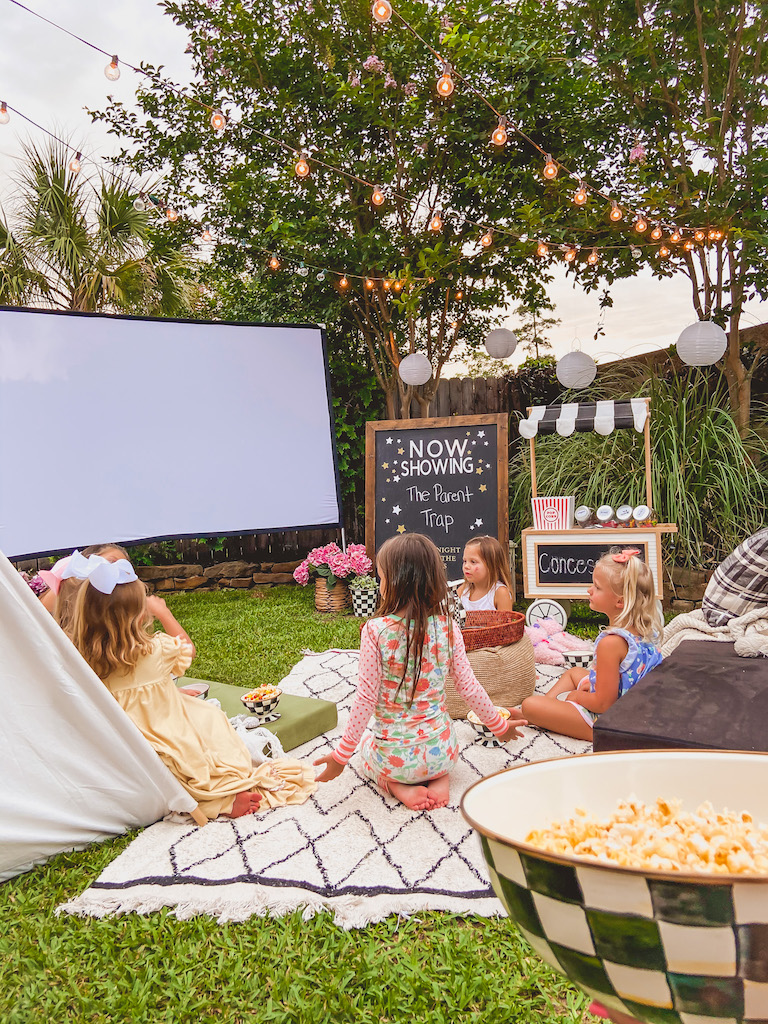 The movie screen is a new investment this year. We used to use a white sheet but it was such a hassle to set up. The projector screen is easy to set up within a few minutes and really makes a big difference in the quality of the projection. It also comes with a handy carrying case so you can easily take it anywhere.
Streaming Device- To be able to stream any movie you have to be able to hook your projector up to either a computer or a streaming device such as an Amazon FireStick, Apple TV or Roku. We use the Roku Soundbar not only because it is easy to stream all our favorite movies but also because it helps amplify the sounds.

The Set Up
My favorite part about these movie nights is setting up! I love to take a blank and empty space and make it magical!!! Twinkle lights are always a great option for a cozy night event. I hung these outdoor string lights from the trees to our pergola.
The outdoor solar lanterns are also a cute little touch. I hang them from our trees ever summer and love how they add an extra cozy ambiance to the backyard.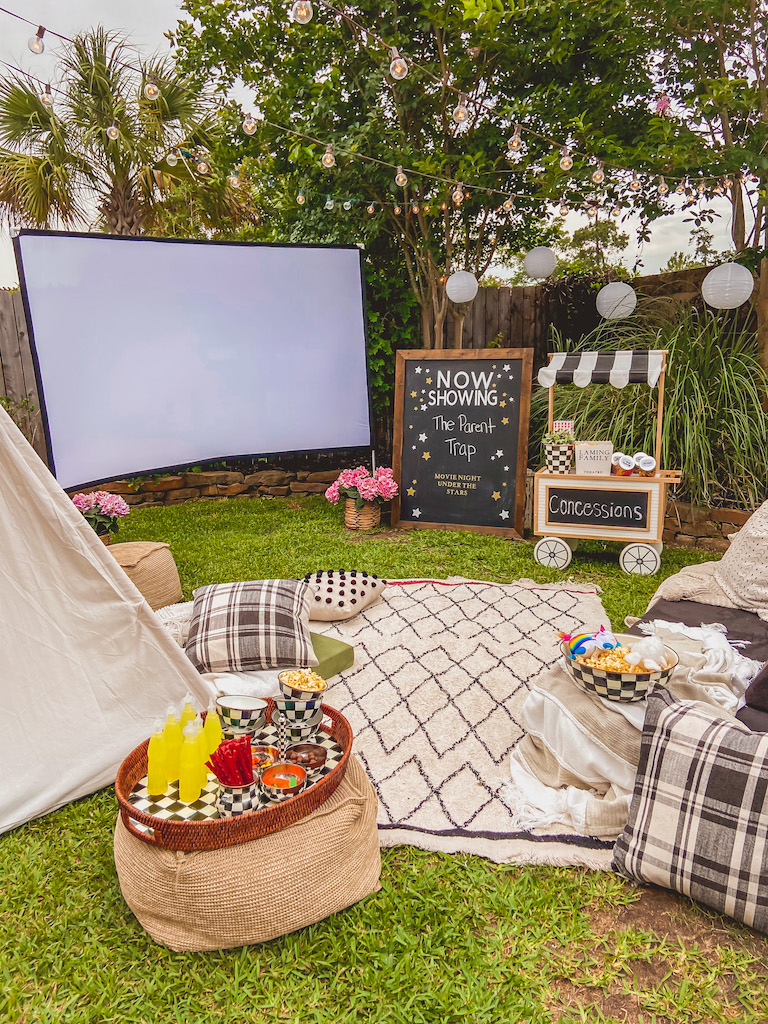 Don't forget a comfortable spot to watch the movie! We used the Nugget comfort but you can also use an air mattress, sleeping bags, pillows and more.
The chalkboard sign was a DIY I made using my Cricut Joy machine. I used an old blackboard and cut out vinyl letters and stars. I can easily change the title of the movie night with chalk each time!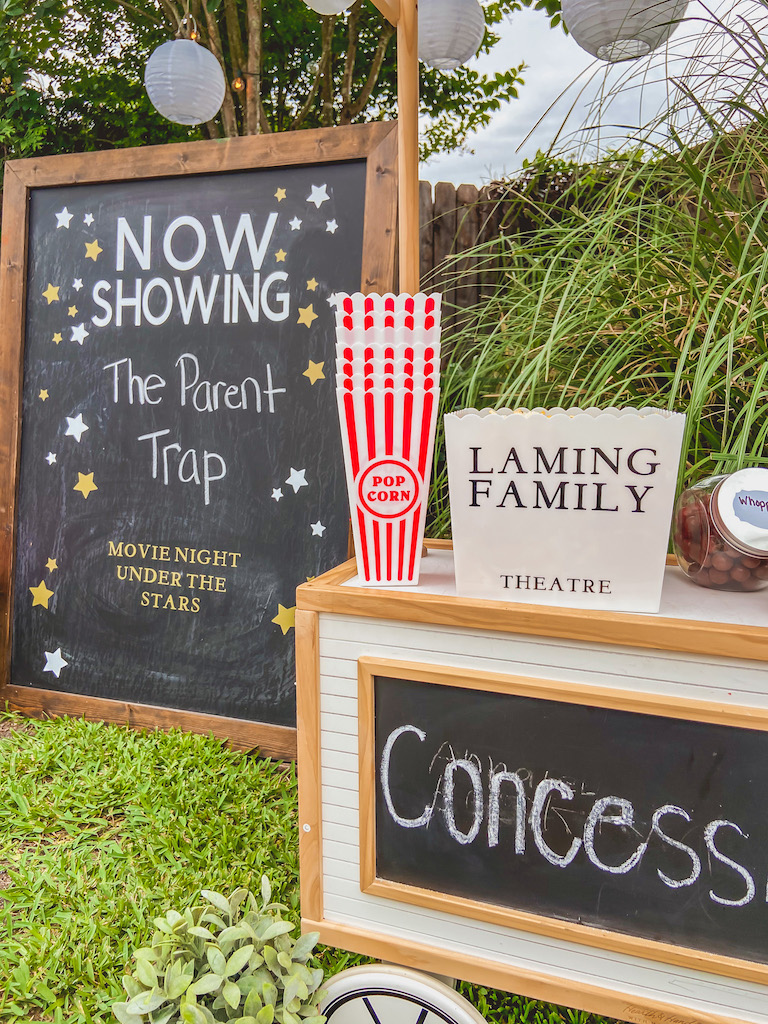 The Movie Selection
Picking out the right movie is one of the most important decisions for movie night! We love to watch older movies that my kids haven't yet seen.
We complied a list full of some favorite movies that we think you will like to!
Favorite Movies for Movie Night
The Parent Trap
Enchanted
The Goonies
Toothless
Matilda
The Little Rascals
The Sandlot
The Princess Bride
Honey, I Shrunk the KIds
The Sound of Music
E.T
Annie
Big
Ever After
Mrs. Doubtfire
The Secret Garden
13 Going On 30
My Girl
There are SO many good movies!!!! We have only made a small dent in this list but I love being able to watch these movies all over again with my kids!
The Snacks
You can't forget the snacks! Of course popcorn is a must! We set up a small little concession stand with a few different candy options to make candy popcorn! It was a fun little treat for sure! I would love to have a popcorn machine one day so I made sure to include it on our list of outdoor movie night must haves!!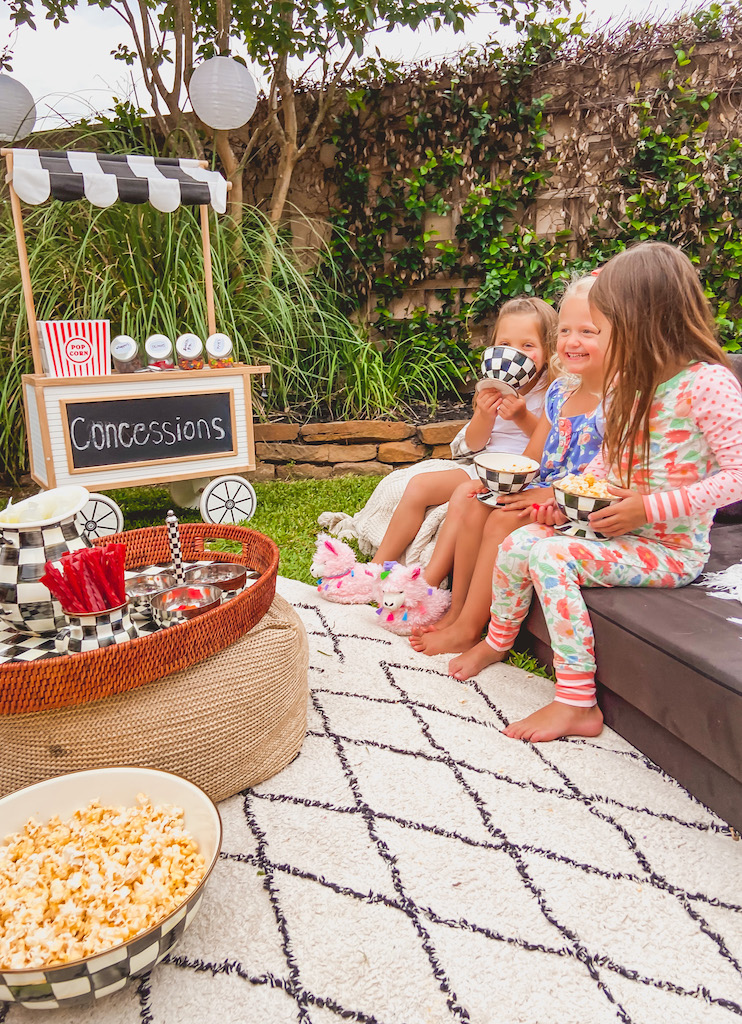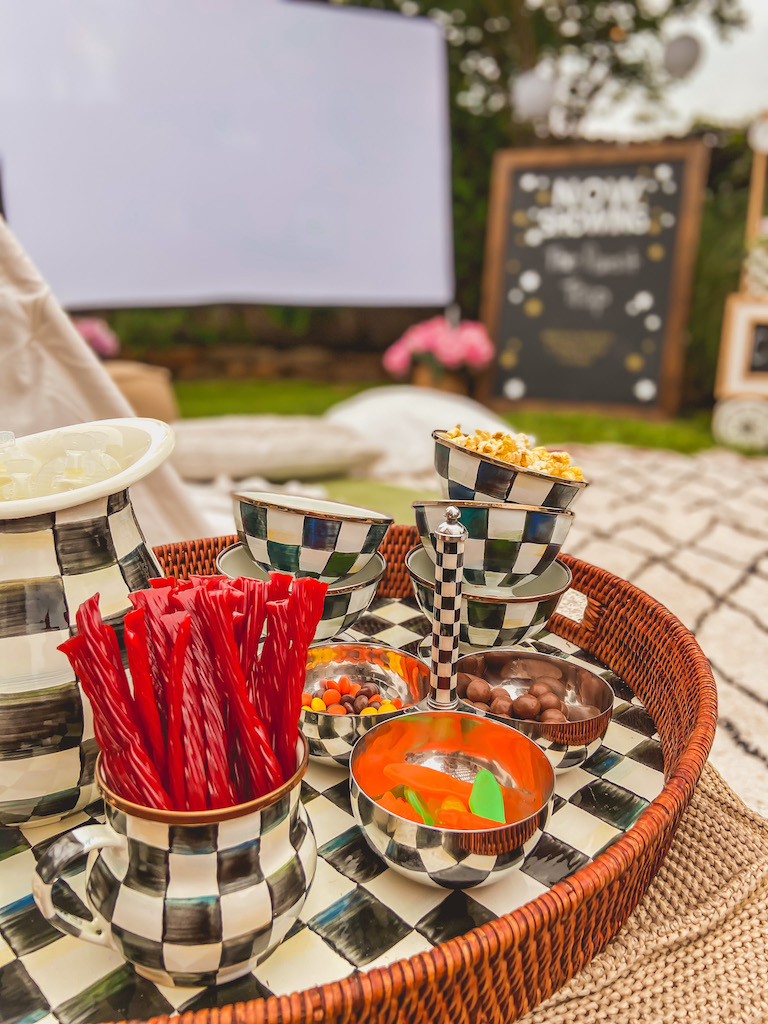 For this outdoor movie night, I made each of the girls their own personalized popcorn bow using my Cricut Joy machine.
Now they will always have their own popcorn bowl when we have our movie nights!
You can make do this as a fun family night or set it up for a small party with your neighbors. It is a great alternative to going to the movies, and much more fun in my opinion!!
If you are looking for more outdoor activities this summer, make sure to check out these fun ideas!
Our outdoor summer movie nights are always a hit! These memories are so fun for me to create for my kids and they make memories to last a lifetime with their best friends!!
xoxo,
Leanna