How to Make the Cutest Caramel Apple Toppings Bar
🍎 This DIY Caramel Apple Toppings Bar is a super easy and fun way to serve apples as a snack, appetizer, or dessert for all your fall party needs. 🎃 The best part? The toppings are totally customizable! What are your favs? 👻🎃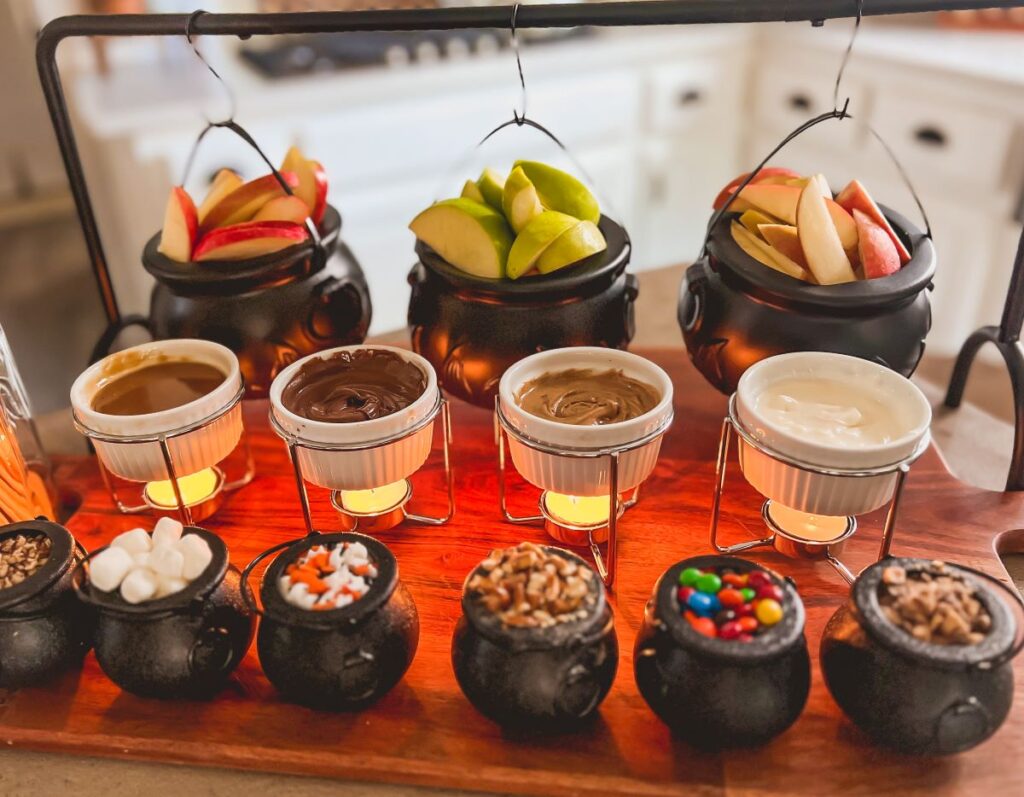 Ingredients
You can tweak your Caramel Apple Toppings Bar however you'd like, but here is what I used!
Dips – Caramel bits, milk chocolate chips, white chocolate chips, Reese's peanut butter cups
Apples– Granny Smith and Honey Crisp, or your favorite kind of apple
Toppings– sprinkles, heath toffee bits, crushed pretzels, crushed pecans, mini marshmallows, mini m&ms
The serving supplies are linked below!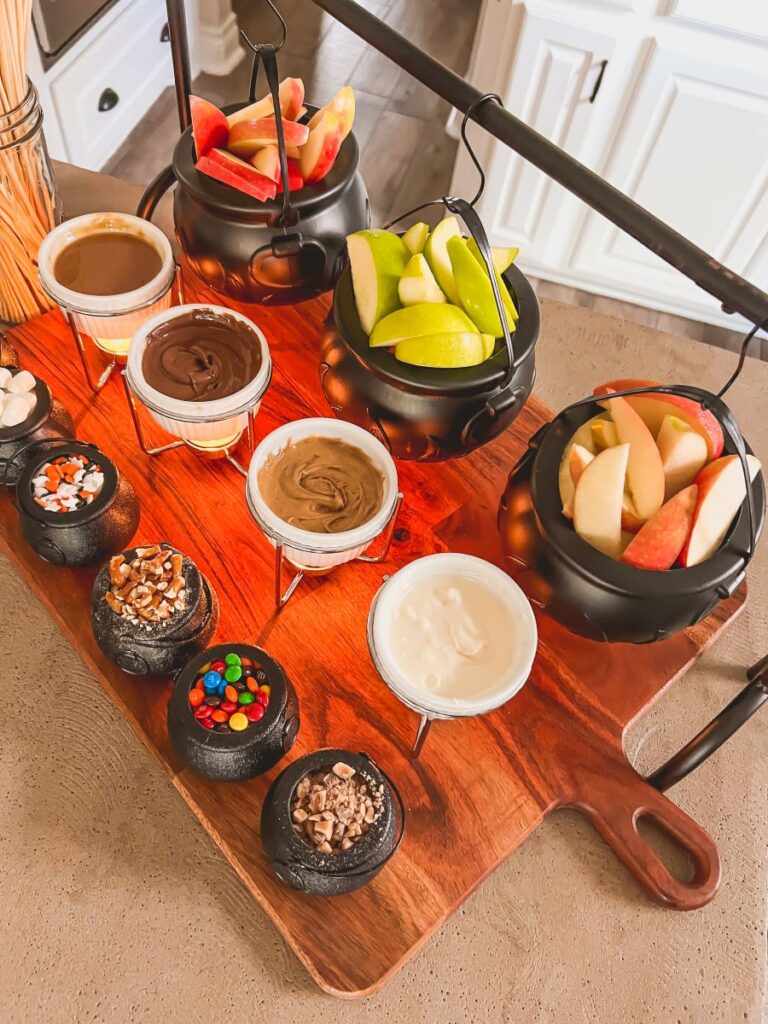 Directions
Wash and assemble the hanging cauldrons and fill with apple slices.
Set up the butter warmers in front of the hanging cauldrons. Melt contents ahead of time in the microwave and 10-second intervals, stirring in-between. Light the butter warmers so the sauces stay warm and don't harden.
Set up the washed mini-cauldrons with toppings a few inches in front of the butter warmers.
Enjoy!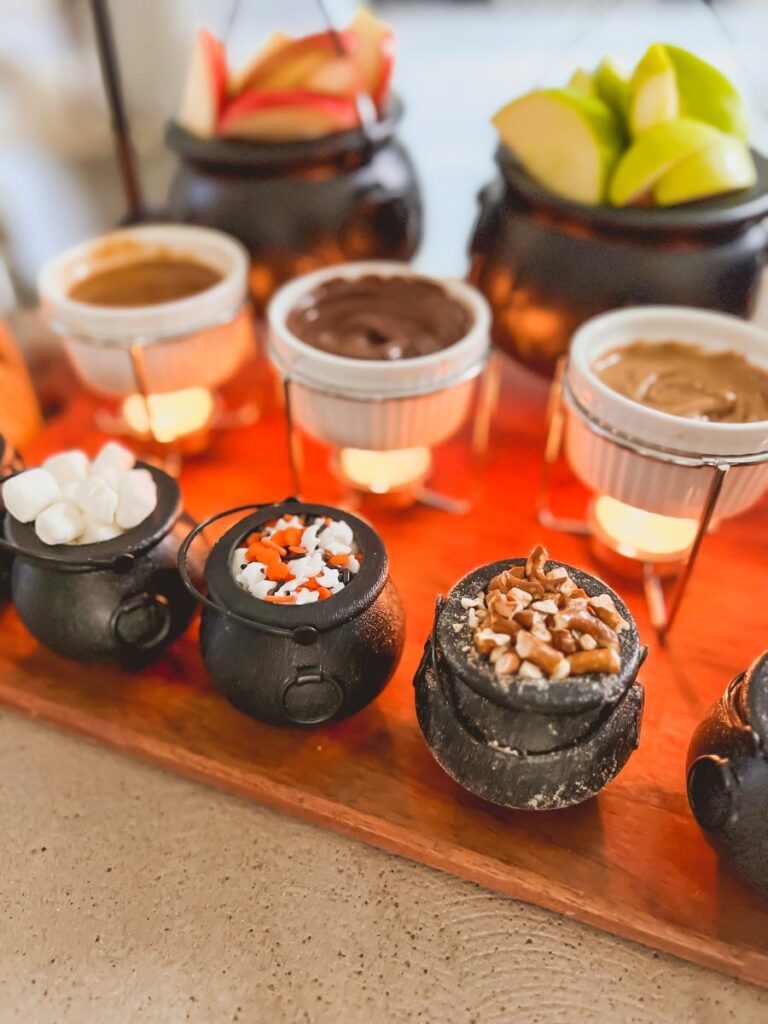 Here's a Quick Video Tutorial!
Perfect Presentation Platters
Cauldrons – You can find my Hanging Cauldron set on Amazon! For the toppings, I used this set of 12 mini cauldrons.
Butter Warmers – I also used this set of four Butter Warmers from Amazon for the sauces.
Wooden Serving Trays: It is so convenient to use a wooden serving board for prep and to complete the look. For a larger choice, I love the double-handle on this option, or this rectangular tray. (Both at a great price!) Antique Farmhouse also has this beautiful set of three!
Kitchen Links: I get asked all the time about the products in the background of my kitchen. Much of it is from MacKenzie-Childs, which I have slowly grown a collection of over the years! My favorites are this checkered chopping board, my black and white checkered teapot, and the gray and white checkered utensil holder. I also have this enamel canister that you can find in small, medium, or large.
For the Halloween decor items, the cute Jack-O'-Lantern platter is from Pottery Barn and the Haunted House Candy Jar is MacKenzie-Childs.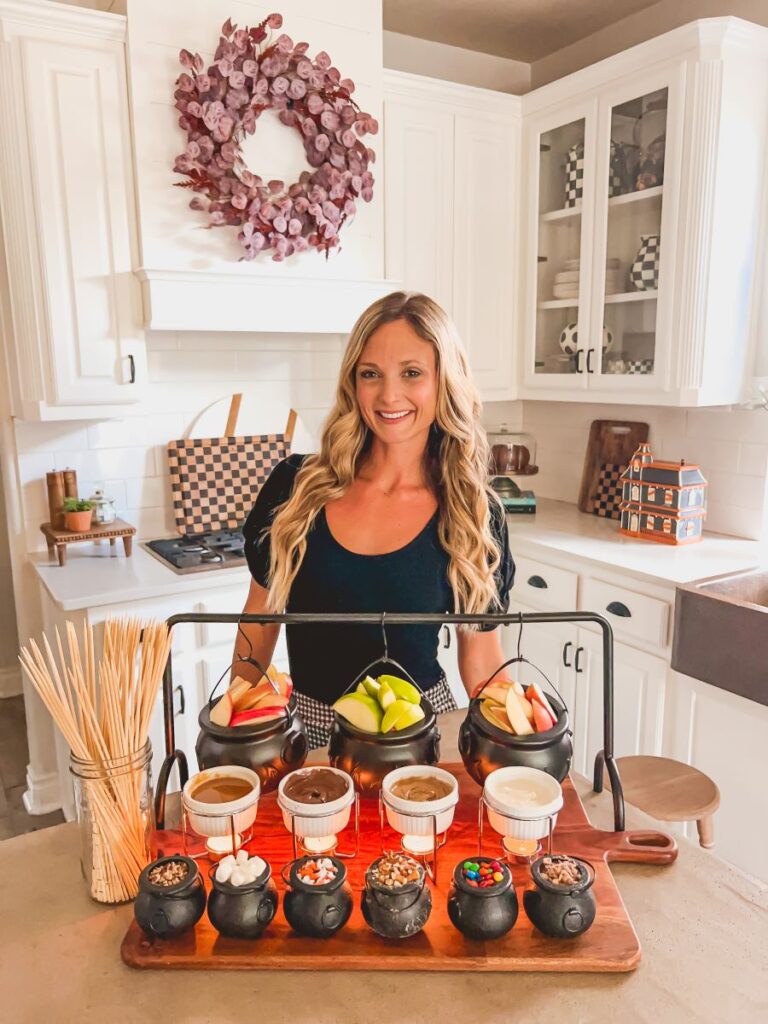 Can I Prep This Caramel Apple Bar Ahead of Time?
You can definitely wash all of the cauldrons in advance and fill the mini cauldrons with toppings. I'd wait as long as possible to cut the apples so they don't turn brown, but sprinkling a little bit of lemon juice on them helps to keep them looking fresh longer!
I'd also recommend waiting until serving time before you melt the sauces, so they are nice and warm.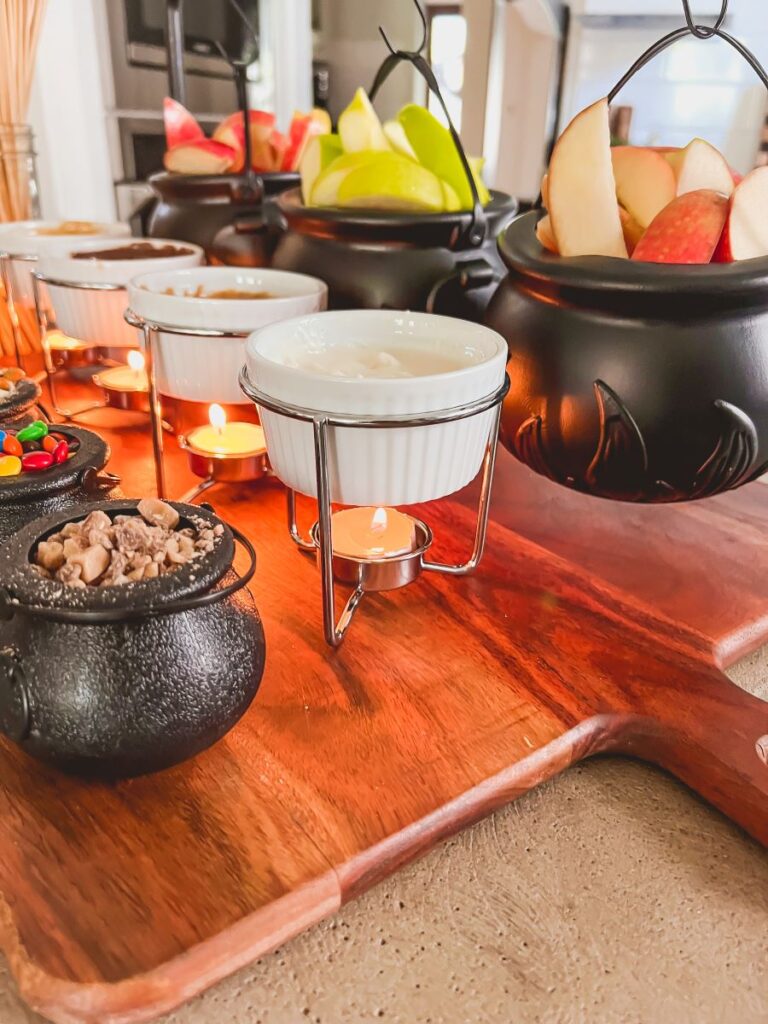 Storing Leftovers
You can store any toppings back in their original packaging or Ziploc Bags and store at room temperature. For the sauces, I'd recommend storing them in Tupperware containers or covering with Saran Wrap and refrigerating. You can also store the apples in a Ziploc Bag or TupperWare container, where they should stay fresh for 2-3 days.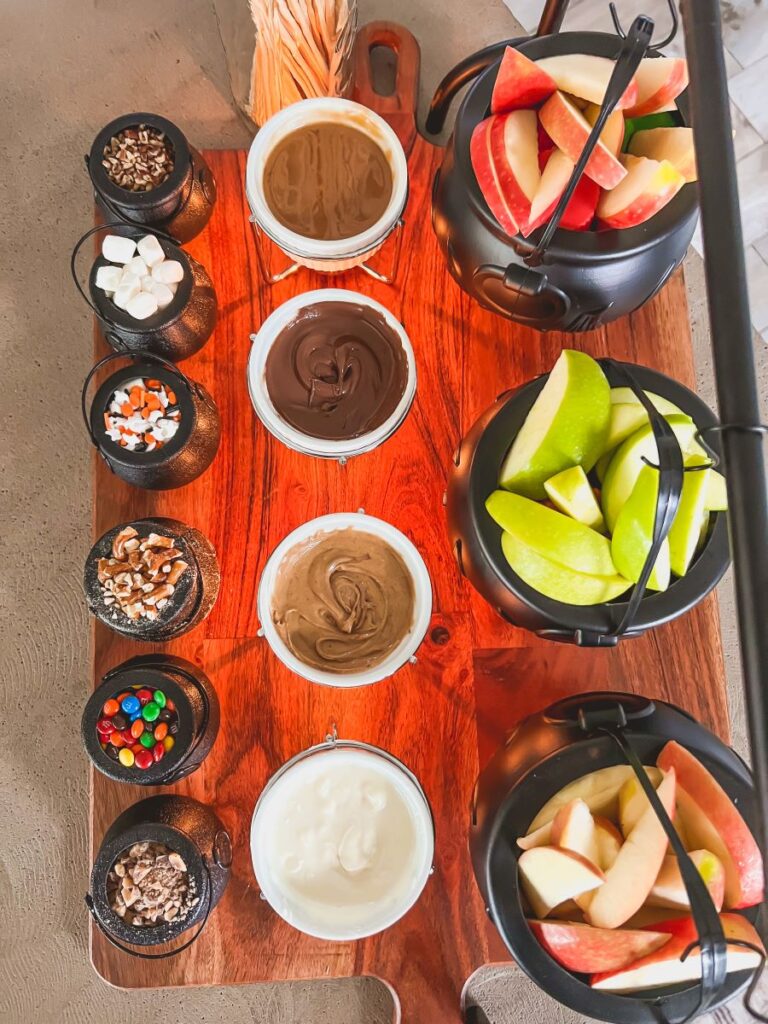 Enjoy!
I hope you loved this Caramel Apple Toppings Bar as much as I did! It's a treat that you can do again and again with so many different variations. For more Halloween ideas, you can check out my Halloween Movie Night Board, this Halloween Cheese Board, or these Easy Halloween Cupcakes. Happy Halloween, friends!