You'll Love This Adorable Halloween Kids' Snack Board!
Not only is this Halloween Kids' Snack Board SO cute, it's also so easy to put together! From start to finish, this only took about 15 minutes and it such a fun treat for the kids (and adults!) 🙂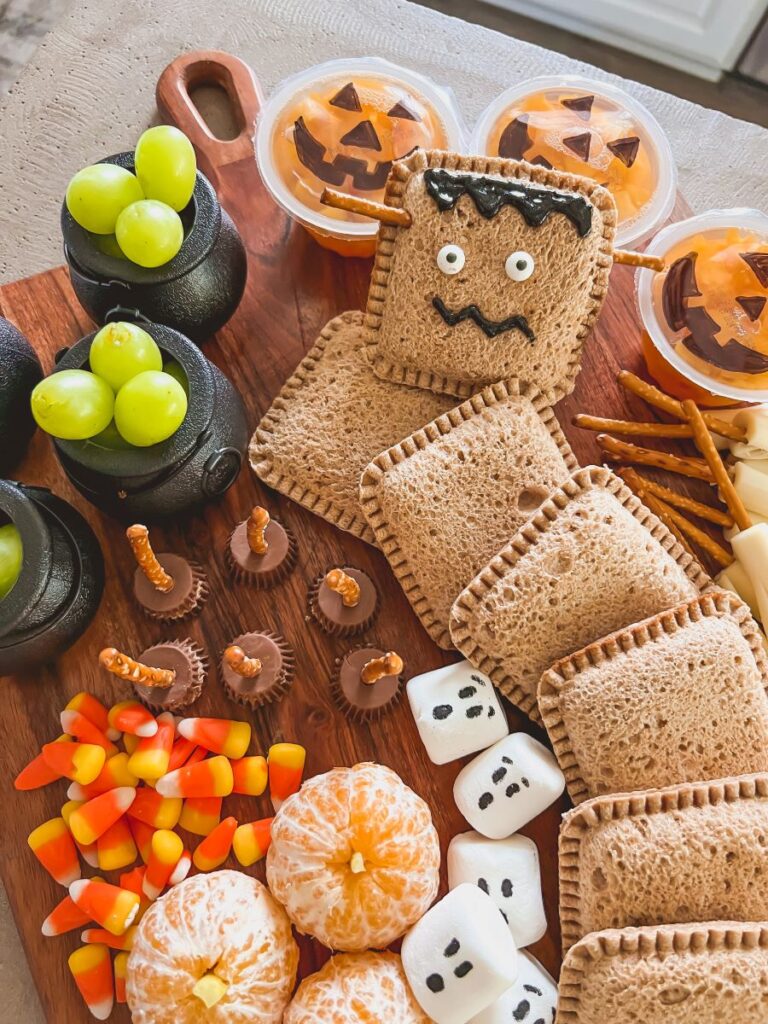 I used Sunbutter Jammies because they are 100% nut free! They are perfect for on the go, school lunches, kids' parties and more!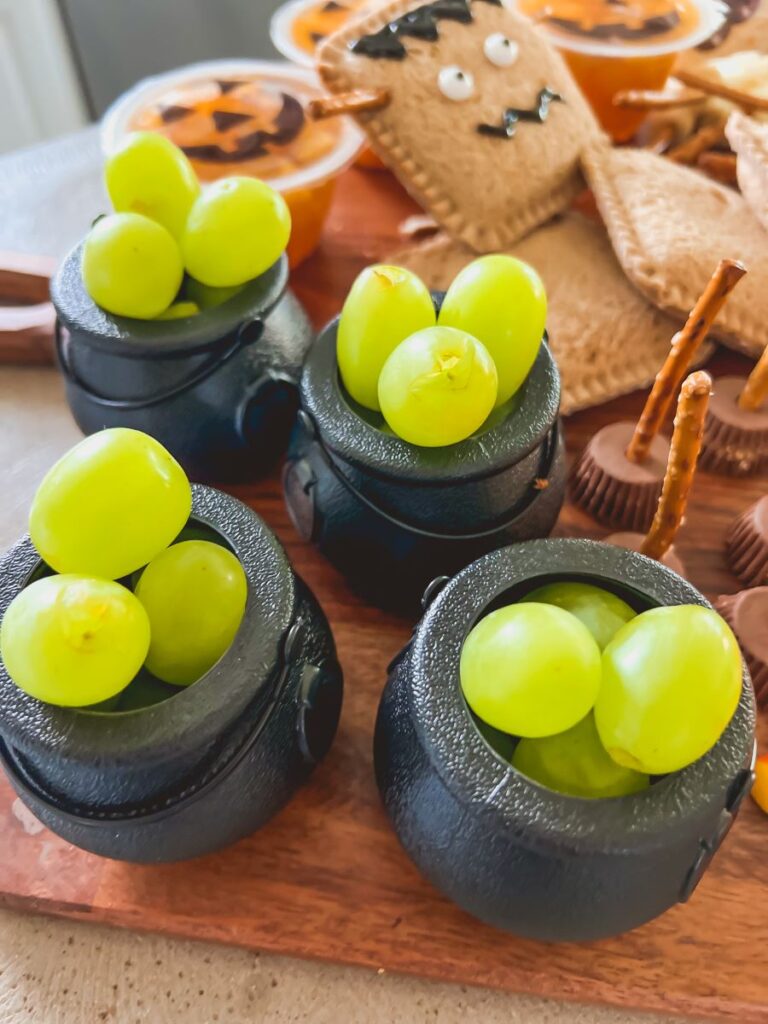 Ingredients
I added some cute little details to turn one into Frankenstein and added more spooky treats to make this board fun for kids! Some other ideas you could use are:
Large Marshmallow (drawn on with edible black marker to make ghosts)
Mini Marshmallows and apple slices (for the mouth and teeth)
Peeled Clementines (for the pumpkins)
Resses Peanut Butter Cups (for Broom base #1)
String Cheese (for Broom Base #2)
Pretzel Sticks (for both broom handles and spider legs)
Oreos (for the Spiders)
Grapes (for the mini cauldrons)
Mandarin Oranges (I used a Sharpee Marker to draw Jack O' Lanters)
Edible Googly Eyes (for the Oreo spiders and Frankenstein sandwiches)
Black frosting (for the Frankenstein hair and mouth)
Candy Corn and Candy Corn Oranges for decoration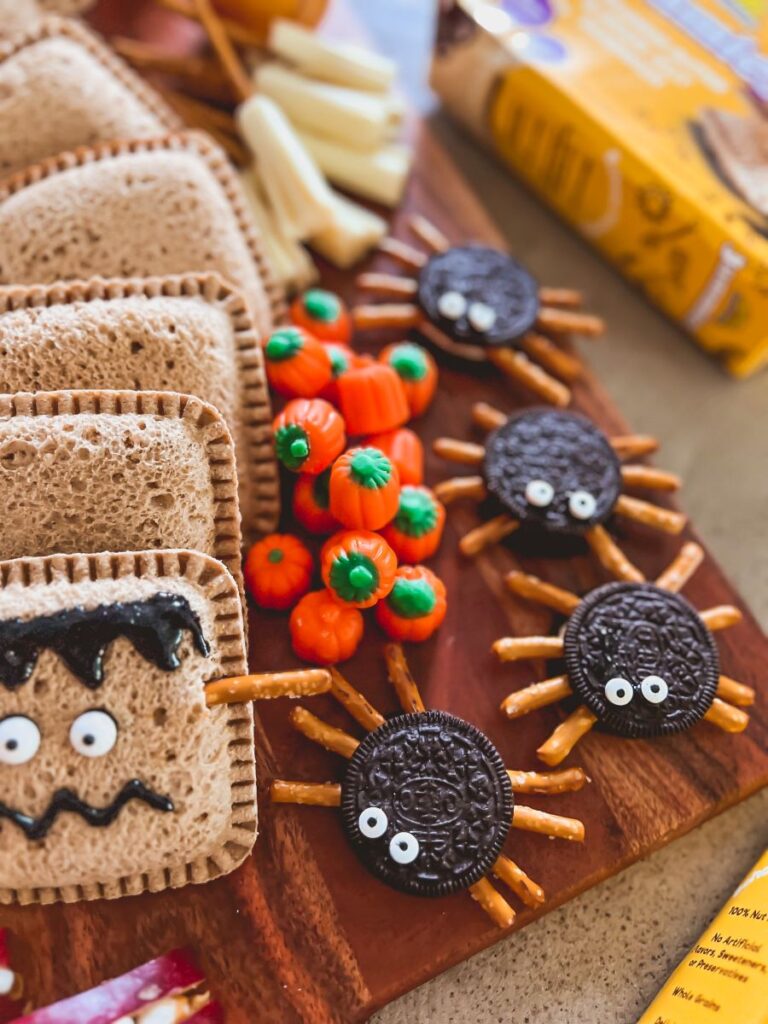 Directions
There is no right or wrong way to arrange a snack board, but here are some of my favorite tips!
Start with the Largest Objects, (such as the sandwiches) and arrange in a curved line down the center of the board
Then, add in any larger accessories, such as the cauldrons holding grapes or the Mandarin orange cups
Fill in the leftover spaces with the next smallest items, then complete with the smallest goodies.
Enjoy!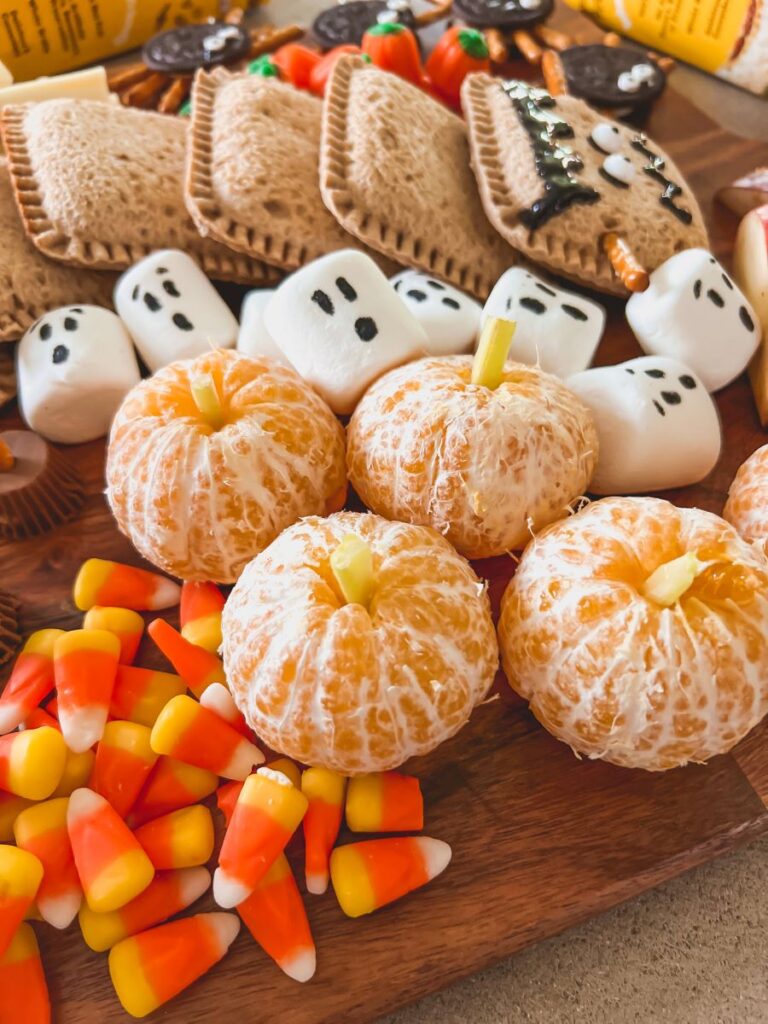 Here's a Quick Video Tutorial!
Perfect Presentation Platters
Cauldrons: I used this set of 12 mini cauldrons. This Hanging Cauldron set is also adorable!
Wooden Serving Trays: It is so convenient to use a wooden serving board for prep and to complete the look. For a larger choice, I love the double-handle on this option, or this rectangular tray. (Both at a great price!) Antique Farmhouse also has this beautiful set of three!
Round Trays: If you'd prefer a round tray, I'd recommend this round wooden Target tray, which I get so much use out of year-round! For a higher-end round tray, I love my MacKenzie-Childs checkered party tray. If you'd prefer some glitz, you could also go with this Gold Metal Party Tray from Walmart for a smaller gathering.
Large Serving Boards: If you're prepping for a larger gathering, this wooden version from Target is fantastic, as well as this beautiful choice from Etsy. Additionally, this large rectangular board from Etsy is also beautiful.
Kitchen Links: I get asked all the time about the products in the background of my kitchen. Much of it is from MacKenzie-Childs, which I have slowly grown a collection of over the years! My favorites are this checkered chopping board, my black and white checkered teapot, and the gray and white checkered utensil holder. I also have this enamel canister that you can find in small, medium, or large.
For the Halloween decor items, the cute Jack-O'-Lantern platter is from Pottery Barn and the Haunted House Candy Jar is MacKenzie-Childs.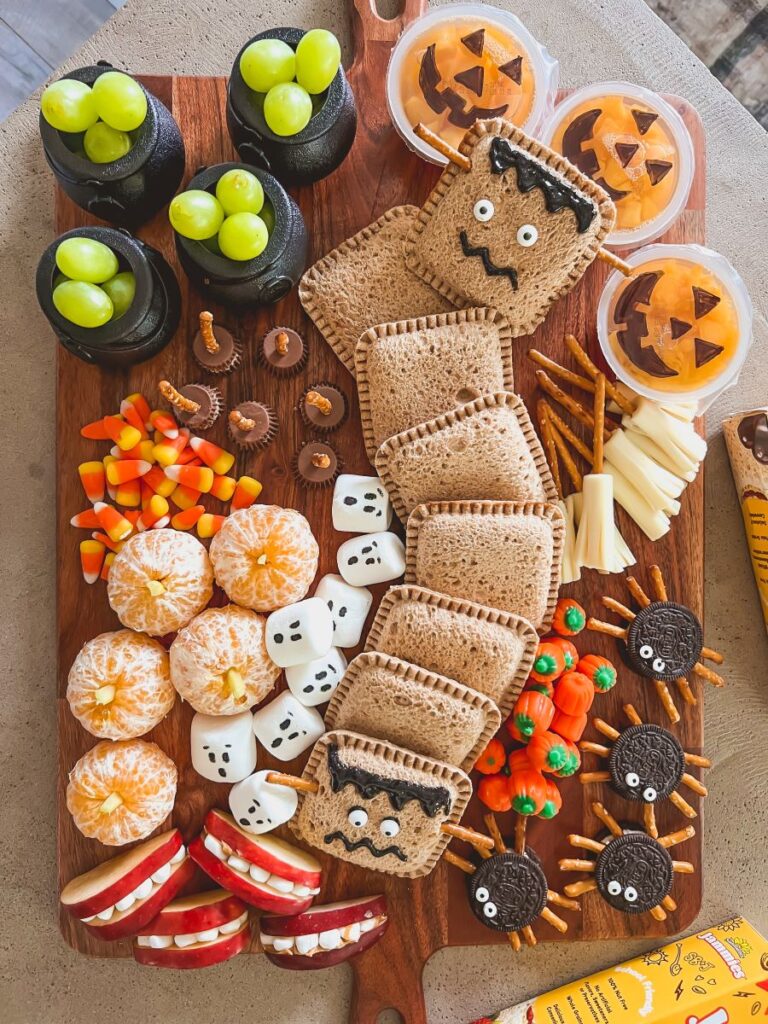 Can I Prep This Halloween Kids' Snack Board Ahead of Time?
Absolutely! You can definitely do the Marshmallow ghosts, clementine pumpkins, Mandarin orange Jack-o-Lanterns, Oreo spiders, grape cauldrons and both sets of broomsticks in advance (just be sure to refrigerate the cheese sticks.) I'd just recommend doing the apple slices and Frankenstein sandwiches closer to serving time so they stay fresh.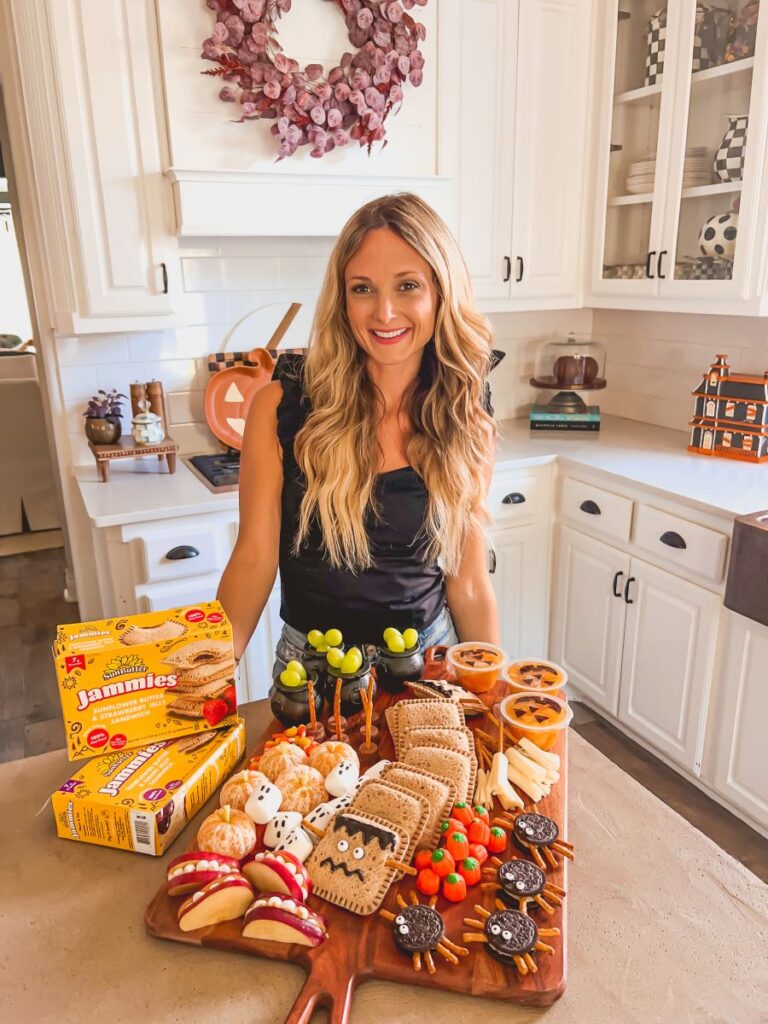 Storing Leftover Goodies
Room Temperature Items: I'd recommend placing the Oreos spiders, Marshmallow ghosts, candy corn, candy corn pumpkins, unopened Mandarin orange Jack-O-Lanterns, and Reeses broomsticks in a Tupper ware container at room temps, where they can stay fresh at room temperature for 2-3 days. (You can also cover with Saran Wrap.)
Refrigerated Items: Place the apples, clementine pumpkins, grapes, sandwiches, and cheese stick items in a separate Tupperware container and refrigerate, where they should stay fresh for 2-3 days as well. A Ziploc bag would also be great.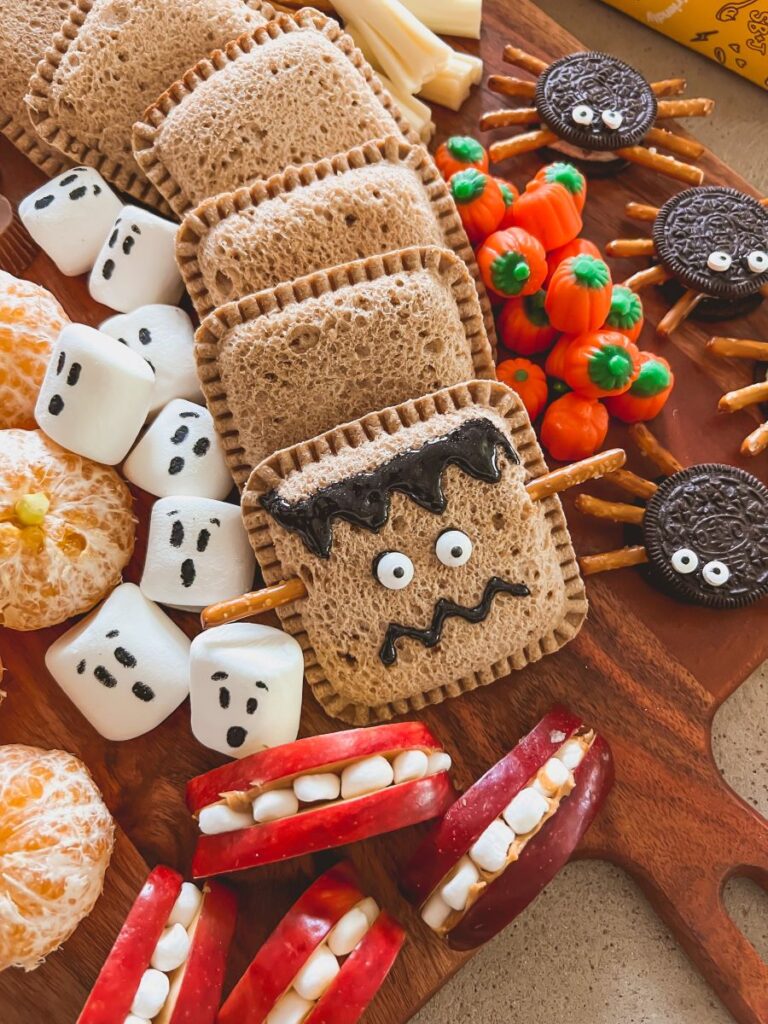 Happy Halloween!
I hope that you loved this fun snack board as much as I did! There are so many creative ways that you could make this your own. If you're looking for more Halloween ideas, you may also enjoy this Halloween Movie Night Board, this Caramel Apple Toppings Bar, this Jack-o-Lantern Pizza Dip, or this Fun and Festive Halloween Cheese Board. Happy Halloween, Friends!