Tips for an Amazing Halloween Movie Night Board
It's our favorite time of year to cozy up and watch a spooky movie and this Halloween Movie Night Board makes it all the more fun! This idea would also be perfect for a Halloween party and is super easy to set up for kids and adults! 🙌
Ingredients
This is entirely up to you, but here are some suggestions! You can adjust the quantity based on the size of your group.
Popcorn (of course!)
Popcorn bags or bowls (linked below!)
Favorite Candies. I used Brach's Candy Pumpkins, Candy Corns, Witch's Brew Kit Kats, Dove Dark Chocolate Pumpkins, Haribo Frog Gummies, Reese's Pieces, and Sour Gummy Worms.
Cookies or Sweets
Fruit, such as apple slices, orange slices, strawberries, and blueberries
Optional: Plastic cauldron as centerpiece to hold popcorn and skeleton hand for decoration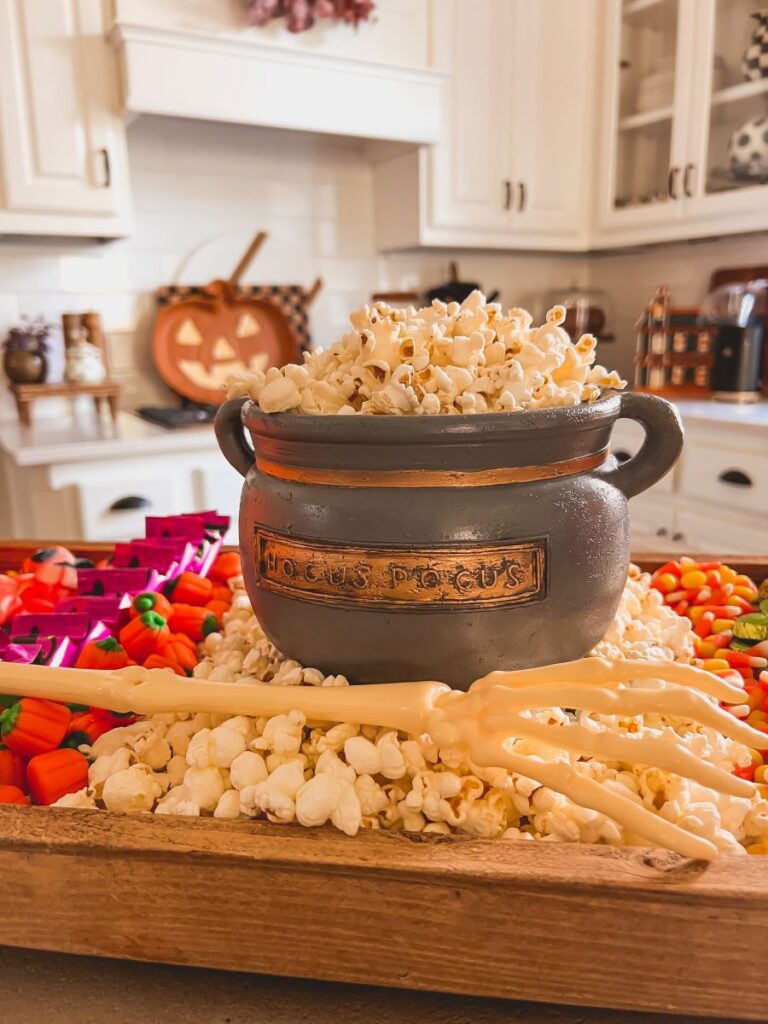 Directions
What I love about food boards is that there is no right or wrong way to set it up! Here are my favorite tips that work for me:
Start with the biggest items (such as the cauldron)
Add the popcorn bags on the outside so all the treats stay in the middle
Have fun!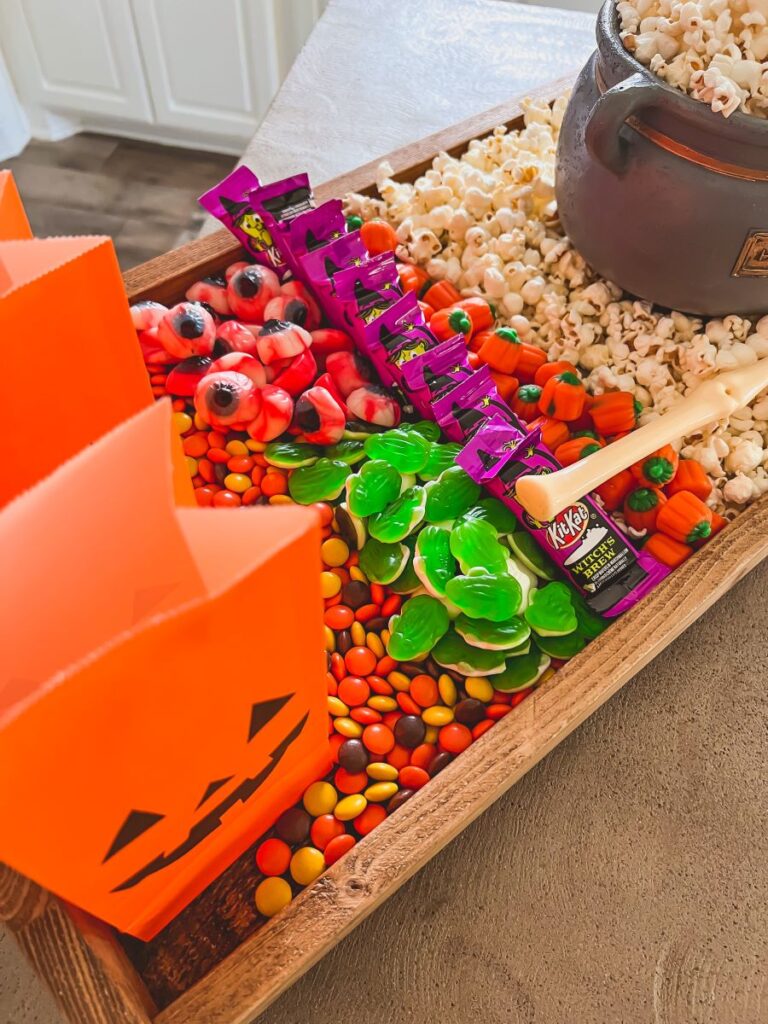 Here's a Quick Video Tutorial!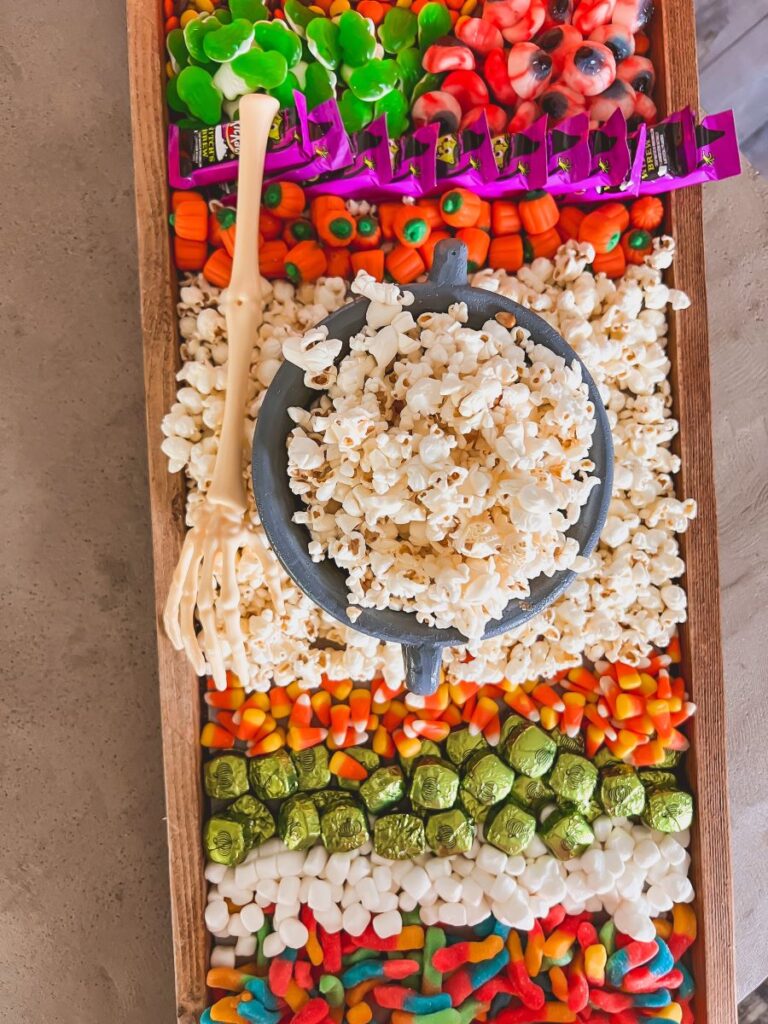 Perfect Presentation Platters
Cauldron and Jack o' Lantern Bags: How cute is this Hocus Pocus cauldron from Walmart? If you'd prefer a plain black cauldron, you could also go with this option from Amazon. Those cute orange pumpkin bags also double as decor and popcorn holders! If you're looking for a Popcorn Maker, Walmart has a great option!
Wooden Serving Boards: If you'd like a large rectangular wooden tray like mine, this wooden version from Target is fantastic, as well as this beautiful choice from Etsy. Additionally, this large rectangular board from Etsy is also beautiful.
Round Trays: If you'd prefer a round tray, I'd recommend this round wooden Target tray, which I get so much use out of year-round! For a higher-end round tray, I love my MacKenzie-Childs checkered party tray. If you'd prefer some glitz, you could also go with this Gold Metal Party Tray from Walmart for a smaller gathering.
Kitchen Links: I get asked all the time about the products in the background of my kitchen. Much of it is from MacKenzie-Childs, which I have slowly grown a collection of over the years! My favorites are this checkered chopping board, my black and white checkered teapot, and the gray and white checkered utensil holder. I also have this enamel canister that you can find in small, medium, or large.
For the Halloween decor items, the cute Jack-O'-Lantern platter is from Pottery Barn and the Haunted House Candy Jar is MacKenzie-Childs.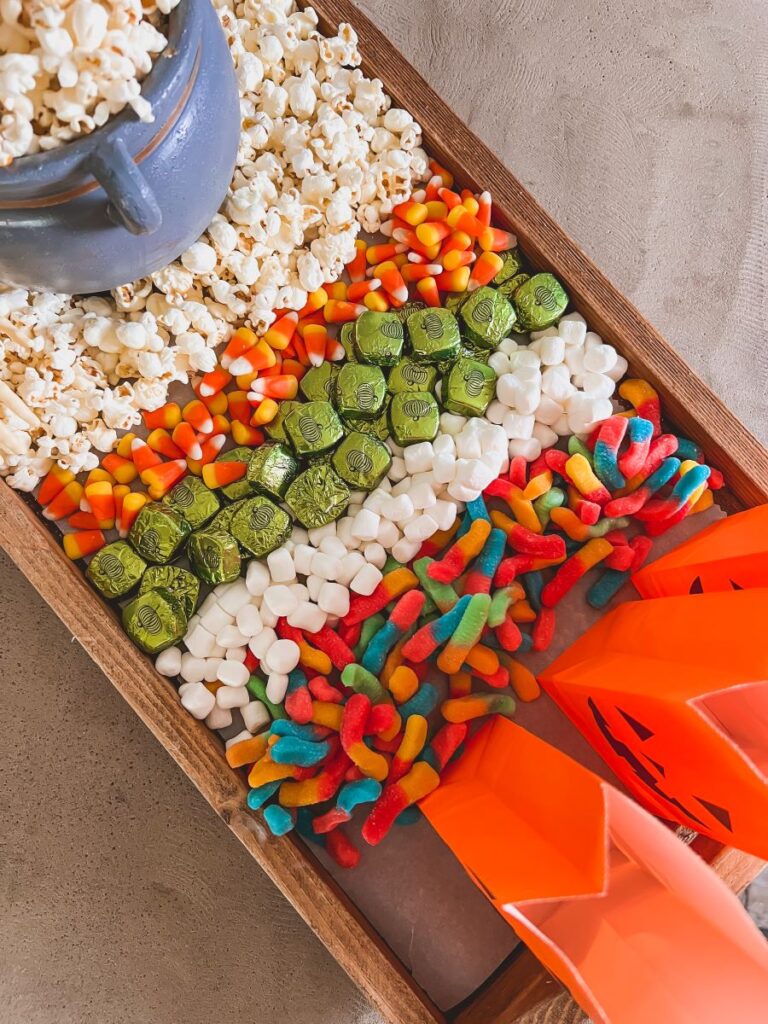 Can I Prep This Halloween Movie Night Board Ahead of Time?
This takes only a few minutes to prep, so I'd hold off until a couple hours before serving so the candy doesn't taste stale. However, you can get a head start by washing the cauldron and setting out the popcorn bags to save time!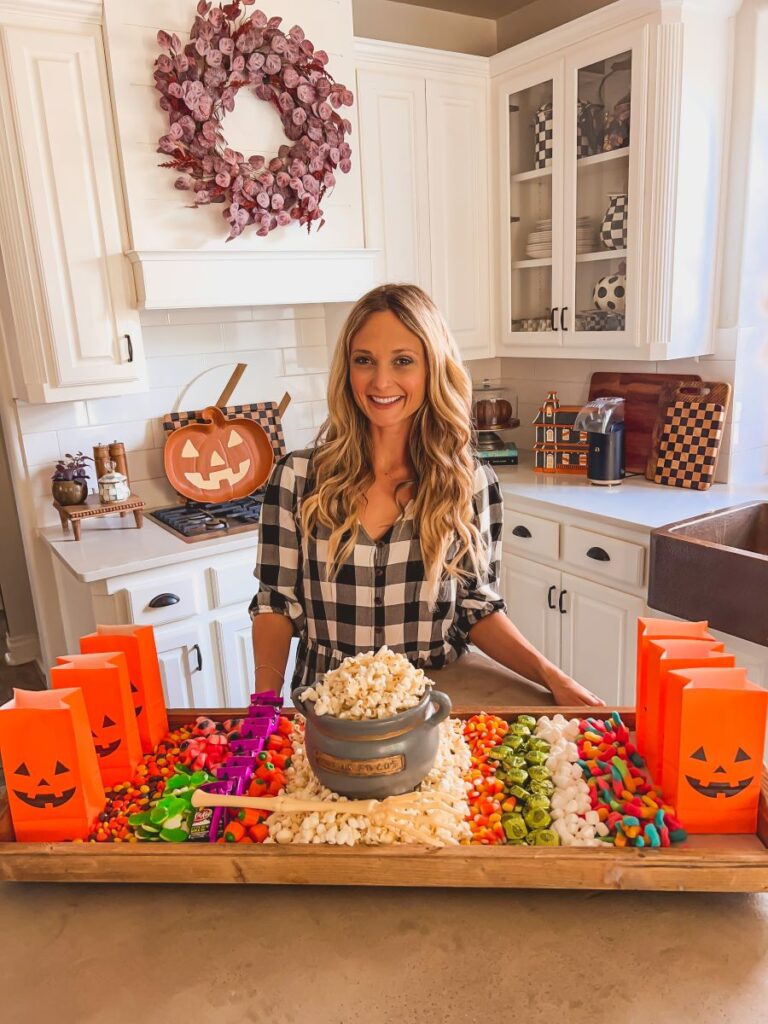 Storing Leftovers
My favorite tip is to save the boxes for candy, so you can just pop any leftovers back in the boxes and save for later. Or you can store leftover Halloween Movie Night Board goodies in Ziploc bags!
Enjoy!
I hope this Halloween Movie Night Board is a fun and easy way to create memories in your home! I know my kids always get so excited for special treats and I hope they always remember cozy movie nights like these. For more Halloween ideas, you can check out my Easy Halloween Home Decor Ideas, this Halloween Cheese Board, or these Easy Halloween Cupcakes. Enjoy, friends!