My Favorite Beautiful Fall Fashion Pieces from Walmart
Walmart has consistently become one of my favorite places to shop for clothes and the fall fashion choices this year are amazing! Each of the pieces can I'm sharing can be mixed and matched to make dozens of outfits that I know I'll get so much use out of, all for an incredible price while still being high-quality. Walmart is so convenient for being able to get clothes for the whole family, as well groceries, home supplies, decor, and so much more all in the same place!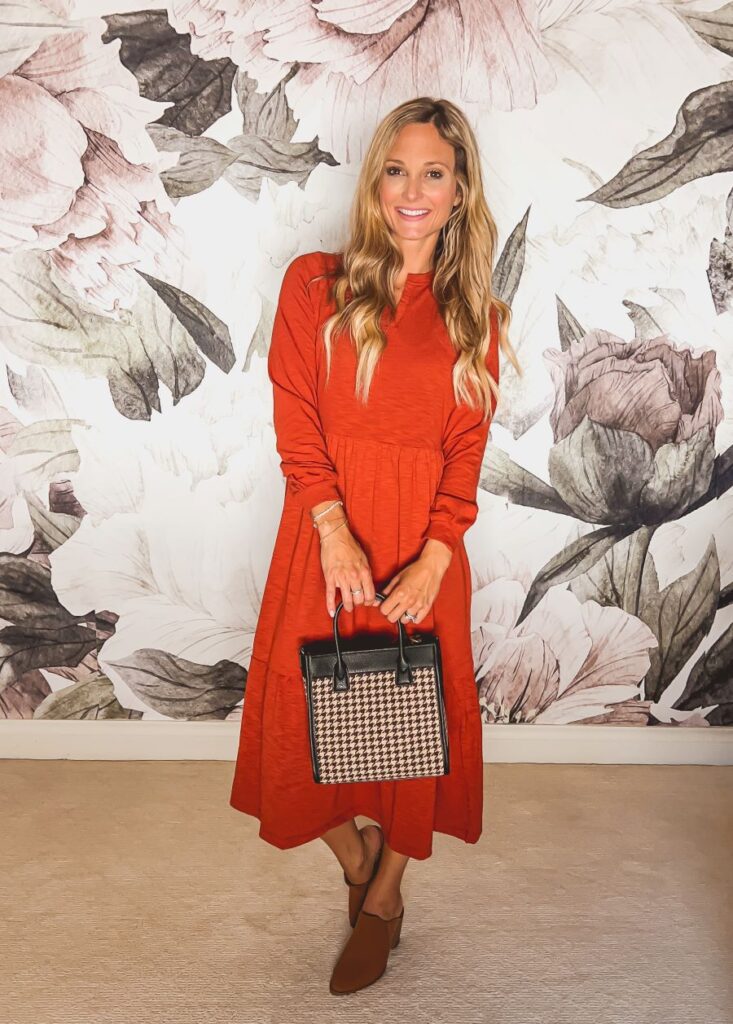 I LOVE all things fall and I hope you love these clothes, accessories, and shoes as much as I do! You can find links to all of the products below for easy shopping. 🙂
Fun and Breezy
This faux leather skirt stopped me in my tracks! The neatral tone can go with just about anything, especially this pretty flutter-sleeve top.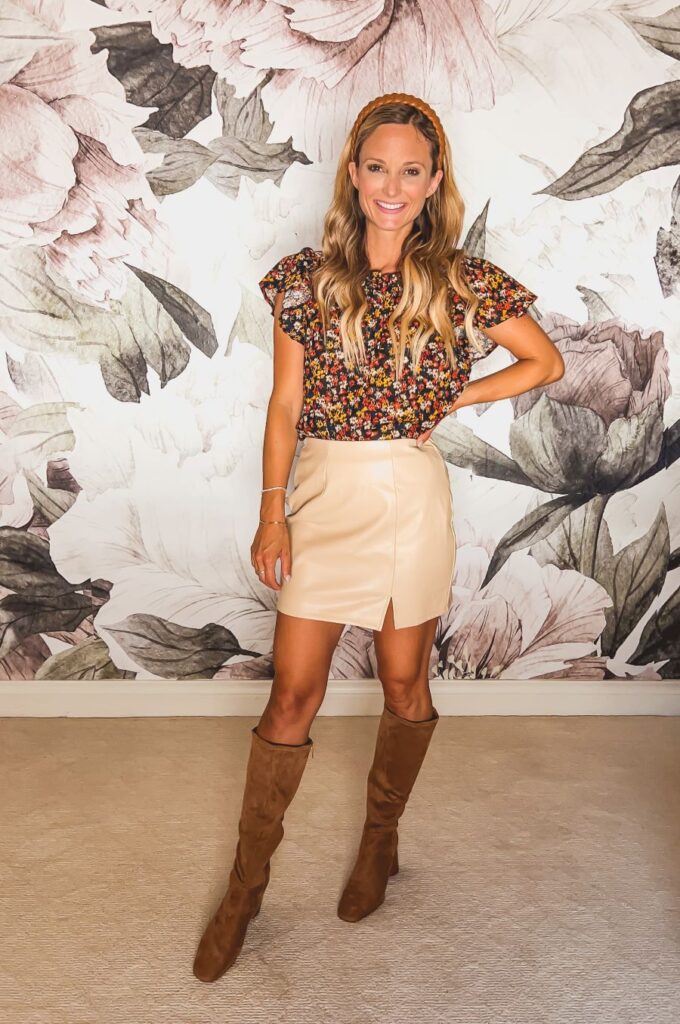 These brown suede boots are so comfortable with the perfect heel height and are at a steal for only $40. I know I will be living in them throughout the fall and winter!
Cute and Comfortable
I make a beeline to just about any dress with pockets so I can be comfortable but also keep track of my phone, keys, etc. This leopard print shirt dress can work for so many different occasions, day or night.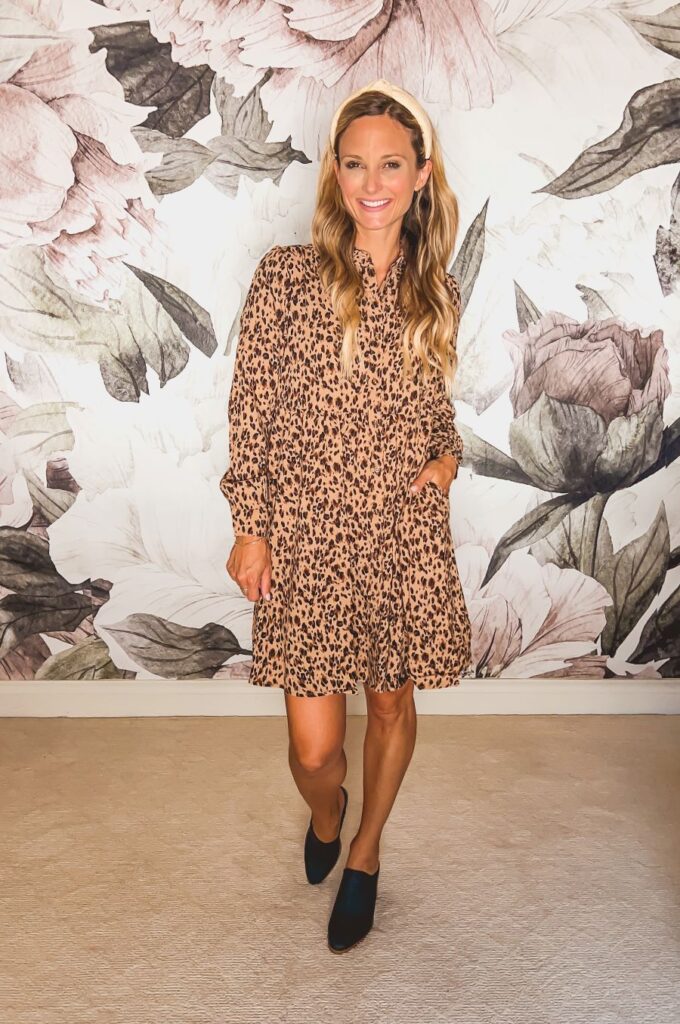 This dress would be cute with boots, flats, or these adorable slip-on heels!
Here is a close up of the slip-in heels, which come in black or brown. These are so convenient when you are running out the door but still want to look a bit more polished and put-together.
Chic and Versatile
I especially love the Army-green color of his belted mini-dress that could be a great option to wear to work, running errands, or dinner with friends. And how cute is this houndstooth mini tote?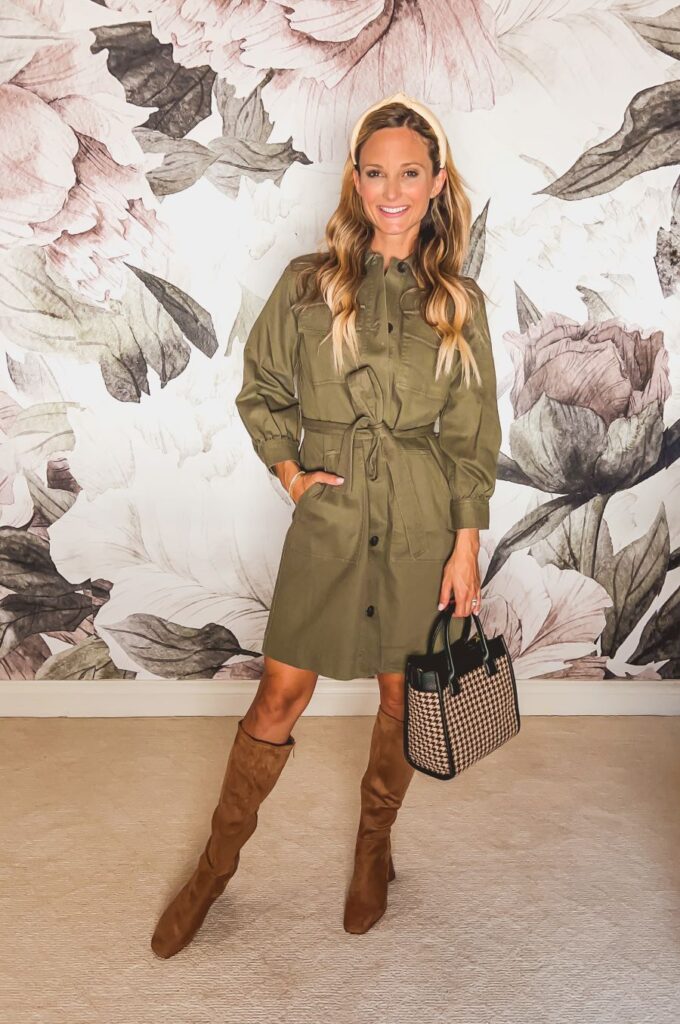 I love the color palette of the darker green with the brown suede boots, which completely puts me in the mood for fall!
Pretty and Professional
It's still so hot where I live in Texas, but I cannot wait for temperatures to cool off so I can wear this cozy turtleneck! I am also obsessed with the gray blazer, which also has a matching skirt.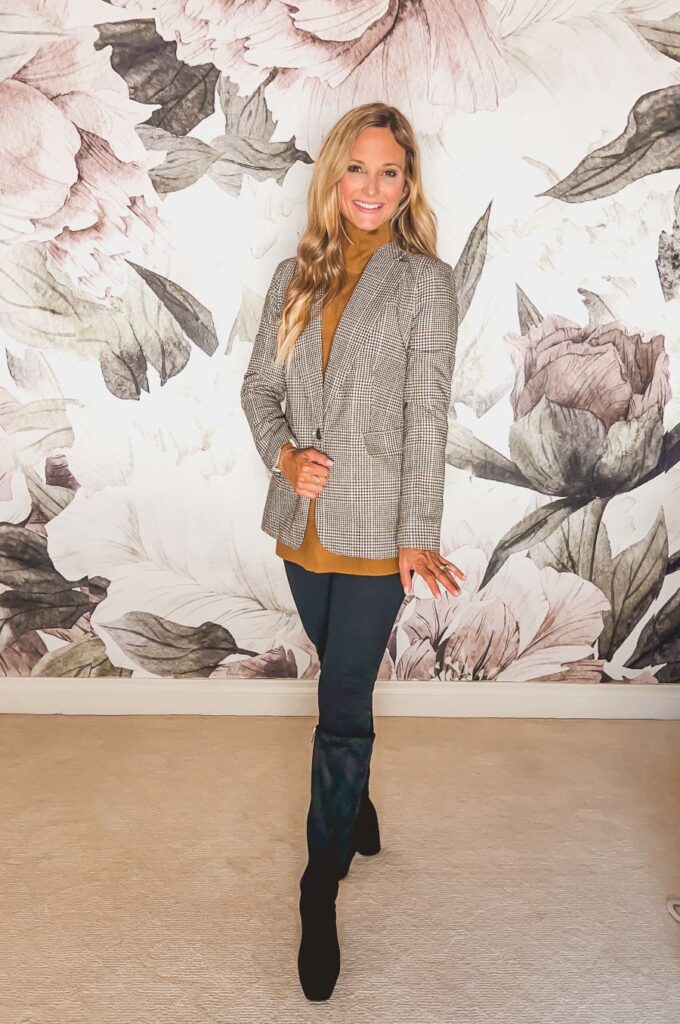 You can polish off this look with these super affordable black jeggings and black boots. I know I will get so much use out of both items for the next several months, so I'd definitely recommend these as a closet staple!
Practical and Adorable
This ruffle-neck dress just has the cutest details from the sleeves to the hemline! You could wear this with flats or heels for so many different occasions such as school events, out with friends, or at the office.
And hello again to my new favorite brown slip-in heels!
Cozy and Confident
If there is a dress I could get in every color, this knit midi dress would be it! (Good thing it really does come in three other colors besides this brick orange, which is perfect for fall.) This dress strikes the perfect balance of being fitted and flattering while also being so comfortable. Would you believe me when I tell you it's under $18?!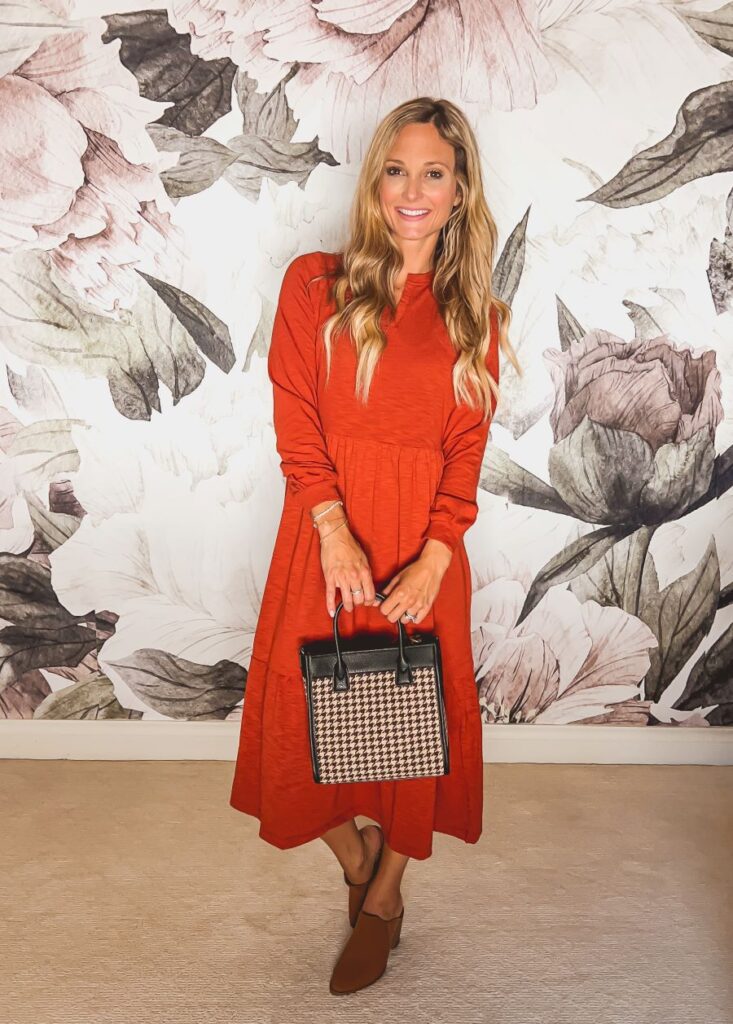 I thought that the houndstooth mini tote also looked adorable with this dress as well!
Fashion-Forward and Bold
I think it's so fun to mix unexpected textures together, like this black faux leather skirt paired with this mock-neck sweater, which also comes in pink and gray!
I kept the faux leather going with these black leather boots, but ballet flats, ankle booties, or strappy sandals, would also look great!
Flirty and Edgy
This black faux leather skirt is the same as the tan one above and both can go with so many different tops. I layered mine with this cropped gray blazer and a cute black top underneath. I love this look for a date night, concert, or night out with girlfriends!
The trusty black suede boots also needed to make another appearance and are just the perfect fall fashion staple.
Here's a Quick Video of All the Pieces!
Shop the Post
All of the fall fashion looks you saw are also linked below, as well as a few extras I thought you would enjoy! I'd just recommend shopping sooner rather than later because these do sell out quickly.
Or you can check out:
And also these! Walmart just has so many amazing fall fashion choices!
Happy Fall, Y'all!
One of my favorite things to do is to find things for you that are affordable and confidence-building. I know that we can often take care of everyone else and put ourselves last, but Walmart is an amazing solution to feel your best without breaking the bank. I hope you all have a lovely week and wonderful fall season!