Peel and Stick Wallpaper: Isla's Room Refresh
Let me start off by saying that I am SO proud of myself!!!! I took the challenge of installing removable peel and stick wallpaper in Isla's room and I accomplished it all by myself! My husband, Simon, works long hours and usually if I want to get a project done fast, I have to learn how to do it myself. We have installed peel and stick wallpaper before, but I have never done it alone.
I nervous to not have an extra set of hands, but I wanted it done! In true Leanna fashion I was so excited to get started I didn't take any before photos. But, I did find this one: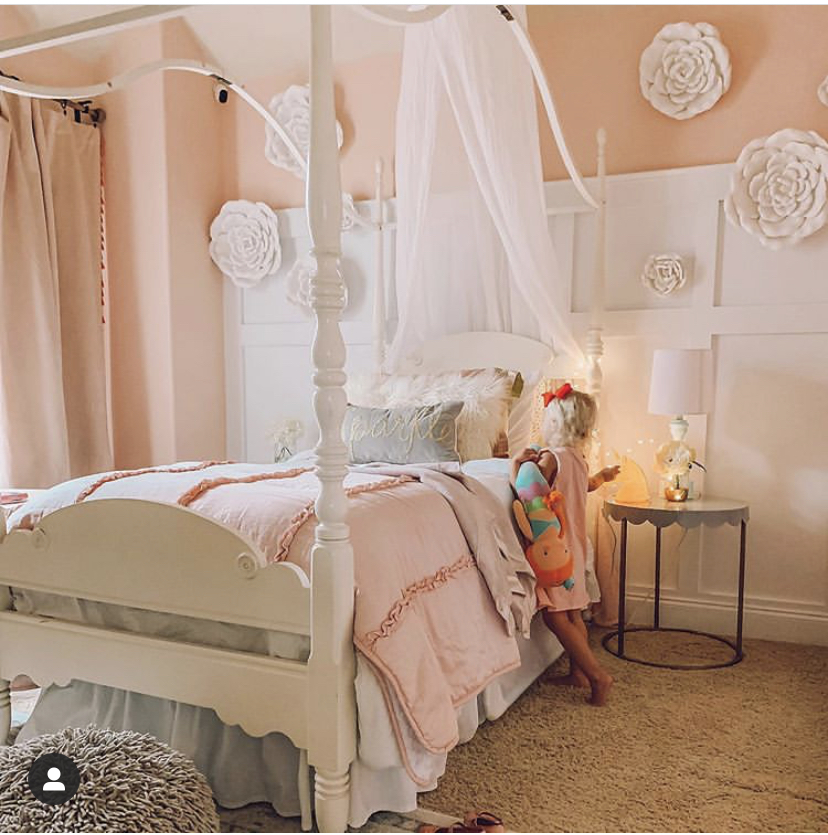 When we converted Islas room from a nursery to a toddler room, we added the board and batten. You can read all about how to install DIY board and batten on this post. Then, about. year ago I added the canopy and the white flowers that are from hobby lobby.
Since then, we have also gotten new carpet from StainMaster! Goodbye to the gross ugly carpet and HELLO brand new beautiful carpet! I have a blog post going live later this week on how we choose our floors, including which carpet we picked and why. Stay tuned!
Isla's Room Refresh
After we got the new carpet installed I knew Islas room was missing something. After I saw this gorgeous peel and stick wallpaper from Wallblush I knew it was going to go perfectly with the colors in her room.
I have installed and removed peel and stick wallpaper before and I love that it can easily change the entire look of a space. With peel and stick wallpaper, it is removable! If you are renting, or are always changing your decor (like me!) it is a great substitution for traditonal glue wallpaper.
What I love about Peel and Stick Wallpaper
It is removable, therefore can be temporary
It can be applied to lightly textured walls
Easy to install
Comes in SO many patterns
The hardest part to install the wallpaper was the first and last panel. If you have an extra set of hands it would make it a lot easier! The rest was a breeze!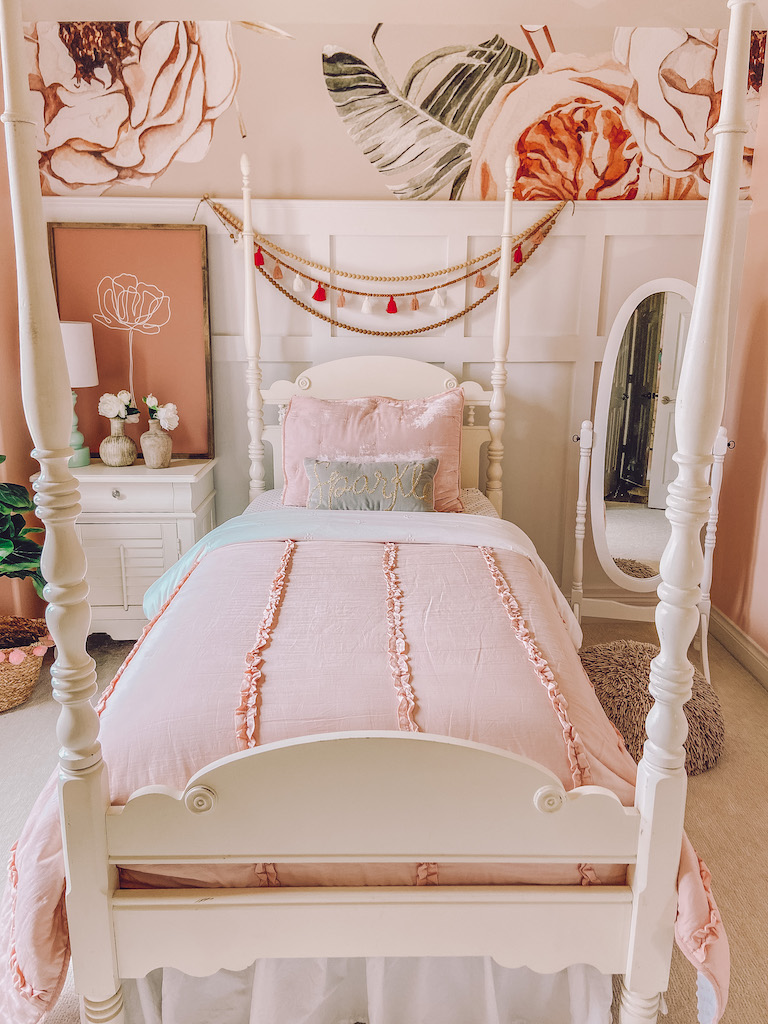 I moved this flower sign from The Little Bird from our sitting room to Islas room and it pulls in the coral from the wallpaper.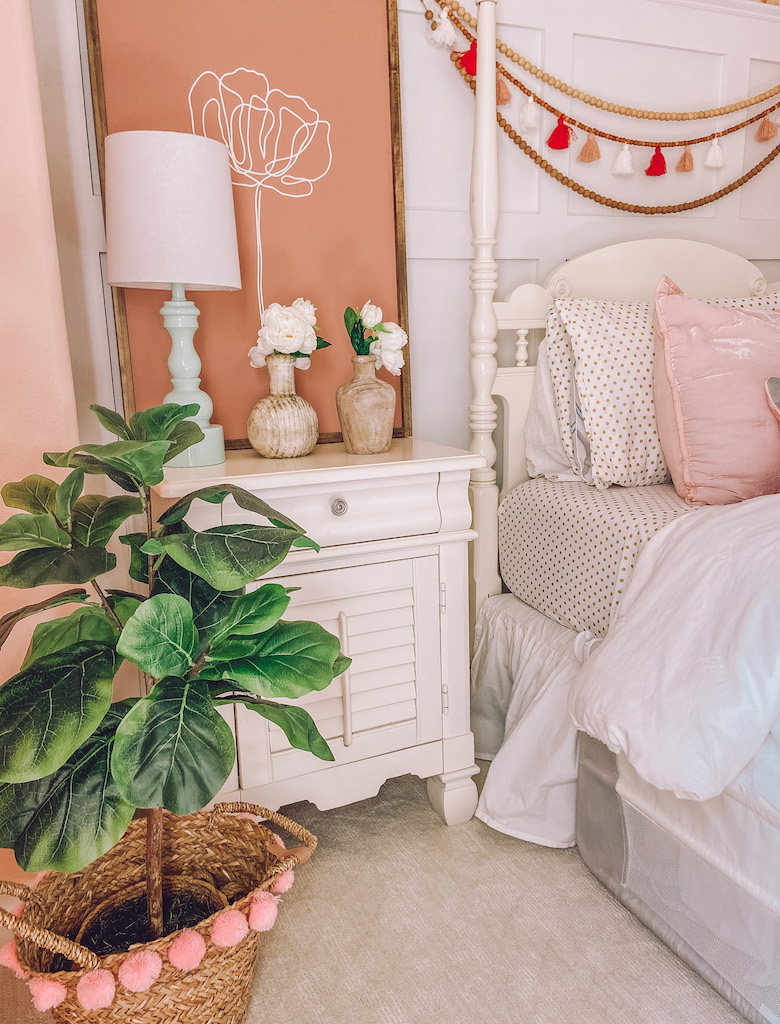 Now I have to figure out what else to do with this wall.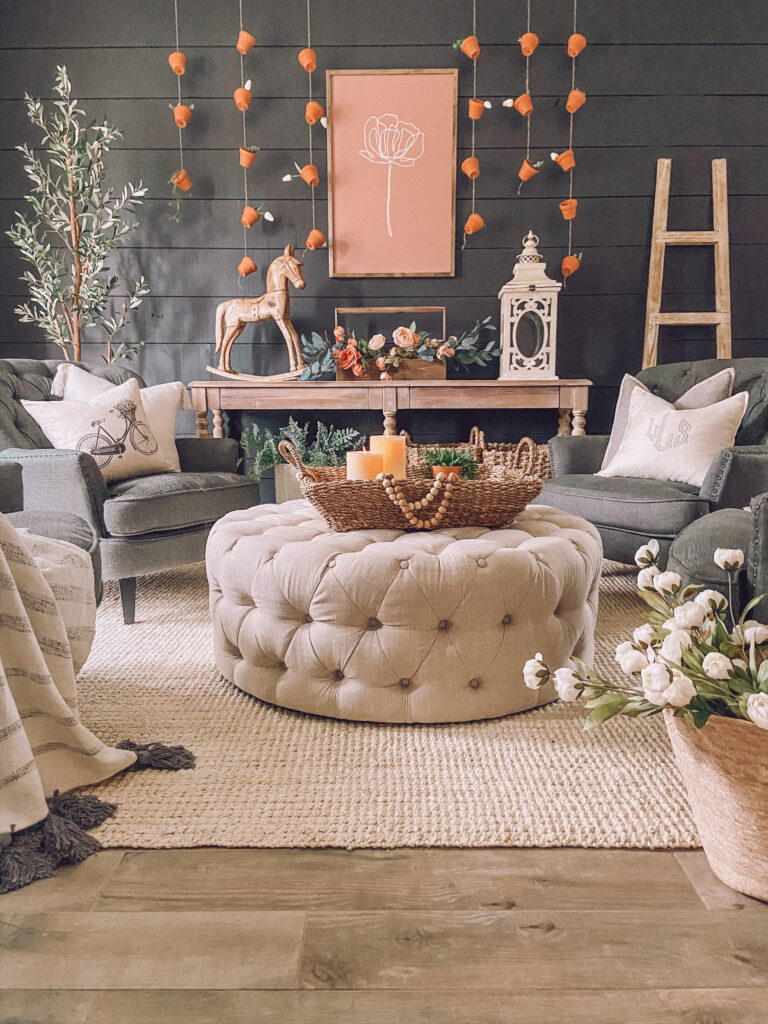 I moved her white flowers to the other long wall and put them around her name sign.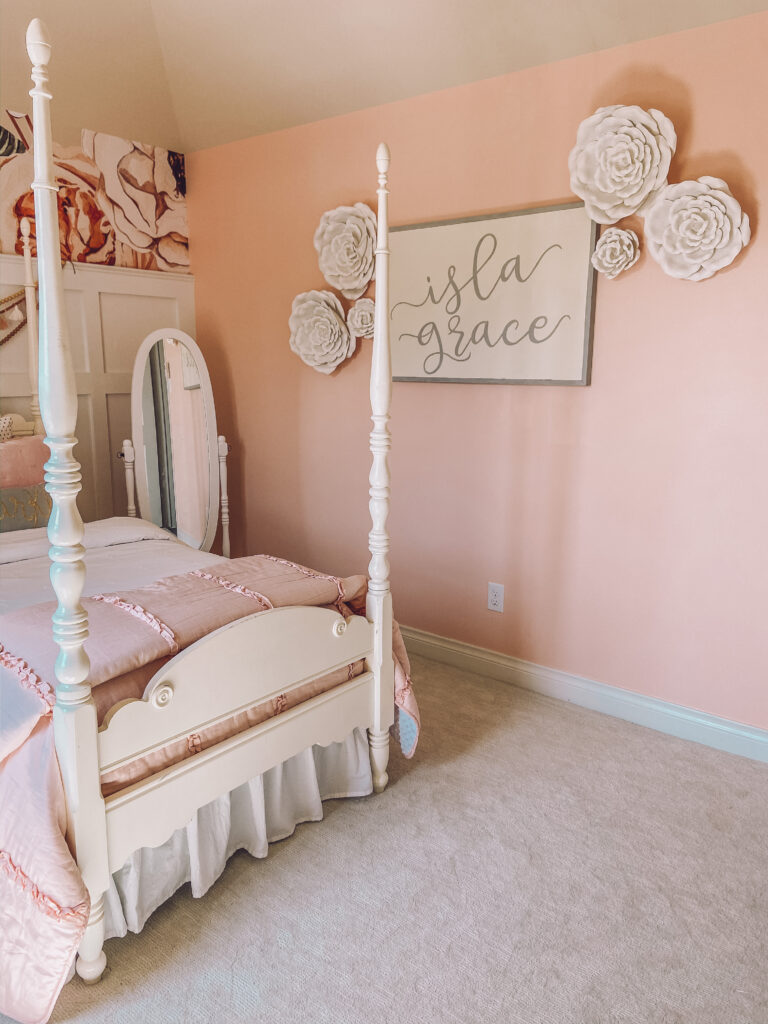 I made the name sign for her before she was born. The sign used to be hung above her crib and was too big to hang above her bed with the canopy posts.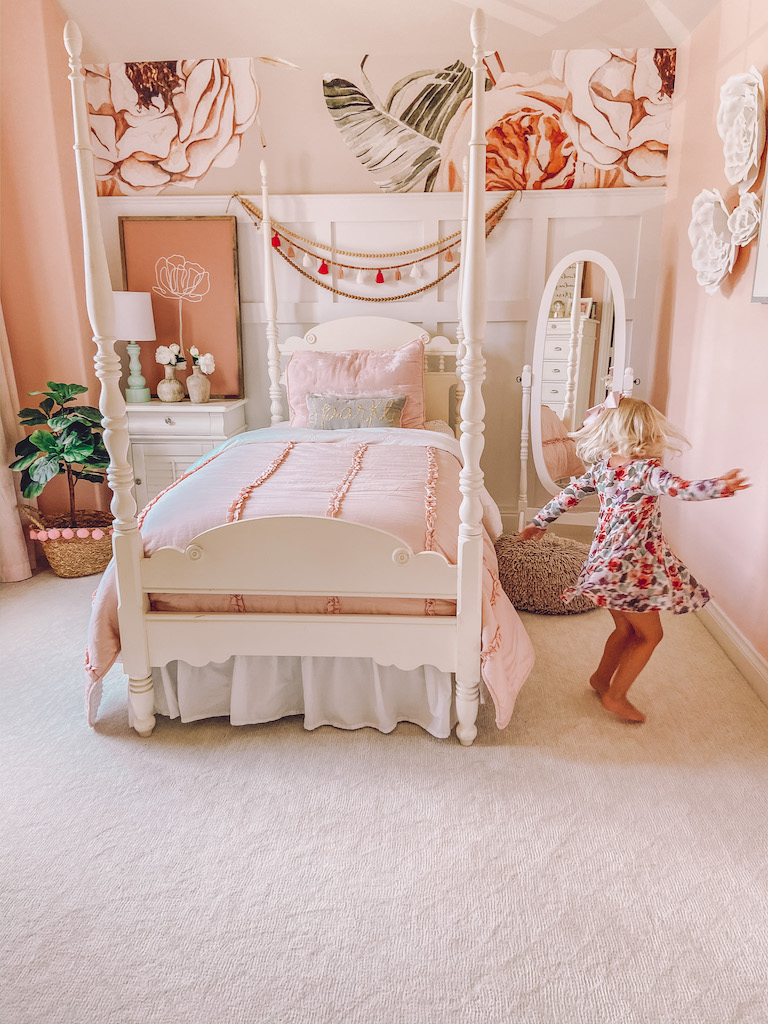 A brand new room for the cutest little girl! She is beyond excited with the new look of her room and I love to see her so HAPPY!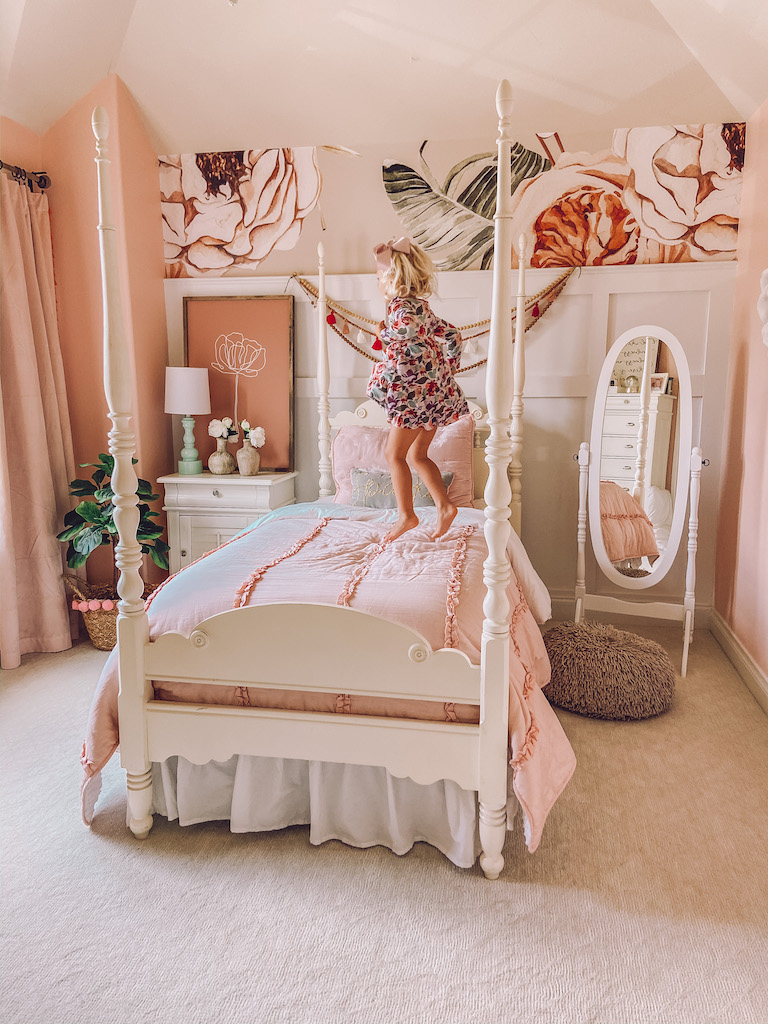 What do you think of her room? Would you be willing to give peel and stick wallpaper a try in your home home?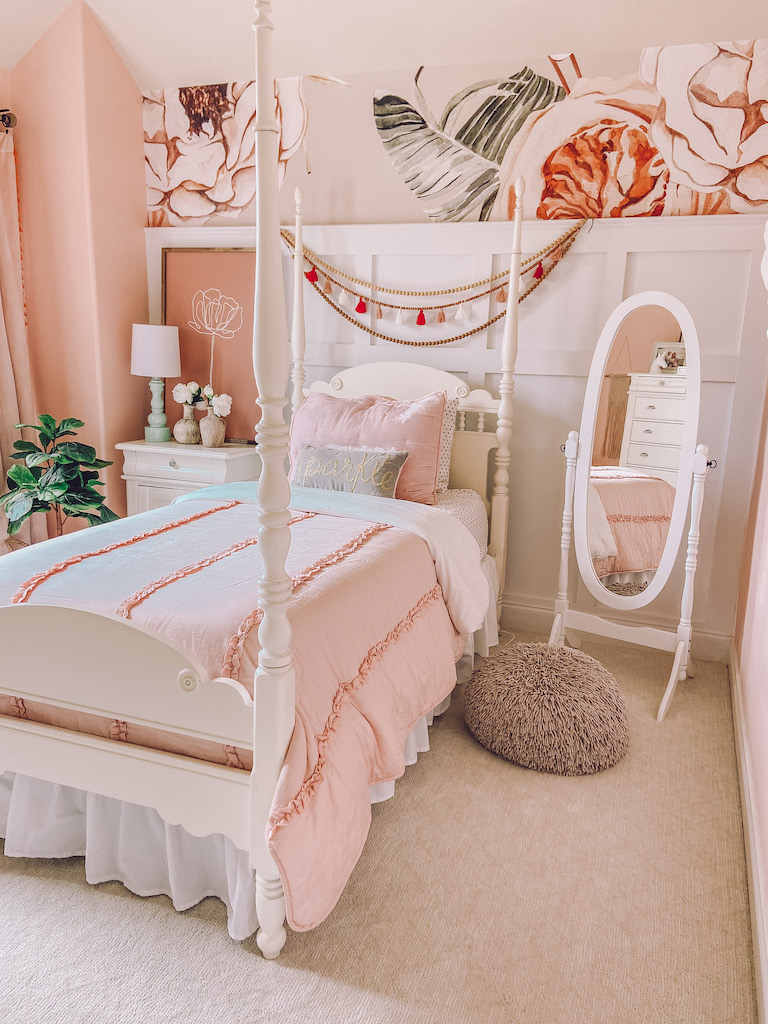 For your shopping convenience, I linked some sources for you below:

xoxo,
Leanna