10 Essentials For a Cozy Guest Room
A list of 10 essentials for a cozy guest room
I love fancy hotels! I mean… who doesn't??? I love all the little details they think about when you arrive. We aren't staying at a fancy hotel anytime soon…. because of … kids. But, I have our guest room all ready for our guests to feel like they are staying at hotel! We have no family in town, so we usually have a guest or two every other month. My mom frequents often to come help with the kids, and my dad comes when he can! We also have Simons family who are from New Zealand that visit about once a year. I love to have our guest room ready for them after they have traveled over twenty hours to get here!
Essentials for a Cozy Guest Room
We don't have plans for guests any time soon, but I am hoping once this crazy time period is over we get lots of visitors! I miss my family! Today I rounded up a list of 10 essentials to create a cozy guest room.
I am also giving you a FREE WIFI printable so your guests can get connected when they arrive. Print it out and frame it in a cute frame! Put the sign on a bedside table, dresser, or the wall so they see it first thing!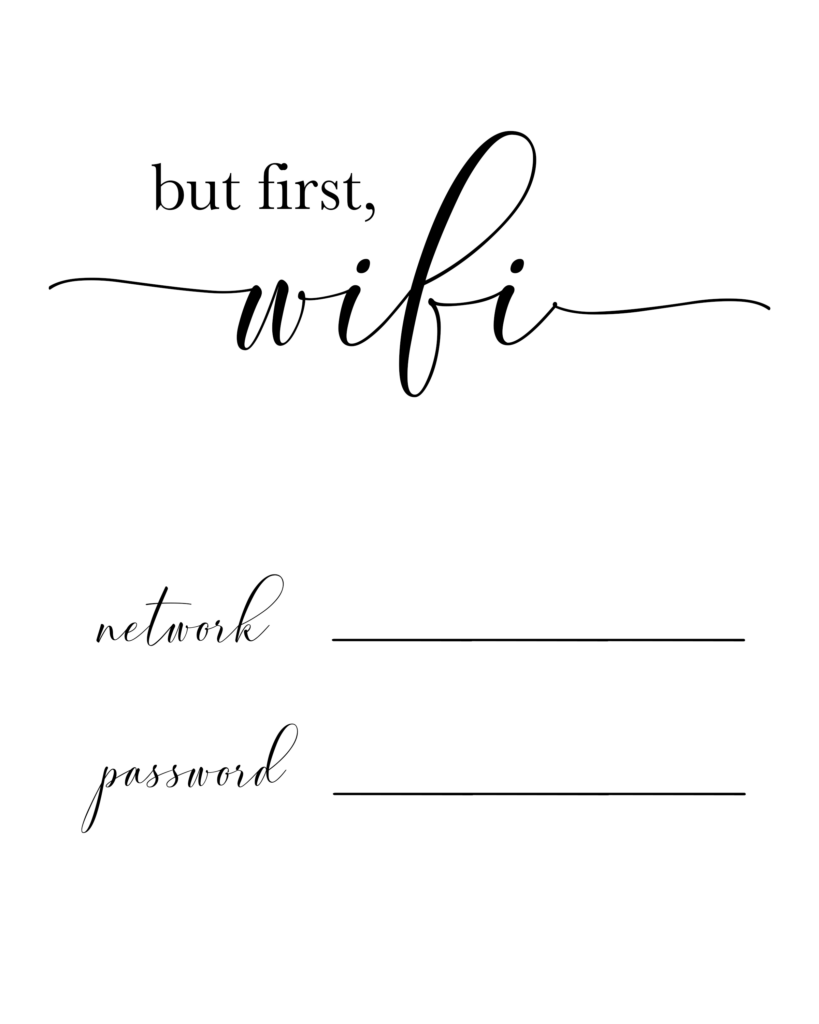 To open and print the printable click HERE.
10 Essentials for a Cozy Guest Room
Clean and Tidy
The most basic essential of an inviting guest room is that it must be clean and tidy! Make sure the bedding is clean, carpet is vacuumed and everything is dust free! Keep most personal items out of this room. Guests like to have some space for their own thing, so keep out all the clutter!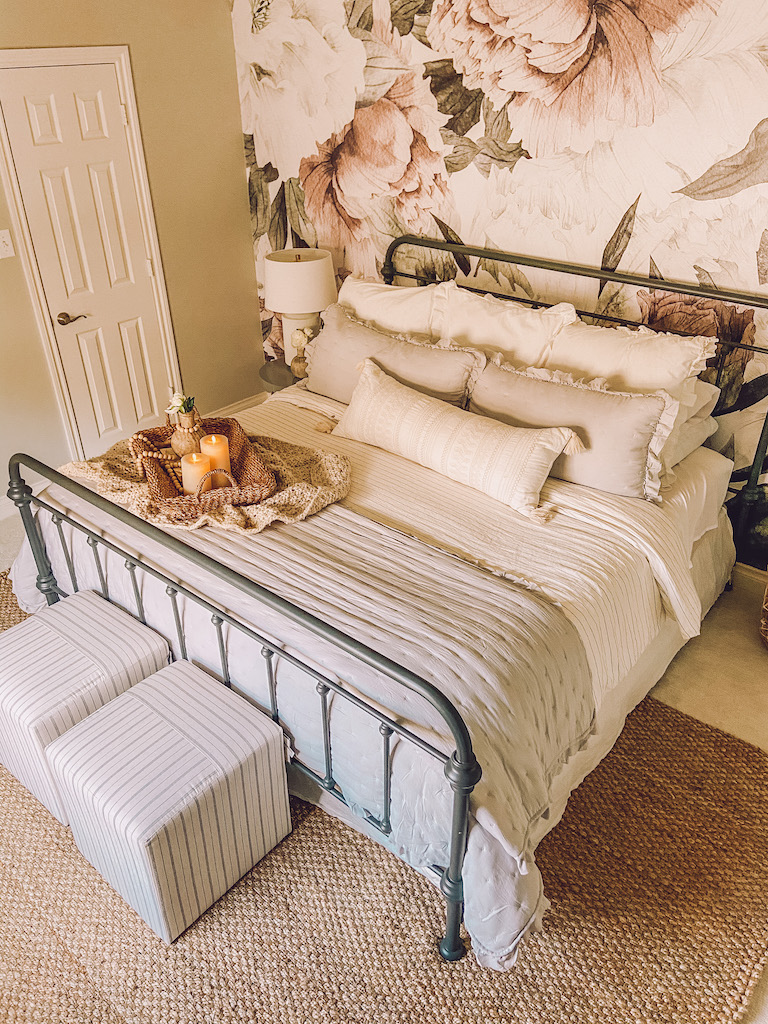 Jute Rug is linked HERE.
The Wallpaper is by A New wall decor and you can find it here.
Cozy Bed Sheets
I prefer white sheets so I can wash and bleach them and they look brand new. Invest in some good quality sheets for your guests, it makes a huge difference. Make sure you wash the sheets before your guests arrive. And don't forget to make the bed!! I like to add a few layers of bedding, everyone has a different body temperature and may like more or less bedding.
Add a cozy throw blanket on top the bed or have one near by incase your guests get cold. This is more important during the colder months incase they need it.
Fresh Towels
Clean and fresh towels are a must. I also prefer white towels so I can bleach them, just like the sheets! Make sure the towels are fully and absorbent as well. Roll them up in a cute basket or fold them neatly on the bed for their arrival. Most people like to freshen up after a long journey!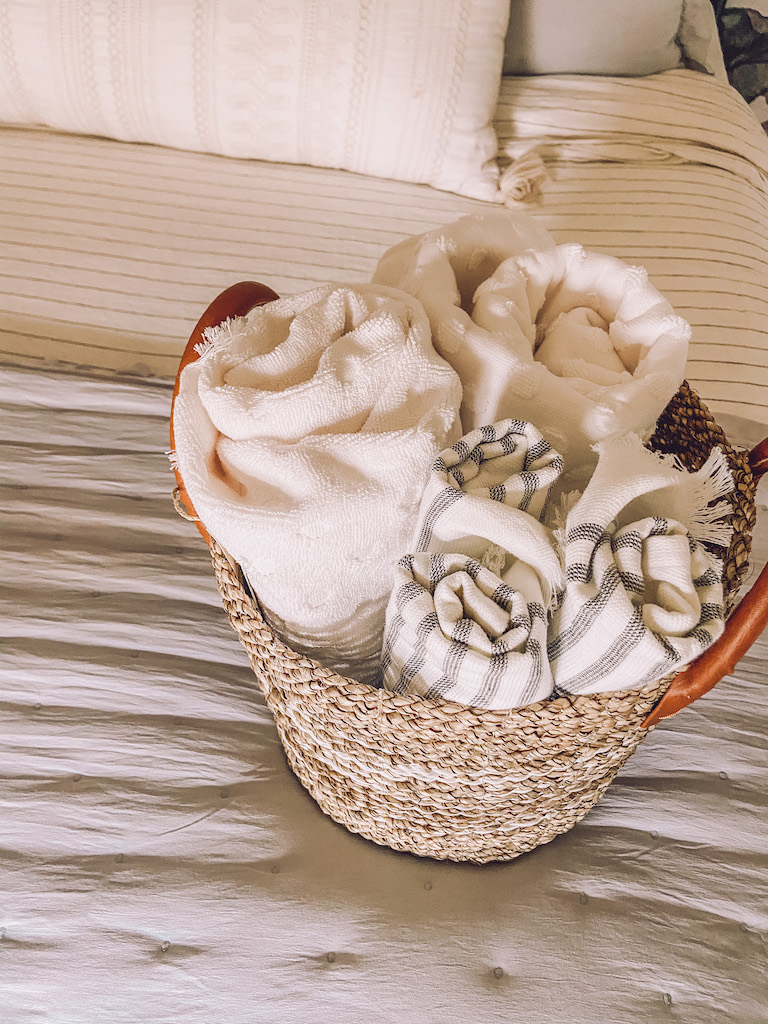 Lamp
This is a must… even if you have other overhead lighting. A pretty bed side lamp is essential. Your guests may prefer to read before bed and a bed side lamp is the perfect lighting. If you can get one with a dimmer that is even better! This way they can control the amount of light they need!
I love this lamp from the Studio McGee collection at target! It also has a dimmer.
Fan
I usually will always opt out of a fan, but I am a firm believer that it is a must in a guest room. Many people love the cool air breeze from a fan, especially during the warmer months. Or if they get hot during the night, they can regulate their own bedroom temperature.
I love and adore this fan from Hunter Fans. It is a beauty, don't you think?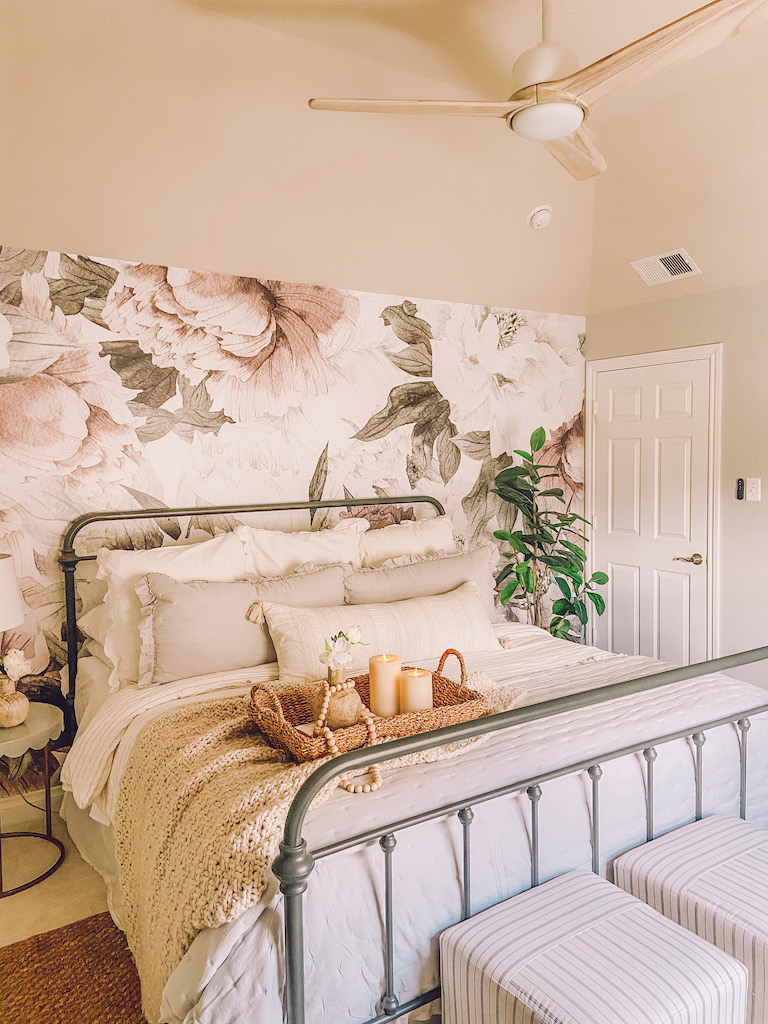 Pillows
Have a variety of different types of pillows for your guest to choose some. Some people prefer hard and stiff pillows, where other people like soft and squishy.
Clock
I know in todays world, most people use their cell phones as a clock. But it is a nice gesture to also have a clock for your guests! It's also important to have enough outlets and plugs near the bed for phone and other electronics.
Mirror
I feel like this one tip is mostly forgotten. I really do appreciate when a guest room has a mirror when I get dressed so I don't have to find a nearby bathroom. Having a mirror will give guests the ability to get dressed in the bedroom without having to go find a mirror elsewhere. A standing mirror is preferred but any mirror on the wall will work! A mirror will also help bring light into a room that doesn't get much sunlight!
Place to store clothes or suitcase
Now, this is one that I am still working on! Our guest closet is currently being used to store all of the things! But I did add these cute little ottomans for guests to put their suitcase on. You can also get a small cart, or dresser too!
Misc Accessories: Phone charger, candle, water bottle, snacks
It is really all in the details! I love to leave my guests with a few little bed time snacks! Of course guests are always welcome to anything in my kitchen, but adding some snacks in a cute tray is an extra special thought! I also make sure there are some water bottles and a phone charger too!
A linked a few of the items in the guest room below for your shopping convenience:

I hope you found these 10 essentials for a cozy guest room helpful! Now who wants to be my first guest??
Other Essentials for a Perfect Guest Room
Reading material
Candle
Iron
Tv
sound machine
fresh flowers
small dish for jewelry
wastebasket
hook to hang jacket, purse or towel
box of tissues
shades or curtains
hairdryer
Extra toiletries
diffuser
pack-n-play for little ones
xoxo,
Leanna