Sharing is caring!
Today I am so excited to finally reveal my modern farmhouse bedroom refresh. I have a thing about change, I love to change all things within my home. I rearrange furniture daily, move art work around the house, and I am always painting something a new color! However, I am not a big fan of change if it has to do with my daily routine! I thrive on routines, a set schedule, and a detailed calendar.
Choosing the Right Paint Color
This month, my bedroom was on my list of rooms I wanted to try something new in! I have been loving dark contrast walls and I took a big risk when I decided to choose a dark paint color. I painted my bedroom walls with the color, Peppercorn, by Sherwin Williams. I love how the new paint color makes the bedroom furniture stand out.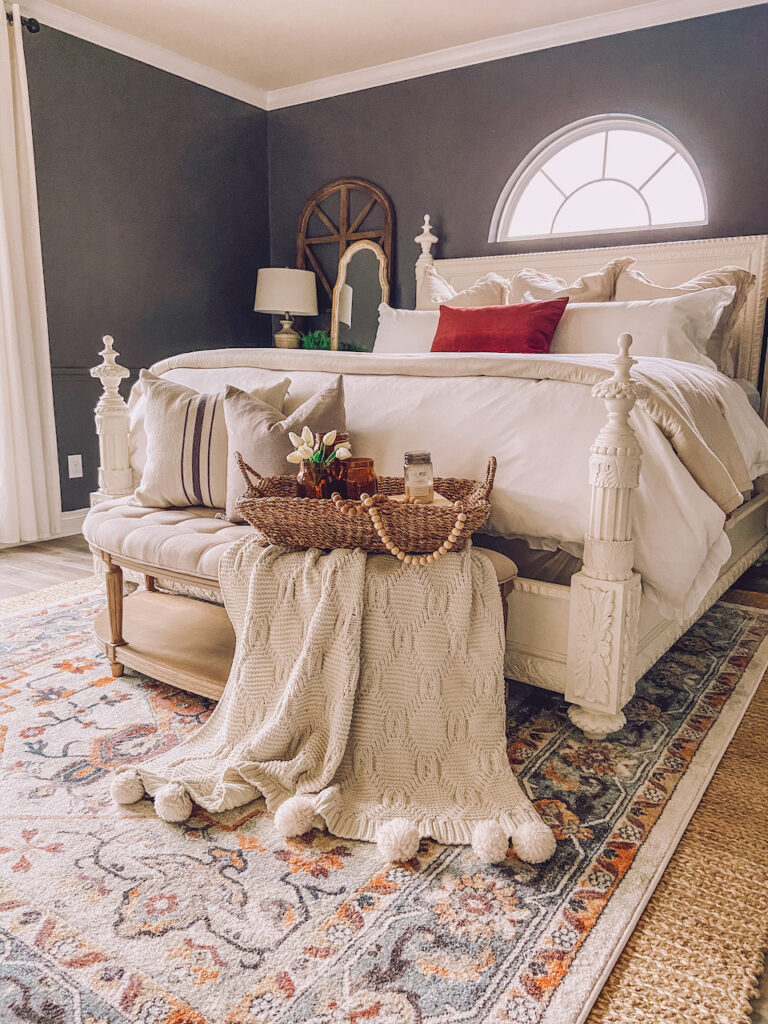 Painting dark color walls and using color in my home used to scare me. That sounds so silly to me because now I am craving all the color! I found this colorful rug cozy rug to lay on top of my jute rug to add more color to this space.
Create a Cohesive Look
To balance out all the colors and patterns, I used neutral bed linens and received a beautiful brand new white chair from Sixpenny.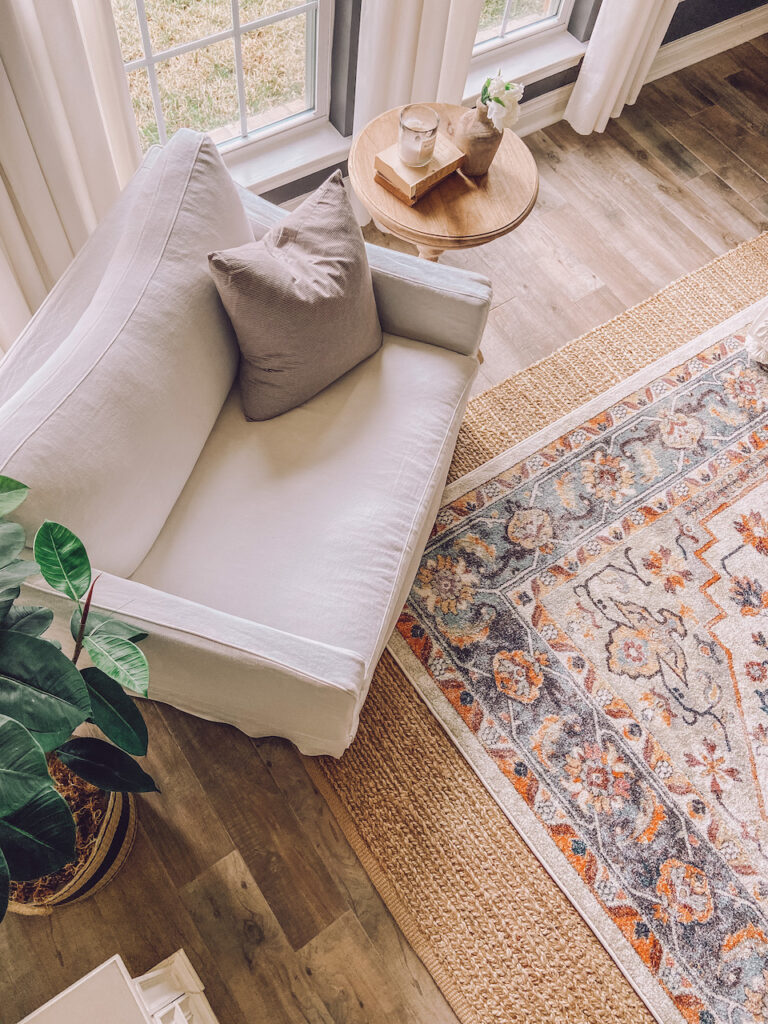 This chair is called the Amelia Chair, and I chose the color cotton linen. It is by far the comfiest chair in my home. I know I'll be spending lots of time in this corner reading to my littles. I also love that the chair has a slip cover so I can easily wash it if it gets dirty. Because let's be honest, with white fabric and three littles, its bound to happen!
I just love how the white furniture stands out so much more with the contrasting colors. I also added in a pop of maroon with a new pillow, that pulls up the same color from the rug.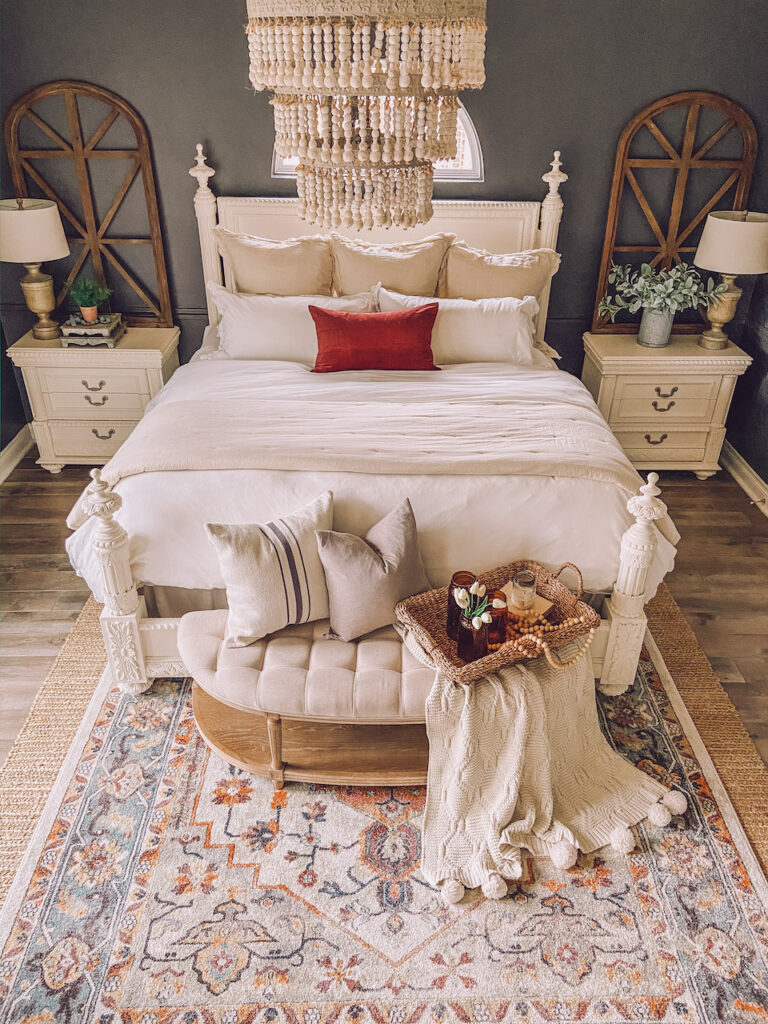 Modern Farmhouse Bedroom Tips
If you are nervous about adding color into your home, start with a few new colorful pillows. Pillows are a great and easy way to change up an entire space.
Choose a rug that brings in the other colors of your room. For my bedroom I chose a rug that had the dark grey of our walls. I also wanted to incorporate the maroon from my new pillow. Layering rugs also add more depth and texture to your space. I always have the jute rug under our bed, and frequently change out the rug on top for different seasons and for a new look.
Keep the bed linens neutral or white to ensure that the room feels cohesive.
If the walls of your room are dark, keep the linens white or a light neutral to brighten up your space. However, If you have light neutral walls, don't be afraid to choose a darker bed linen for more of a contrast.
Add an accent chair to create a ready nook. Consider the SixPenny Amelia chair that comes in many different colors.
Add a chandelier for added texture. We used to have a not so pretty ceiling fan in here. I was so ready to get rid of it and love how this light make such a big statement in our bedroom.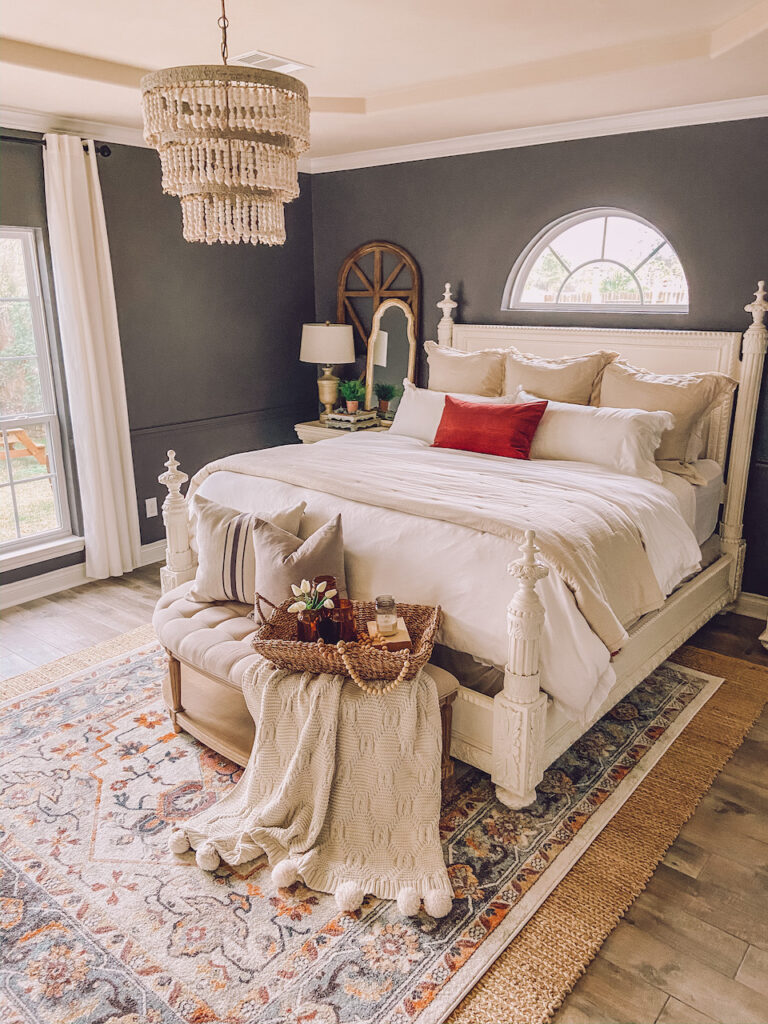 What do you think about our modern farmhouse bedroom refresh? Are you ready to bring color into your home?? I would love to hear your thoughts!

If you want to check out my sitting room refresh with more contrasting colors you can see more about it here!
xoxo,
Leanna