Fall Walmart Workwear and Evening Outfits You Will Love!
I love buying clothes that can be worn for several occasions, and these Walmart workwear options are beautiful pieces that can also be worn for an evening out! The best part is that these are high-quality, fashionable pieces that are still budget-friendly so you can shop for yourself without the guilt. I absolutely love shopping at Walmart and am there ALL the time for basically anything I need, ranging from home decor to kid items to groceries. I hope you love these outfits as much as I do!
All of the looks you see here are also linked below for easy shopping!
Here's a Quick Look at the Walmart Workwear Outfits!
Cute Turtleneck and Skirt Combo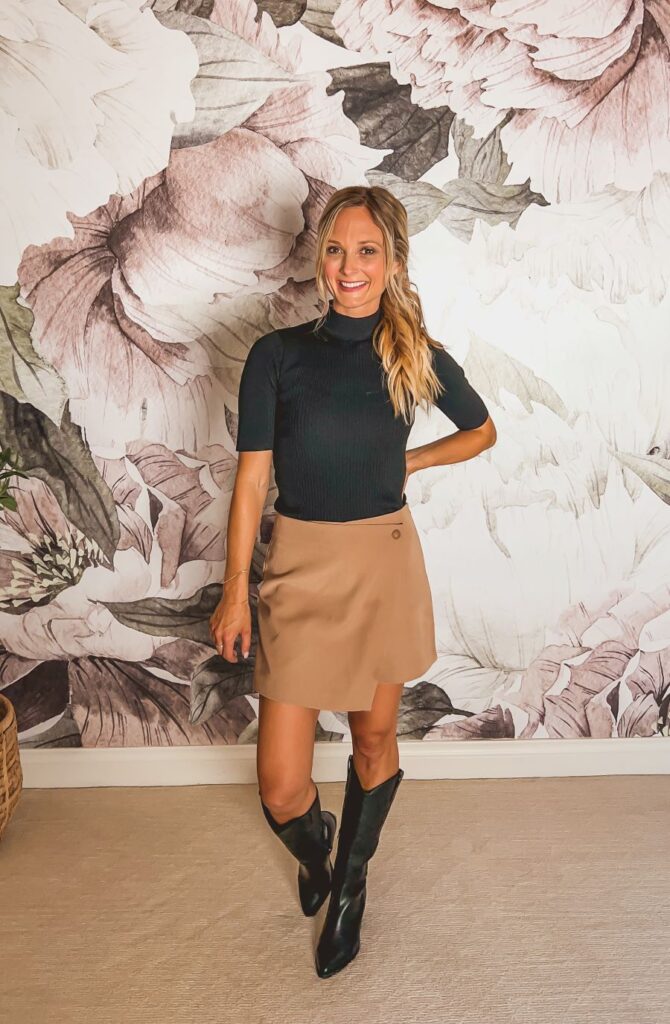 This black mock turtleneck is so comfortable and can be dressed up or down depending on what you pair it with, and my cute "skirt" is actually a skort! It is so lightweight and comfortable, plus the fit is designed to be flattering on a variety of body types.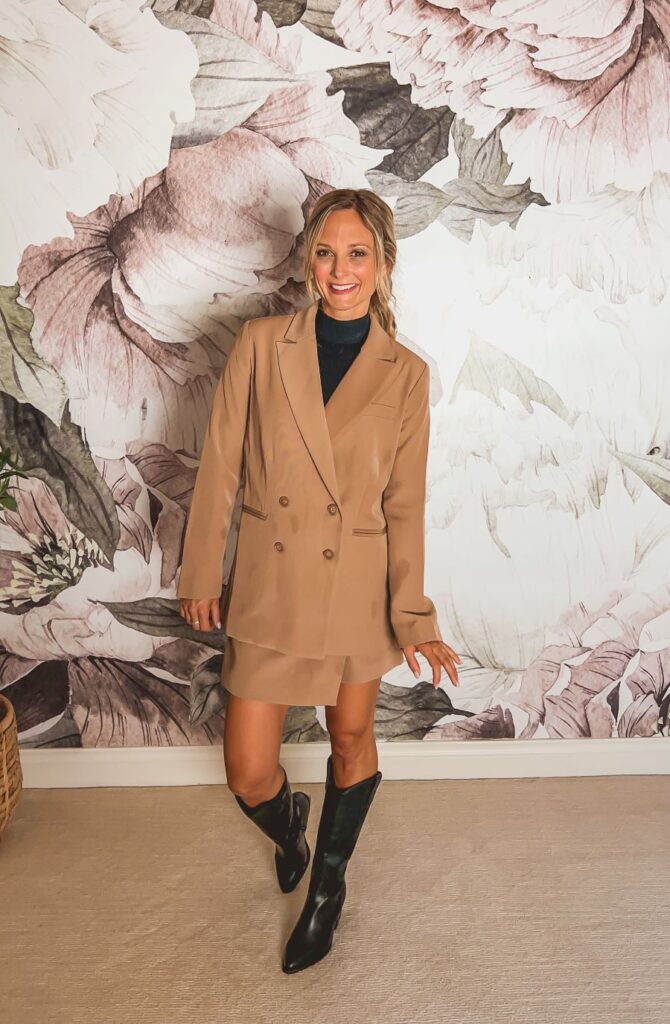 I also love the matching double-breasted blazer, which would also be so cute paired with jeans. The camel color is especially perfect for fall. The Western-style black boots add a touch of fun but are still subtle enough to be appropriate for work. (Plus I will be pairing them with jeans pretty much all season!)
Versatile Shirt and Your New Favorite Skirt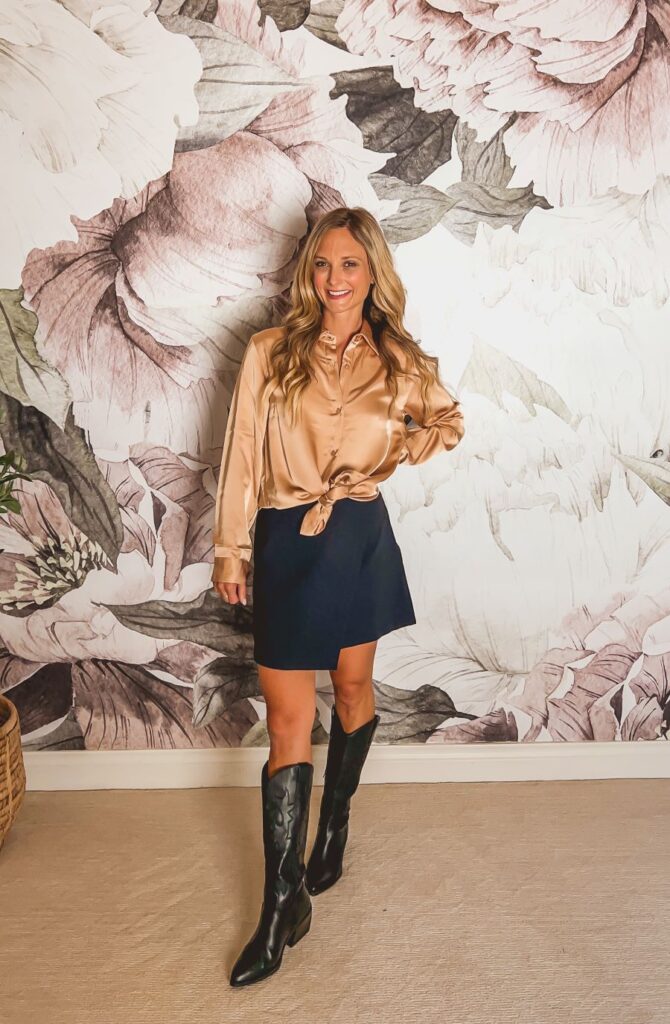 If i had to pick a favorite top, this satin long-sleeved top would be it! The silky material is quality is amazing and such high-quality. I have the shirt tied up since it's quite long, which means it would also be perfect to wear with skinny jeans and leggings. I'm also obsessed with how the Western-style black boots work with this outfit, too!
You could also tuck in the shirt, which comes in black as well! And if you prefer a more fitted blazer, this is another fantastic multi-wear option that can be paired with a skirt like the one above or also with jeans for a cute, quintessential fall outfit. The blazer also comes in gray, pink, and brown!
Unexpected Pop of Color
As much as I love fall color tones, it's also so nice to incorporate a little pop of color. This lavender wrap sweater is SO comfortable and cozy and pairs so well with a skirt or pants. (It also comes in black!) Speaking of skirts, this pleated faux leather skirt is the perfect length that is appropriate for work but also fun for a night out with girlfriends or a date night.
Dreamy Jumpsuit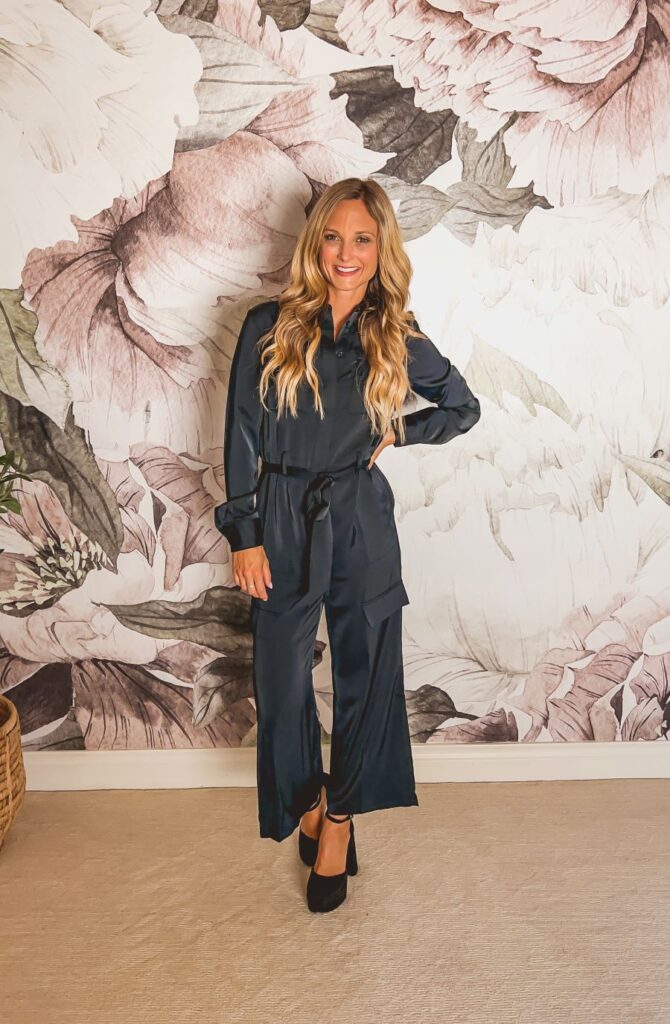 This black satin jumpsuit comes in a variety of colors, has pockets, and is such a soft, lightweight material that is so comfortable! This whole look is so classy and put-together and would also be adorable with a fun necklace.
Not-So-Scary Shoes and Adorable Dress
When I first saw these black strappy shoes, the heel height intimidated me but since there is a platform in the front, they are actually wayyy more comfortable than most of my other heels! I love the extra height they give me and they just instantly change my mood when I put them on.
I also love how the platform heels look with this adorable scooped striped sweater dress! This is one of those dresses that you could wear to pretty much anything depending on the shoes. I definitely plan on wearing this with flats, boots, or heels.
Shop the Post!
You can also click on any image below to shop your favorites from this post!
Enjoy!
It's also such a joy for me to share practical, beautiful clothes that can help you feel classy and confident without breaking the bank. I hope these Fall Walmart Workwear pieces can be staples in your closet for years to come. Don't forget to check out Walmart for pretty much anything else you or your family may need! If you loved these looks, you can also check out my separate post on Beautiful Fall Fashion Pieces from Walmart for even more outfits this season. Have a wonderful week, friends!
Xoxo,
Leanna