How to Create a Totally Awesome Barbie Snack Board!
This Barbie Snack Board is perfect for Barbie movie get-togethers and getting nostalgic! You can use any snacks you'd like and even some Barbie accessories as a centerpiece!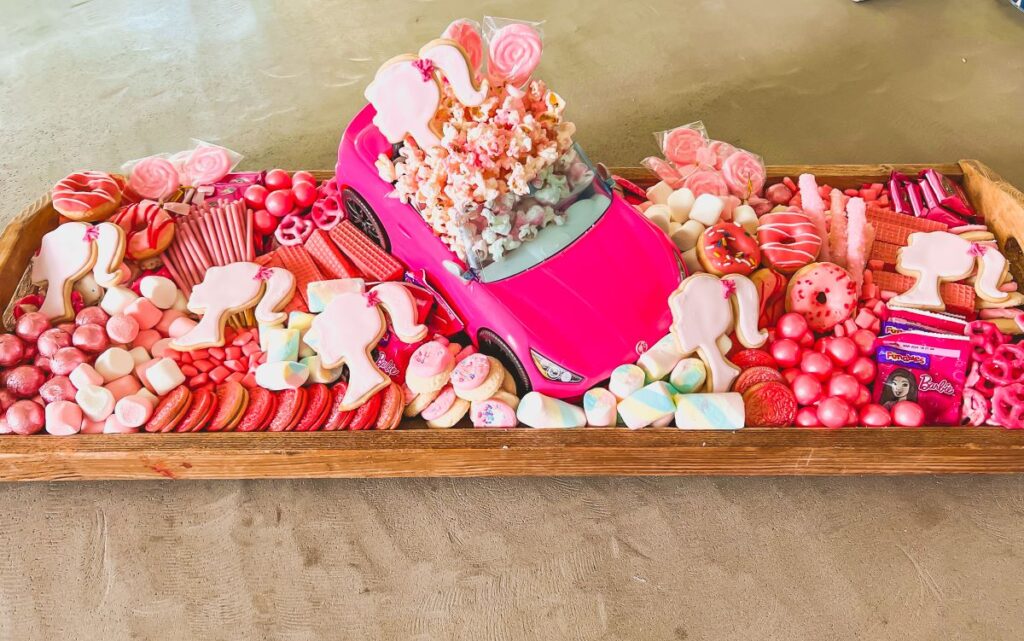 Ingredients
This is completely up to you, I'd just recommend anything PINK! I used a pink food spray similar to this Wilton spray to dye the popcorn, Oreos, and vanilla pretzels. A local friend made the amazing ponytail cookies. 🙂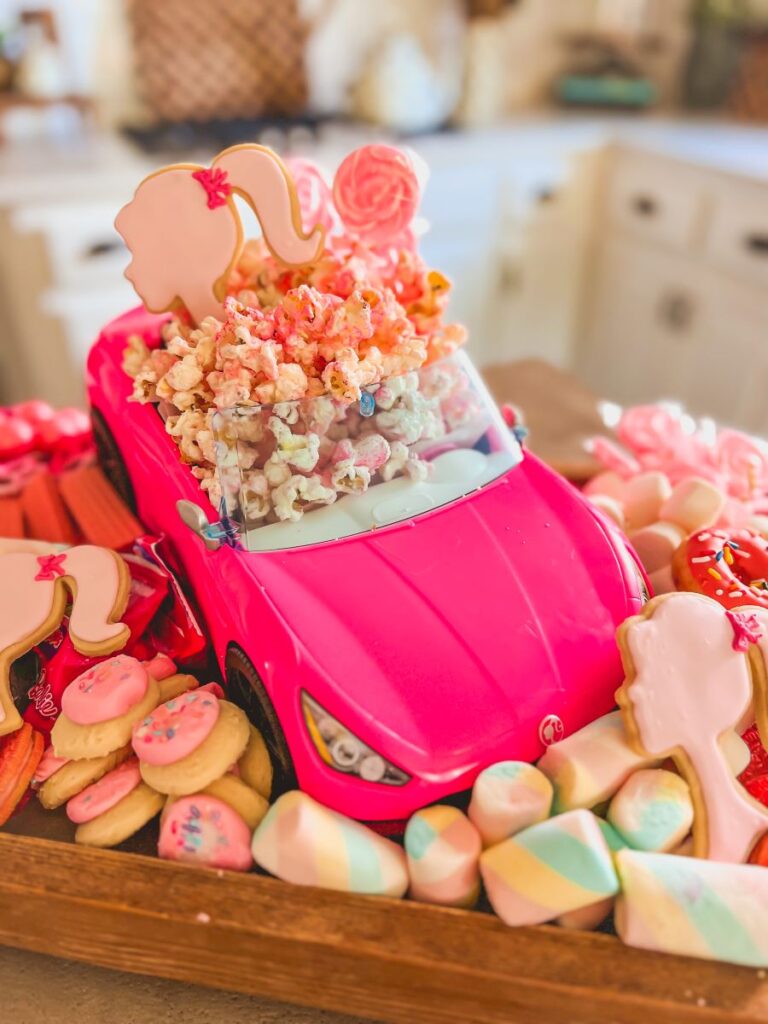 I also used my kids' Barbie car as a decoration as well as a snack holder, or you could decorate your board with actual Barbies. (I did clean the car so it is food-safe, and also put Saran Wrap inside as well.)
Your grocery store may also have some fun Barbie-themed snacks on-hand or you could try:
Pink Cookies
Pink Chocolates
Pink Donuts
Strawberries
Raspberries
Apples
Popcorn
Marshmallows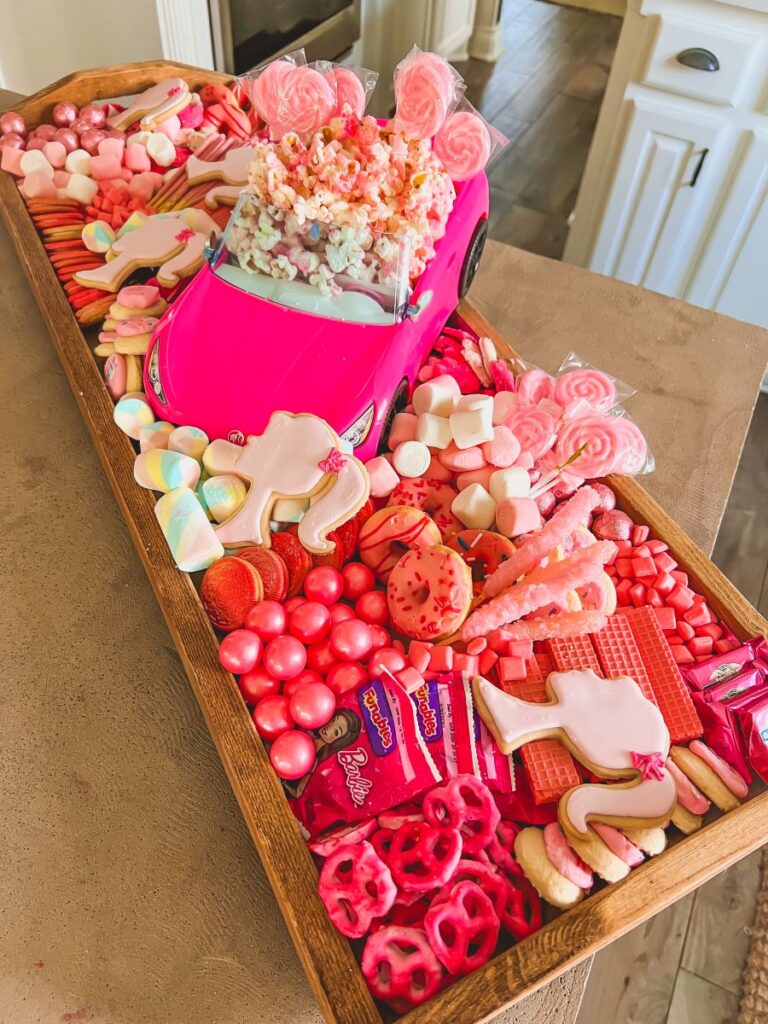 Directions
There's no right or wrong way to create your Barbie Snack Board, but here are some of my favorite tips:
Have a focal point: This can be something larger like the toy car I used, or even a small bowl in the center of the board to store smaller snacks. It's also nice to lean other snacks around the centerpiece and work your way out.
Start with the larger items, then you can always fill in any spaces with smaller treats.
Don't overthink it! Just have fun and try to enjoy yourself as much as your guests will enjoy it! 🙂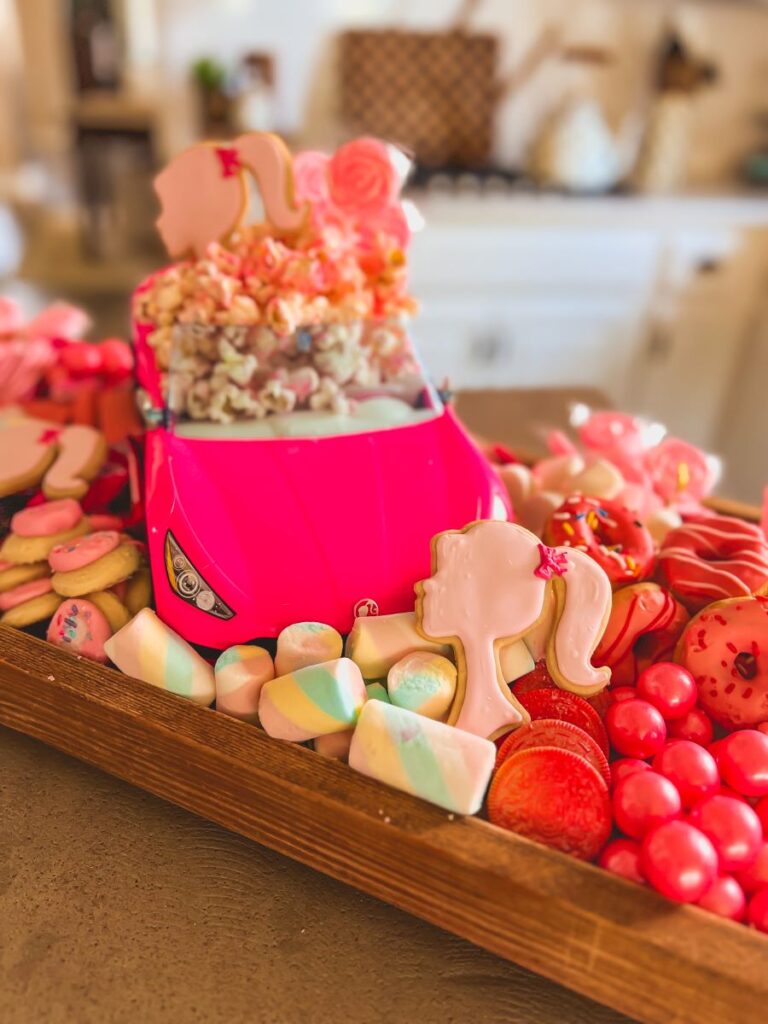 Here's a Quick Video Tutorial!
Perfect Presentation Platters
What I love most about this Barbie Snack Board is that it can go on just about any serving board. Here are some of my favorites!
Rectangular Trays: If you'd like a large rectangular wooden tray like mine, this wooden version from Target is great, as well as this beautiful choice from Etsy.
Round Trays: If you'd prefer a round tray, I'd recommend this round wooden Target tray, which I get so much use out of year-round! For a higher-end round tray, I love my MacKenzie-Childs checkered party tray. If you'd prefer some glitz, you could also go with this Gold Metal Party Tray from Walmart at a great price!
Kitchen Links: I get asked all the time about the products in the background of my kitchen. Much of it is from MacKenzie-Childs, which I have slowly grown a collection of over the years! My favorites are this checkered chopping board, my black and white checkered teapot, and the gray and white checkered utensil holder. I also have this enamel canister that you can find in small, medium, or large.
Can I Prep This Barbie Snack Board Ahead of Time?
Absolutely! If the food items can all be stored at room temperature, I'd recommend covering with foil or Saran Wrap until you are ready to serve.
Tips for Storing Leftovers
You'll likely have extras of your Barbie Snack Board, so my favorite tip is to keep the packaging! Simply put any leftovers that are still fresh back in the bag they came in, or you can use a Ziploc bag. Be sure to store any fruits or other perishables in the refrigerator.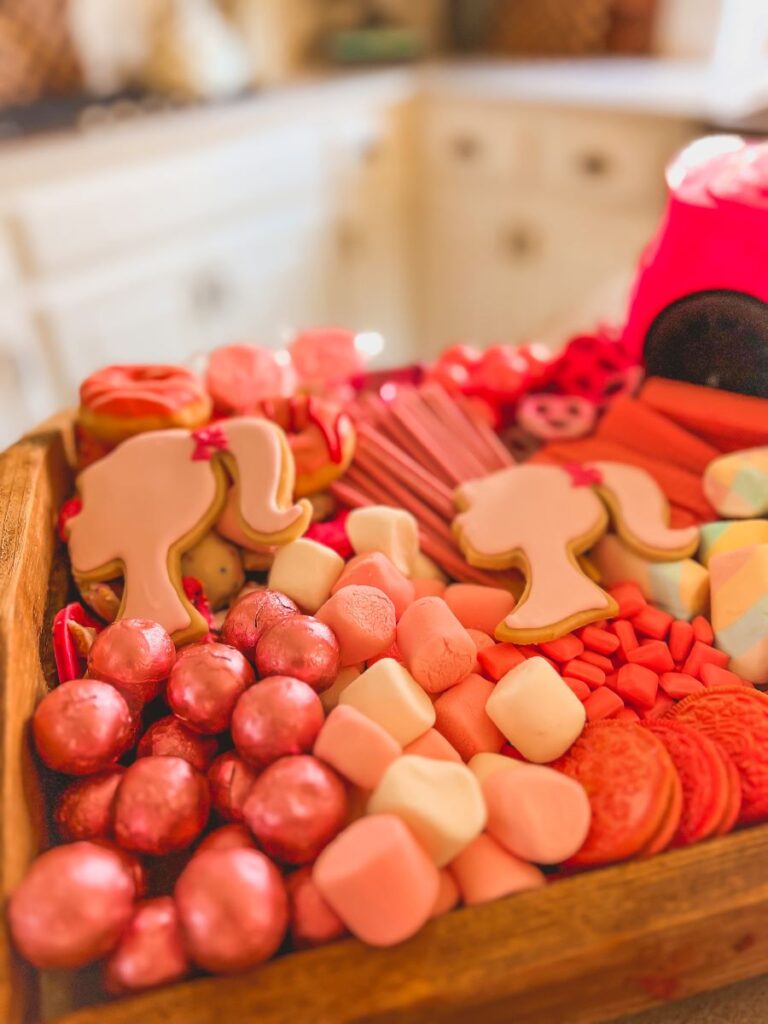 Enjoy!
This Barbie Snack Board was so fun to make! If you're looking for other ideas, you might also like this Popcorn Movie Night Board, this Build Your Own Taco Bar, or these Ice Cream Nachos!
Have a wonderful day, sweet friends!