Easy and Elegant Fall Decor Throughout the Home
I always aim to share inspiration that is easy to replicate on any budget and I hope these fall decor photos help to make decorating simple and fun! Fall is my absolute favorite season and I'm so excited to share photos throughout my home over the years!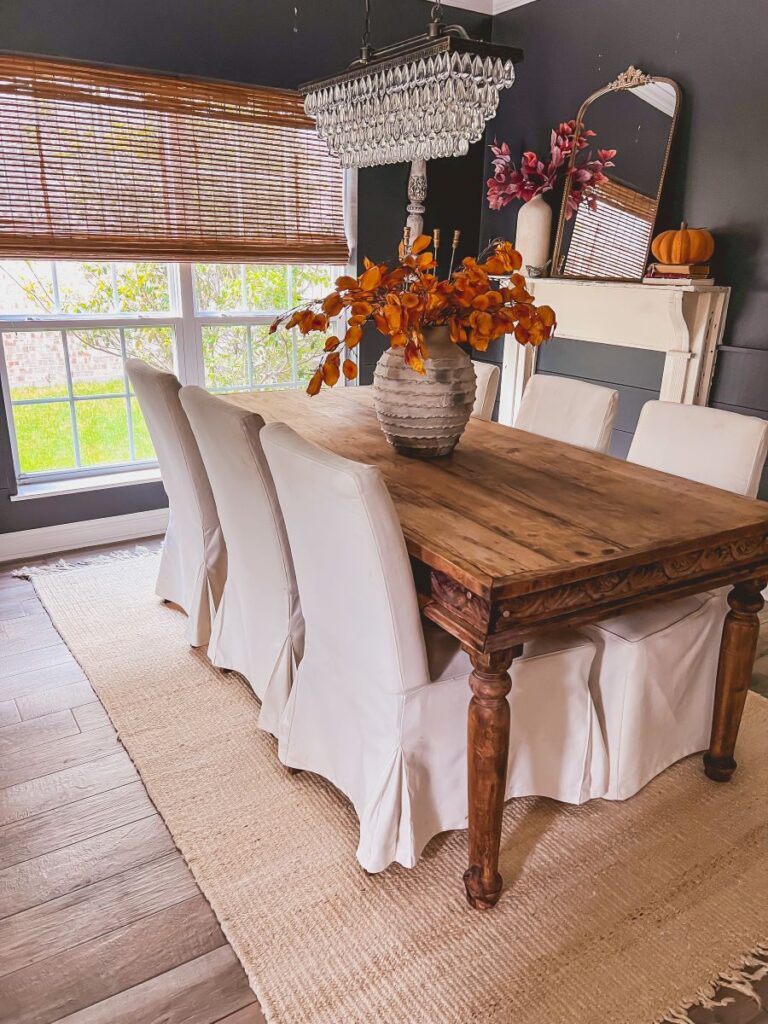 Living Room
I love changing up the decor on this wall and have done everything from this simple statement mirror to a gallery wall and just about everything in between. The dark contrast wall makes this room feel so cozy, especially when I add in knit blankets, auburn-colored leaves, and pumpkins for fall.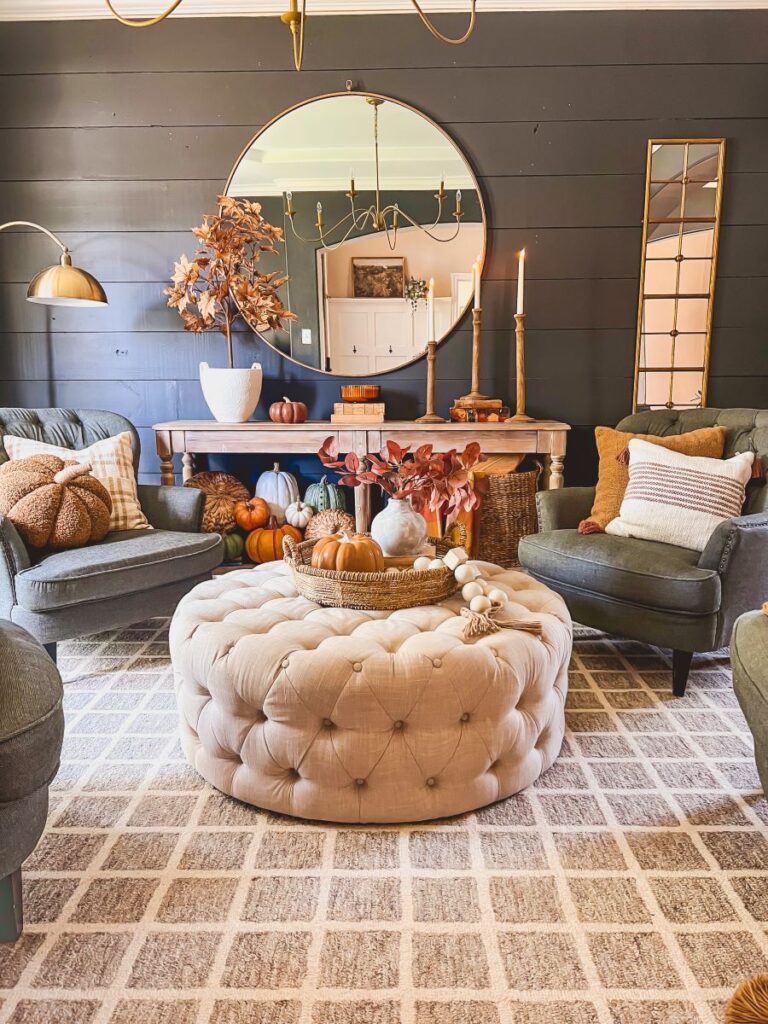 This look from last year in another option you could do by simply swapping out signs and florals for each season.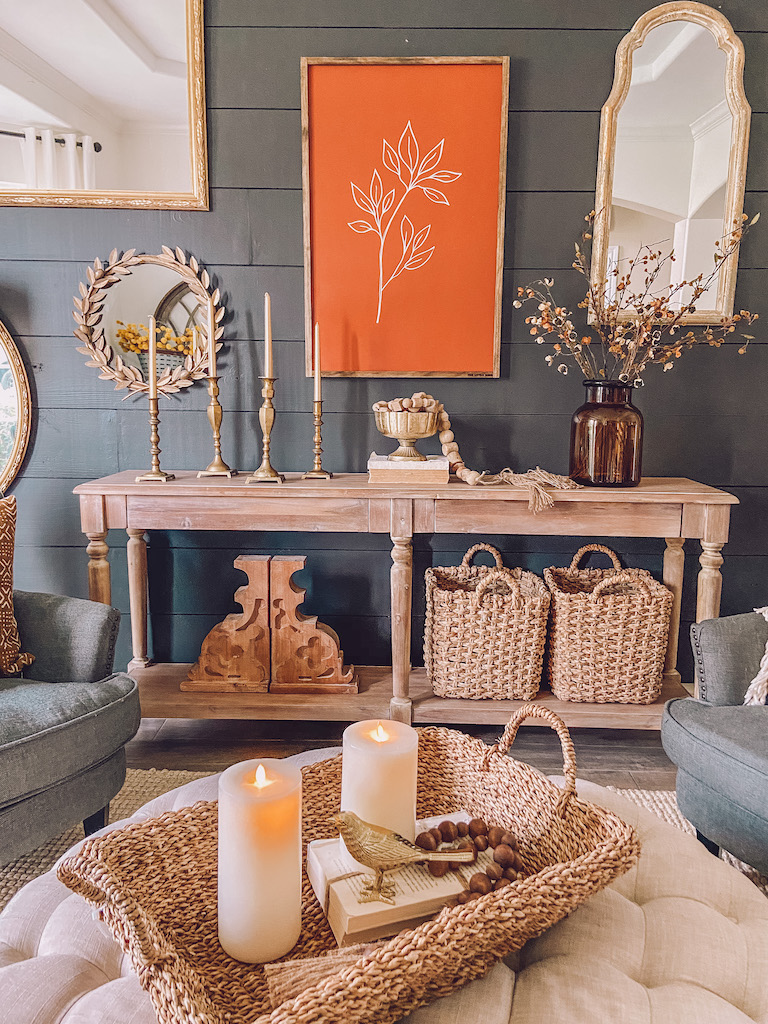 One thing I always aim to have are flameless candles that look so realistic, like these pillar candles in my woven basket or narrower candles for candlesticks like these (and both sets come with a handy remote!)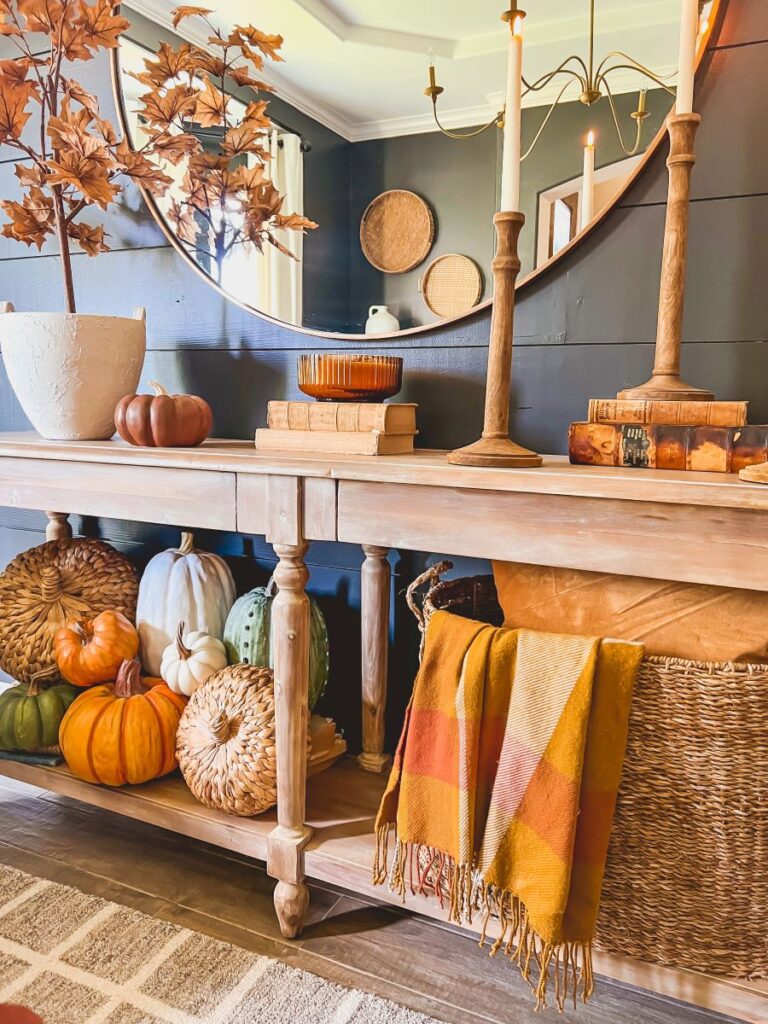 Vintage books, scented candles, or cozy blankets in golden shades are also easy ways to incorporate fall decor.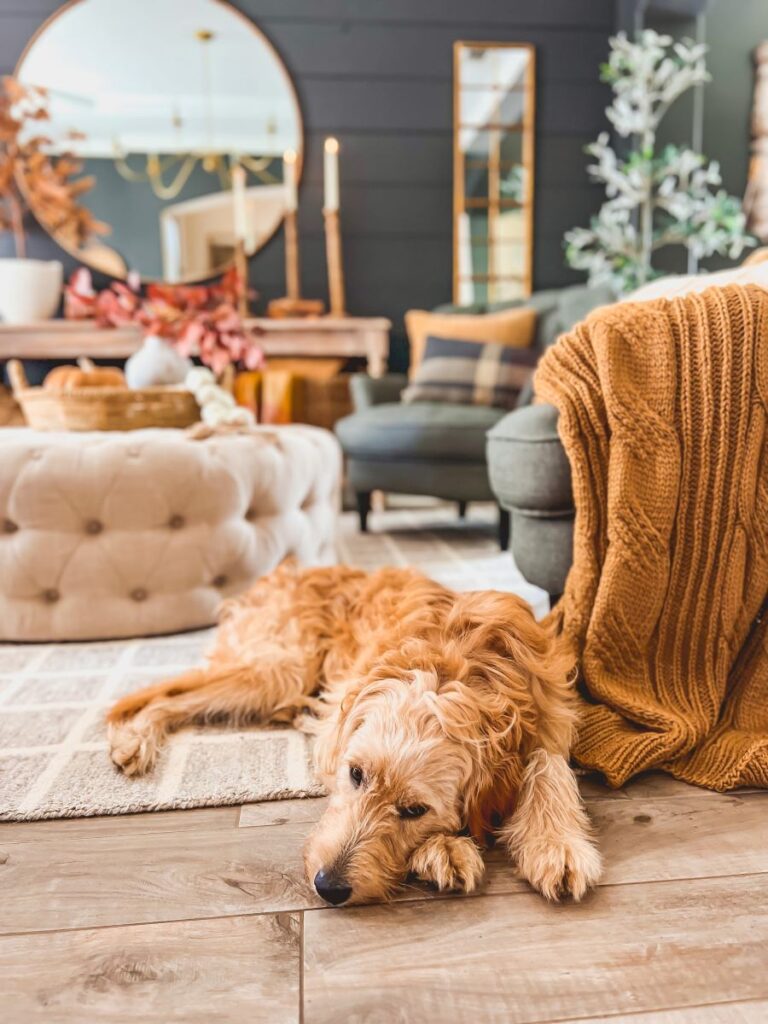 Dasher approves of this beautiful area rug and cozy throw blanket! I had to replace my old jute rug because a certain doggy chewed it all over. Good thing he's cute. 😉
Here's a Quick Video Tutorial!
Mantle and Fireplace
My mantle and fireplace have also seen a lot of changes over the years, and I've enjoyed the wide range of decor here, from layering signs or statement mirrors to adding natural elements like wreaths, florals, and greenery.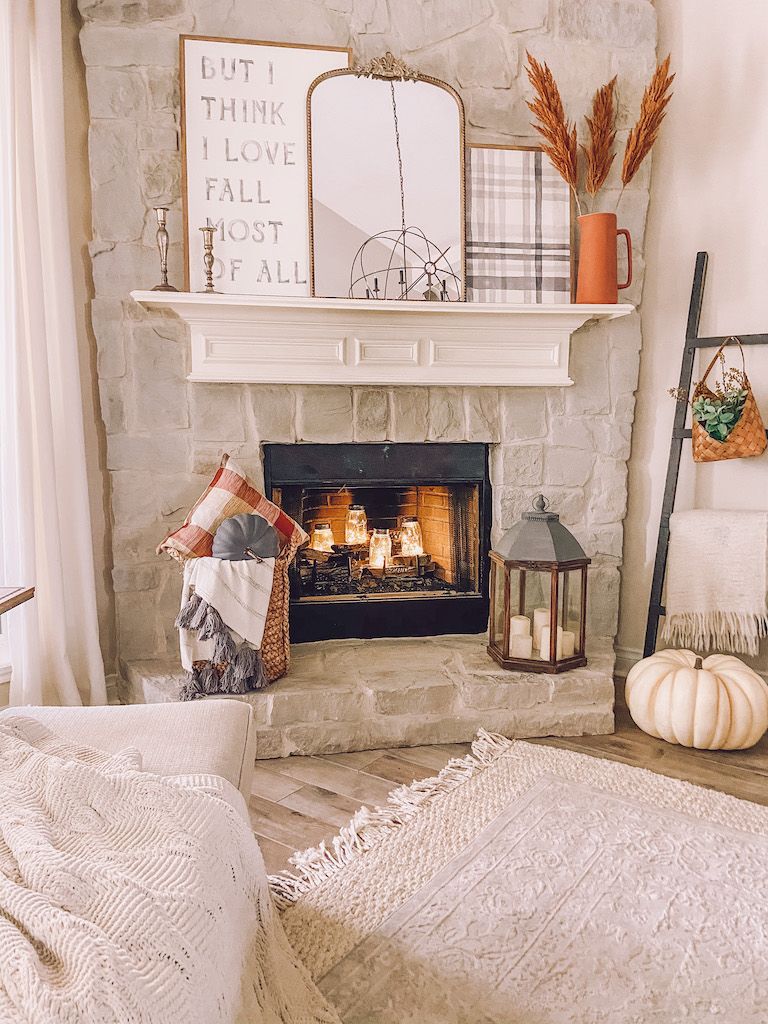 Mason jars with twinkle lights also add in so much warmth and coziness if you don't have a working fireplace!
I made that wreath myself and you can check out my tutorial here!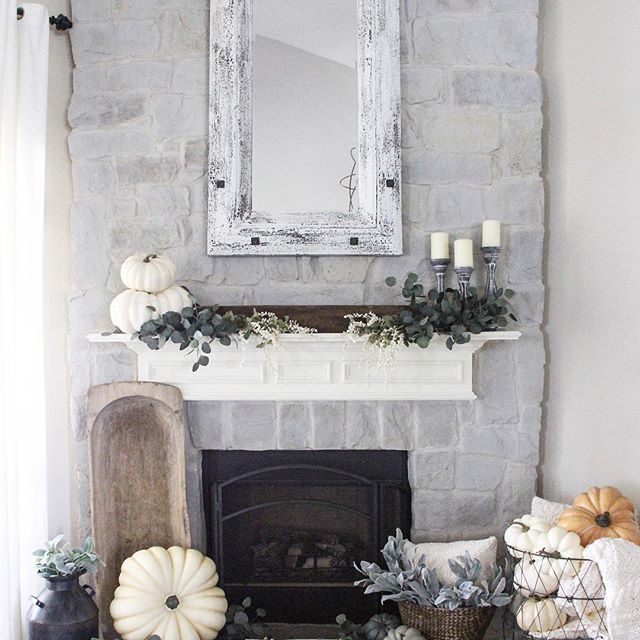 If you'd prefer more neutral shades than the typical orange for fall, you can also use white pumpkins, which look a bit more elegant.
For a more farmhouse-style fall decor theme, you can also incorporate faux greenery and buffalo check pillows. Although my mantle decorations have evolved, please know you have my FULL encouragement to just do what you love, even if it's the same thing year after year! I did the same mantle display this year that I did last year because it made me happy.
Kitchen
We spend so much time in the kitchen, so this is one of my favorite places to decorate! If you have a kitchen table, you could add a centerpiece of faux fall florals and napkins in autumn shades. Fall-themed pillows or pillow covers also transform a space easily, as well as a cozy blanket, such as on this bench.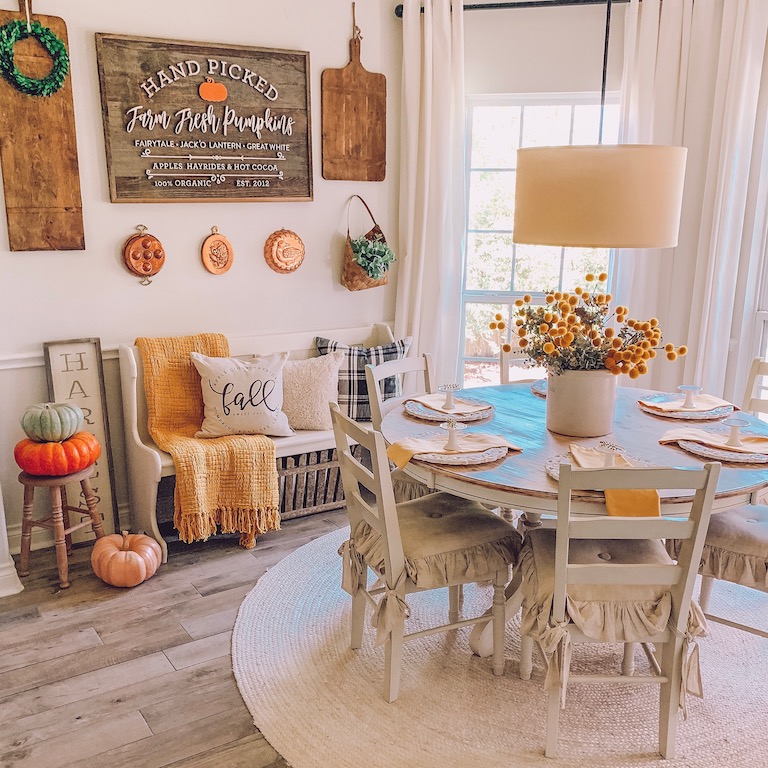 I also love this current variation of the same space with the black kitchen chairs and chandelier!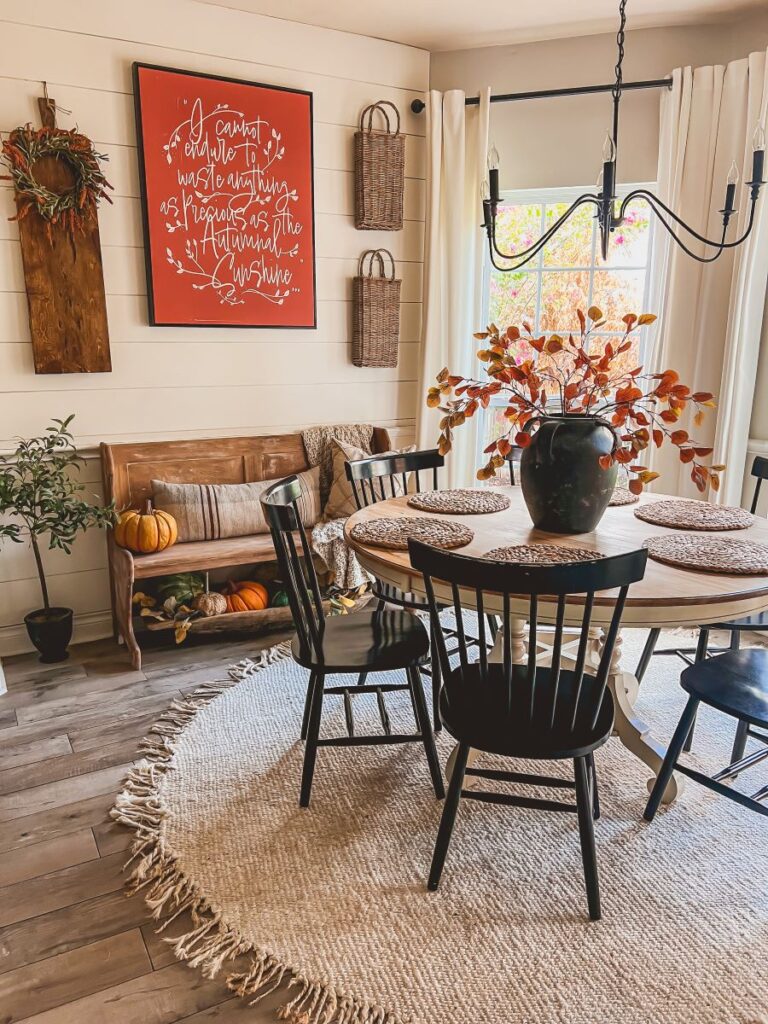 Wooden food boards are also multi-functional as serving trays or wall decor. If you're looking for similar boards, Antique Farmhouse has this beautiful set of three.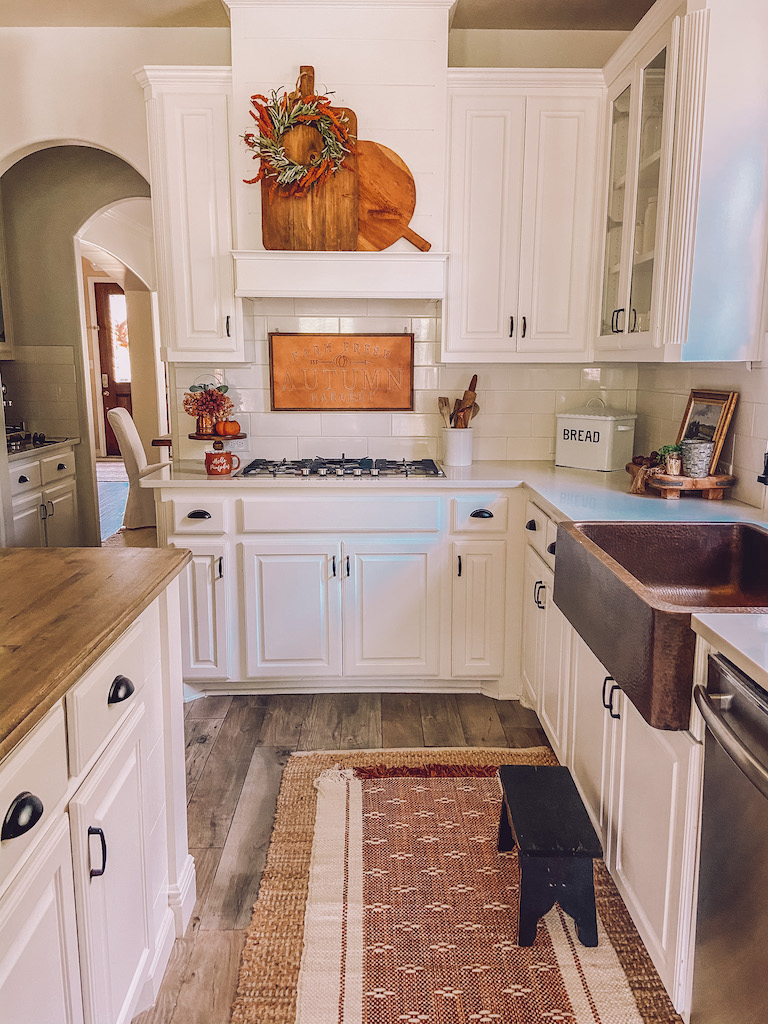 I also decorate my vent hood with wreaths, such as this pretty plum-colored option.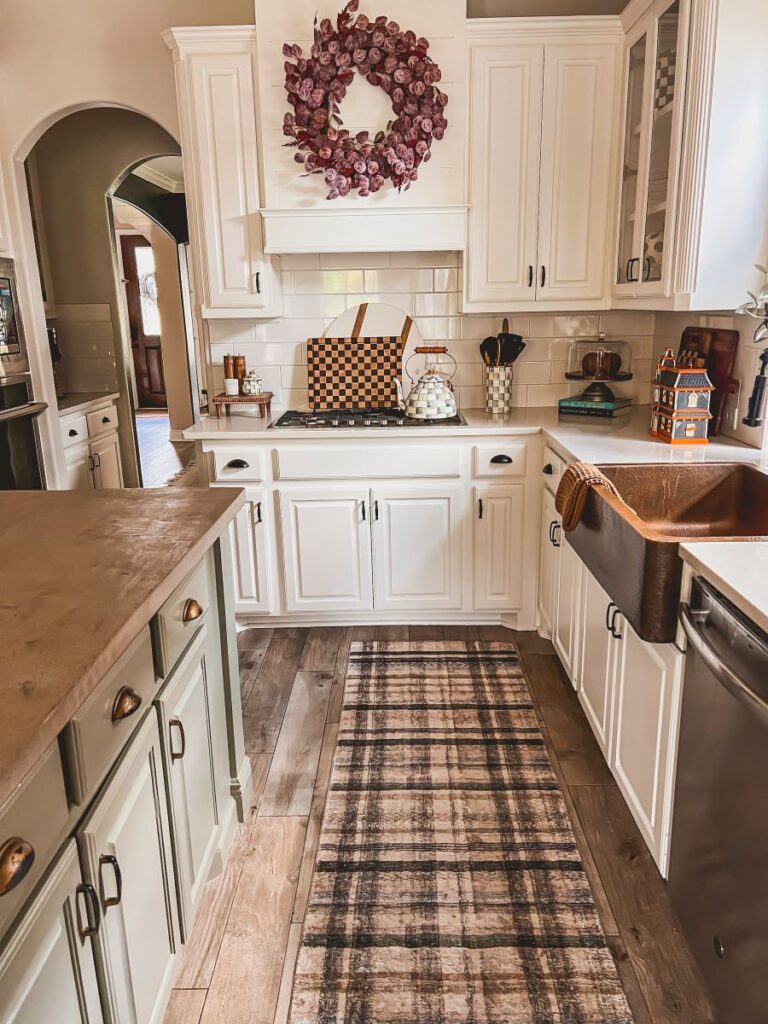 A simple green wreath could also stay up all year without needing to switch it with the seasons!
Copper accents also bring in so much warmth to the kitchen, such as mini pots and pans, mugs, or signs.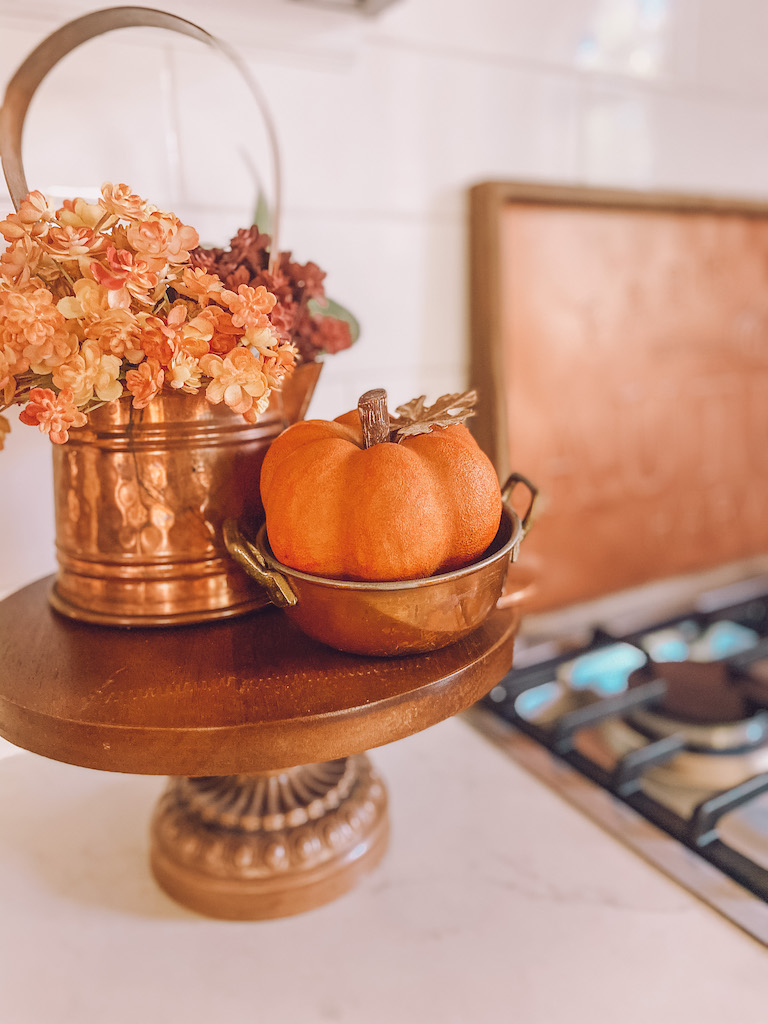 The combination of copper elements on this wooden cake stand is an easy way to tie in fall decor to a small space.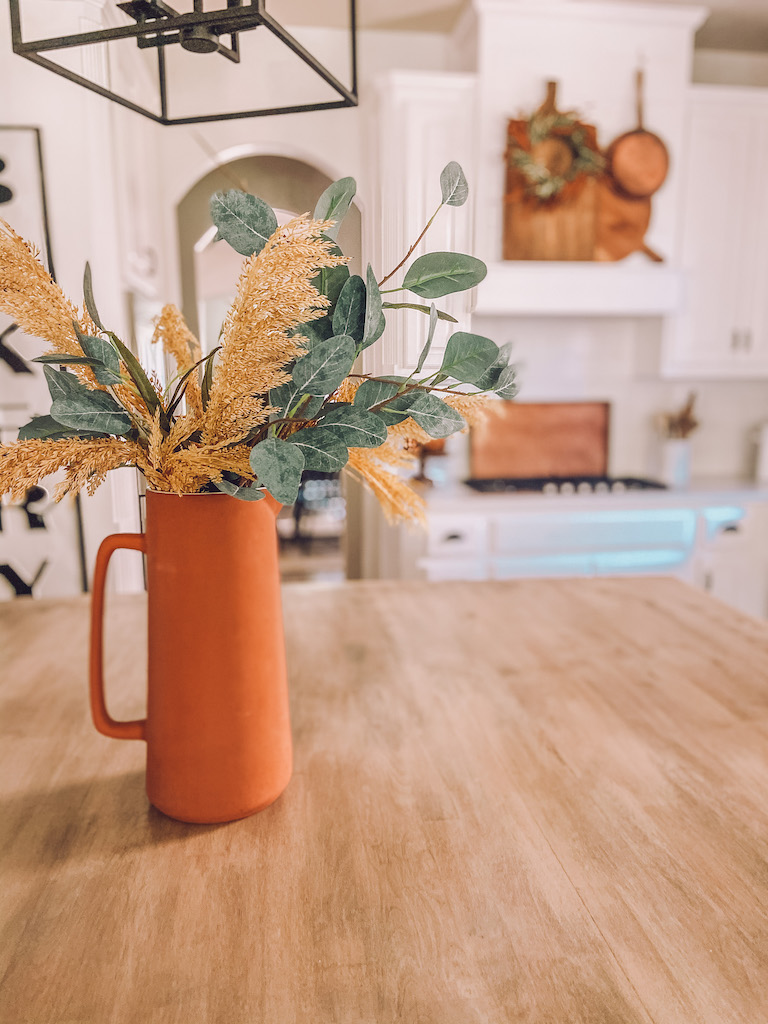 Finally, faux florals in any sort of vase (or pitcher!) tie the whole look together for an inviting, cheerful, and cozy kitchen space. I shared additional details and ideas on How to Decorate Your Kitchen for Fall on a Budget if you'd like to check out more inspo!
Dining Room and Tablescapes
Even if you're not hosting a gathering, creating a pretty fall table to just enjoy yourself is one of my favorite things to do. There are endless variations that you can cater to your preferences and easily swap out with each season or holiday.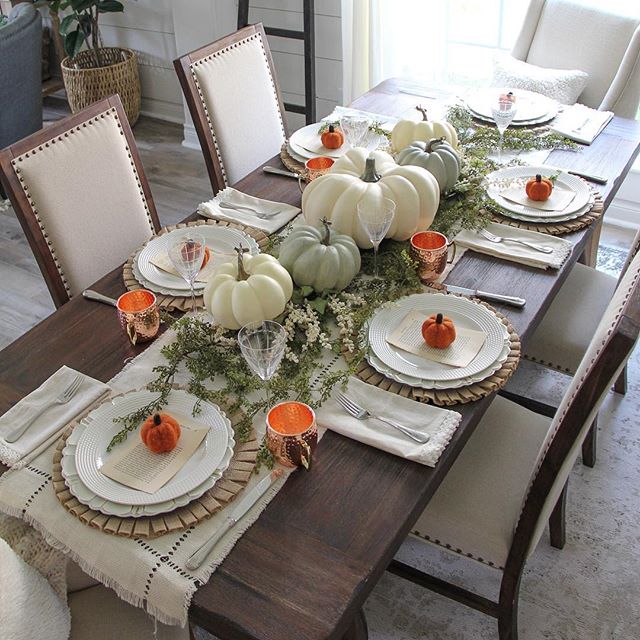 I usually start with a runner or piece of fabric as a base down the center of the table, followed by some sort of garland or greenery layered on top. Then, I sprinkle in accents like pumpkins, candles, or florals in orange, yellow, and red shades.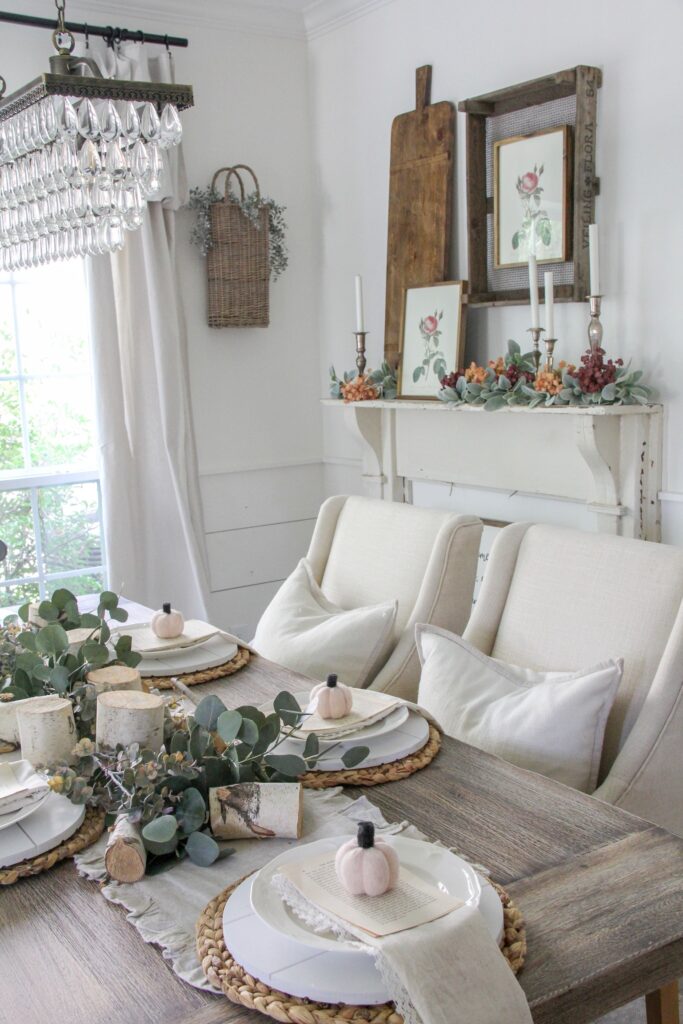 When I think of fall, I think of natural elements like birch trees or even dried out orange slices! These were so easy and you can check out my post on how to make Homemade Dried Orange Wheels if you'd like to replicate them as well!
Sunflowers are also my go-to for fall decor and are so cheerful and happy. I love the combo here of sunflowers, orange slices, and mini fabric pumpkins here for some fun pops of color.
You can also check out my Simple Tablescape with Fall Colors post for way more details on how I created this look.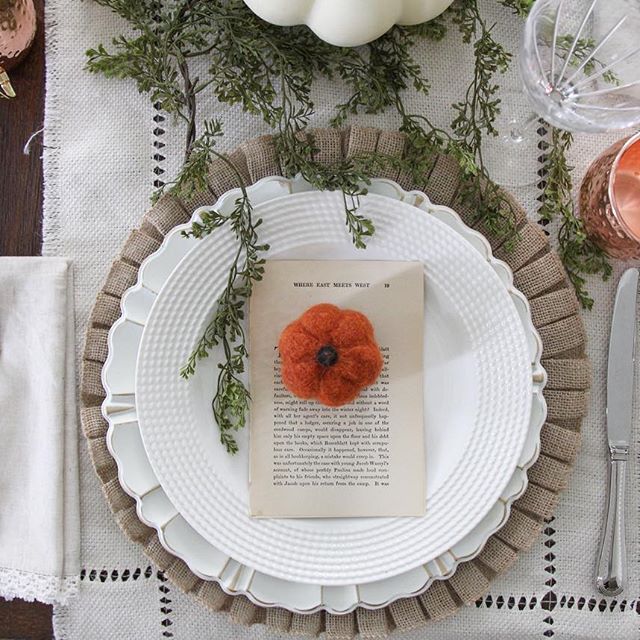 You can also get creative with each place setting, such as a page out of a vintage book that you can find at thrift stores, garage sales, or online.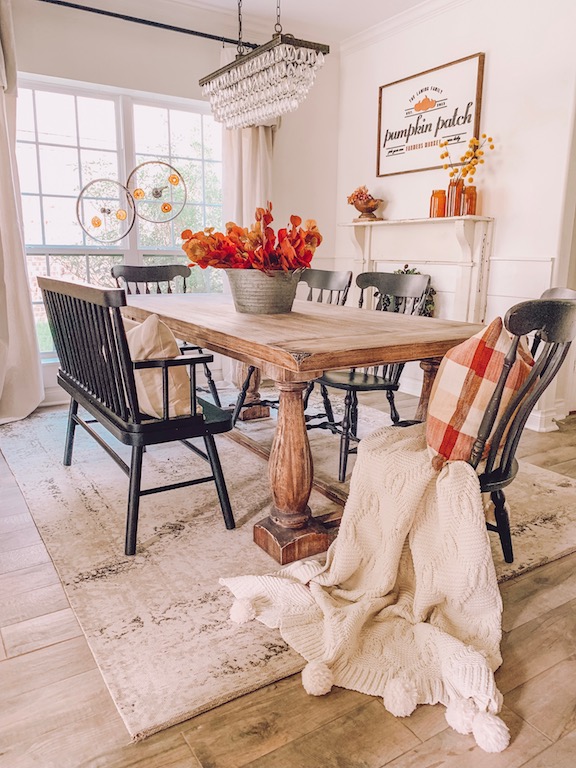 Finally, don't feel like you need to do an elaborate tablescape with full place settings. Here is a simple, bare table with a larger centerpiece that I created with a galvanized bucket and fall stems from Michaels that I loved just as much as the decorated place settings.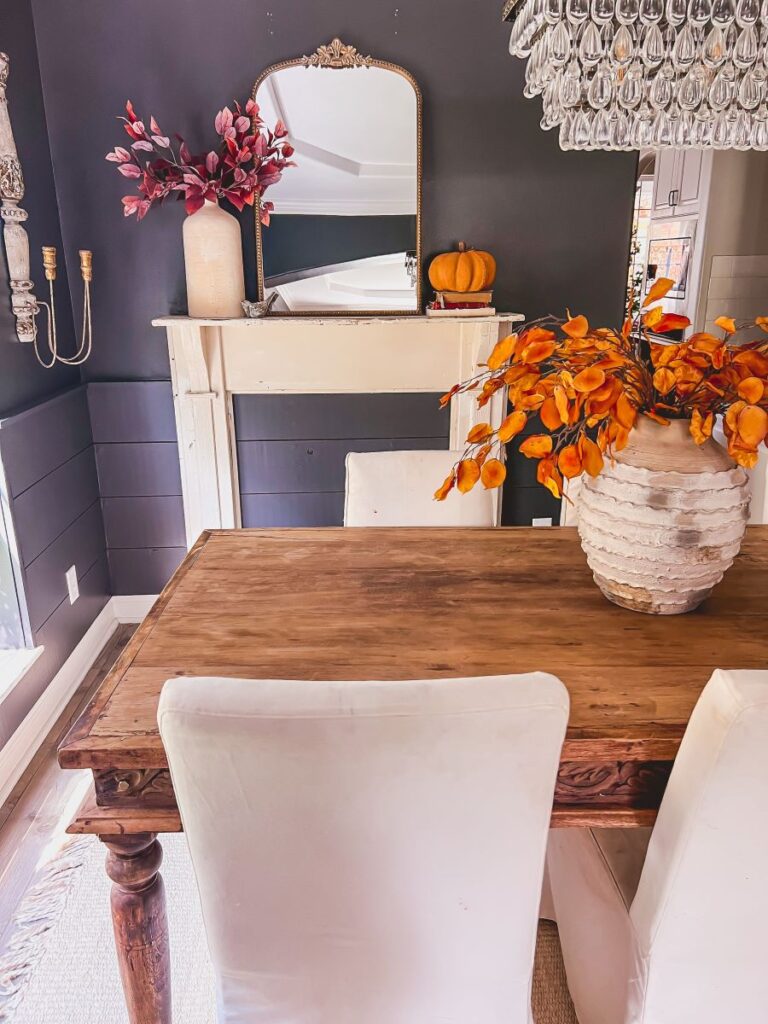 Bedroom
While most of my fall decor is in the main areas like the kitchen and living room, I also like to sprinkle in just a few touches in my bedroom. Since we spend about one-third of our time sleeping (or at least that's the goal!), I figured why not also make my bedroom cozy and welcoming, too?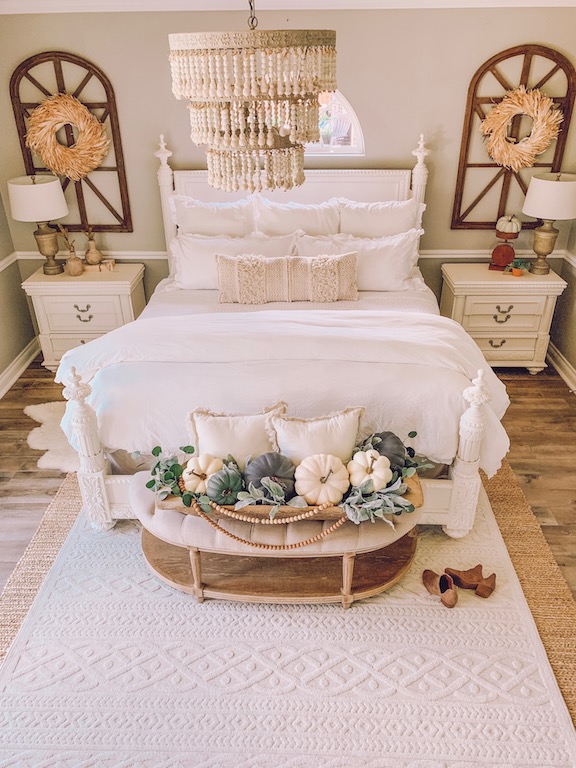 Fall wreaths layered over the wooden arches above our nightstands added a simple decor element that I can reuse year after year. I also tied in a wooden tray of faux fall pumpkins in pretty and calming shades of blue, green, and white on the bench at the foot of our bed.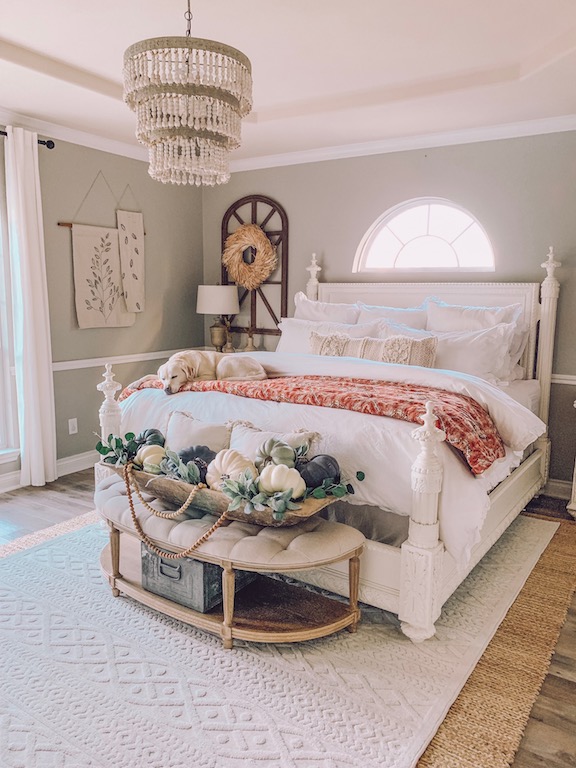 A soft blanket in fall shades also added in a pop of color! Our previous dog, Shiloh, was such a good girl who enjoyed cozy blankets as much as we did.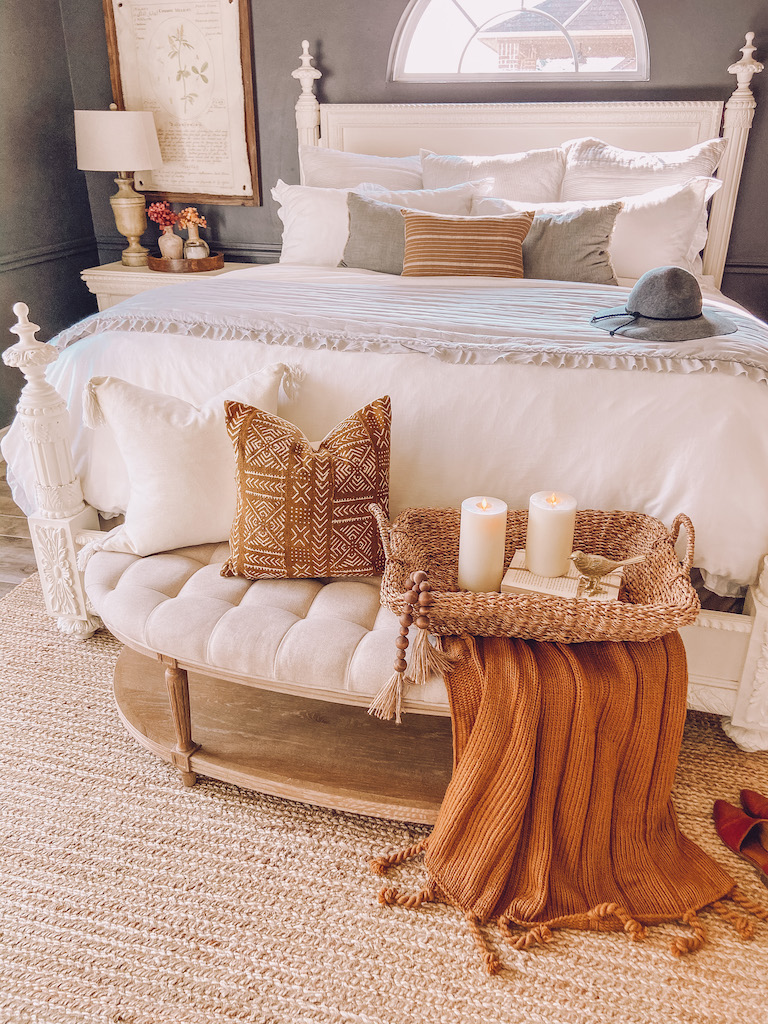 Here is another variation with a throw blanket at the foot of the bed, plus some pretty fall pillows sprinkled in. Swapping out those pillows, pillow covers, or accent blankets can transform the whole space in just a matter of minutes to help your bedroom be an inviting, beautiful oasis without needing to spend a lot of money.
Anywhere Accents
I've moved this cute "Pumpkin Patch" sign around my house several times and love how signs can be placed pretty much anywhere! My entryway doesn't usually stay this tidy with three little kids, but a girl can dream! 🙂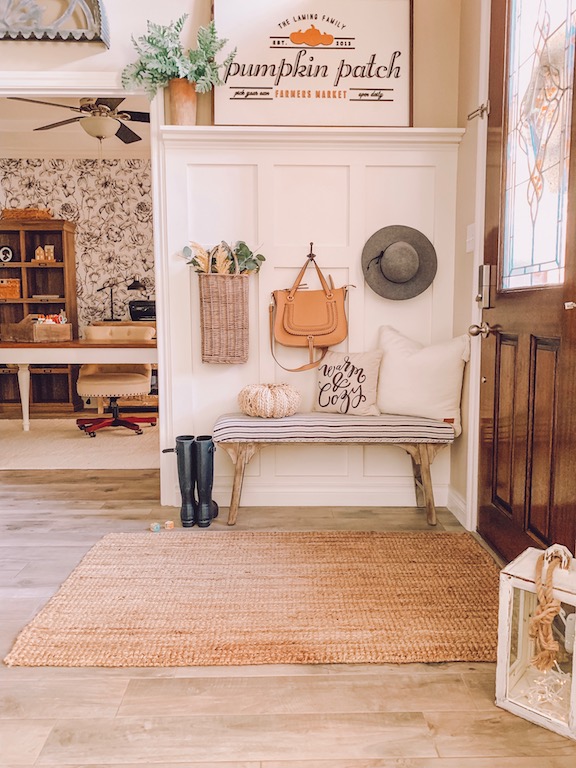 If you prefer real flowers to faux stems, mums come in so many different sizes and shades. Just be sure to water them by soaking them in a container of water for about 20-30 minutes every week or so, rather than watering from the top like other flowers several times a week. Mums last way longer when they absorb water through their roots!
You can also decorate under the bench! Of course, pumpkins are a great choice from September through November for fall vibes.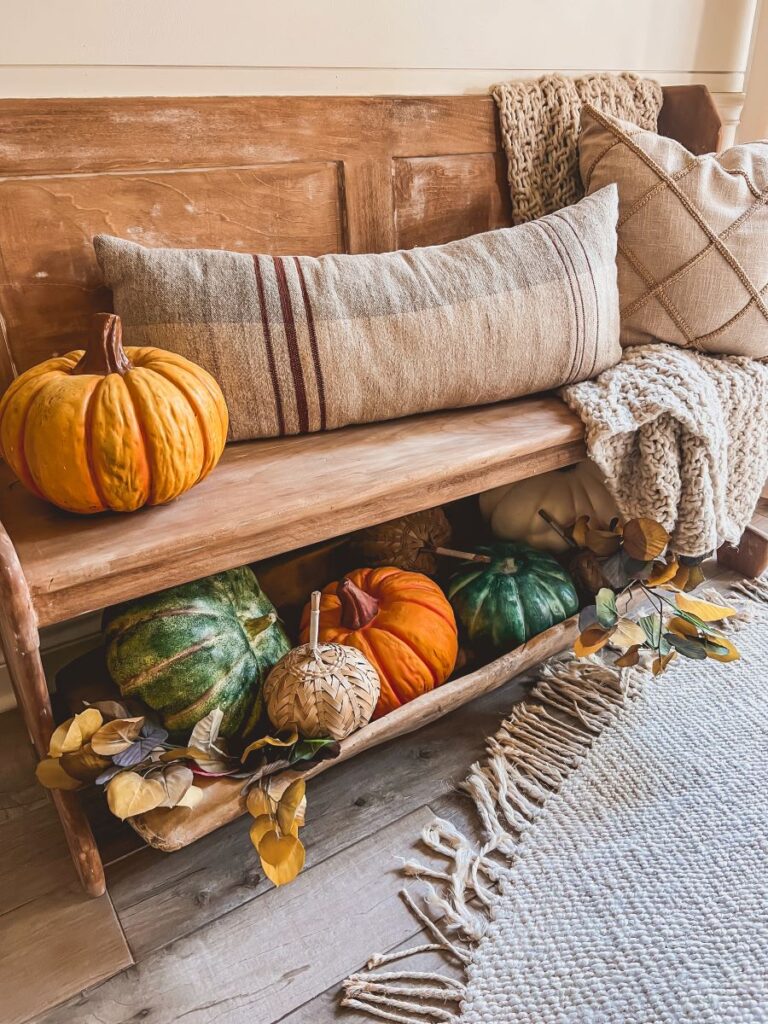 Besides signs, mums, or pumpkins you can also pepper in fall decor through apple and sunflower accents, copper mugs, small area rugs, wreaths, and paintings. These small accents are great for powder rooms, hallways, end tables, countertops, or any other little areas that could use a little spicing up.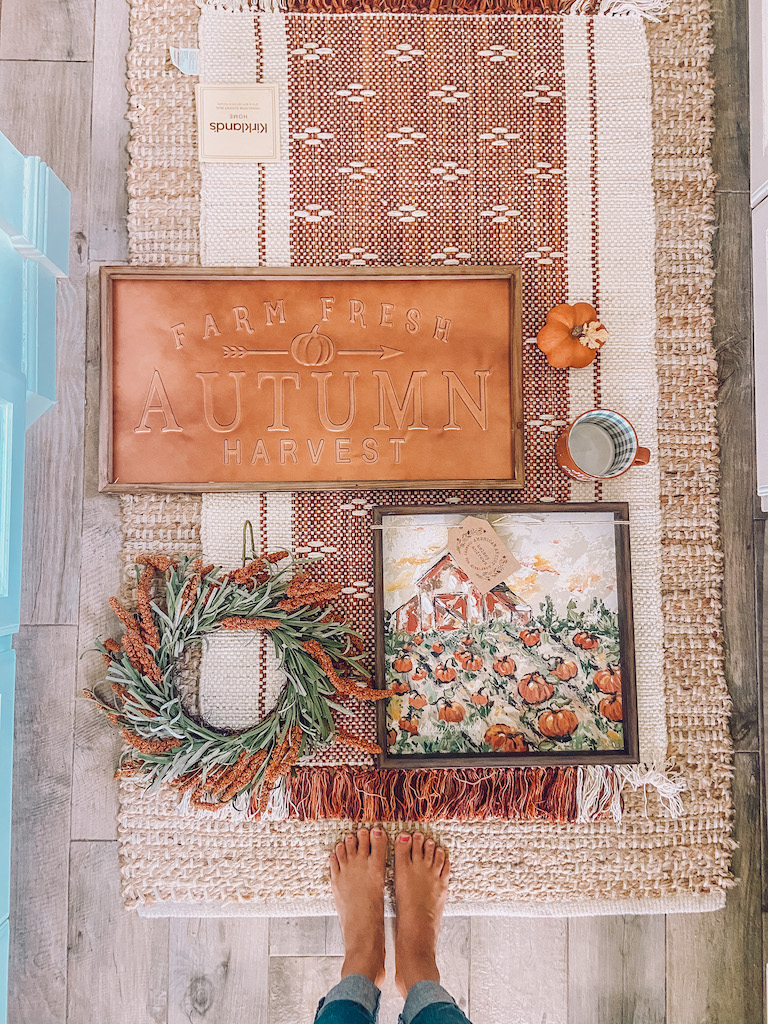 Another budget-friendly option instead of buying paintings is to simply print out a picture that you like and frame it, which you could easily do to replicate these pretty flower frames.
Finally, don't be afraid to get crafty and make your own fall decor! This orange and leaf garland was super simple and I loved how it filled the space above our dining room mantle. If you'd like to replicate this, you can check out my DIY Fall Garland with Oranges tutorial!
Happy Fall, Y'all!
I get asked a lot about my favorite decorating rules, but my number one design tip is to always just follow your heart and do what you love! As you can see, my home and decor has evolved greatly over the years because I love trying new things and get inspired all the time. Rather than redecorating my entire home year after year, I simply just move things around, repurpose previous fall decor in unexpected ways, or make my own things.
If you'd like more fall decor ideas, you may also enjoy previous posts like Five Easy and Quick Tips for Fall Decor, Neutral Fall Home Decor Inspiration, or How to Transition Your Home for Fall. I hope these tips and inspiration are helpful and I hope you have a wonderful day!
XoXo,
Leanna