DIY Playhouse Makeover : Before & After
I am so excited to finally reveal our DIY Playhouse makeover! We have had this playhouse for about 3 years now, and over the past years we have gotten so much use out of it! The kids play with it daily! However, it really had seen better days. I decided to give it a fun makeover and it really came out so cute!
The playhouse is originally from Walmart and is such a great price for a playhouse made out of real wood! Last year, Simon built a stand for it so we could add a slide. We used to have a ladder on it as well, but have take it down until Oliver is old enough to climb up and down the latter safely. They now use the slide to climb up to the house!
DIY Playhouse Makeover
Before: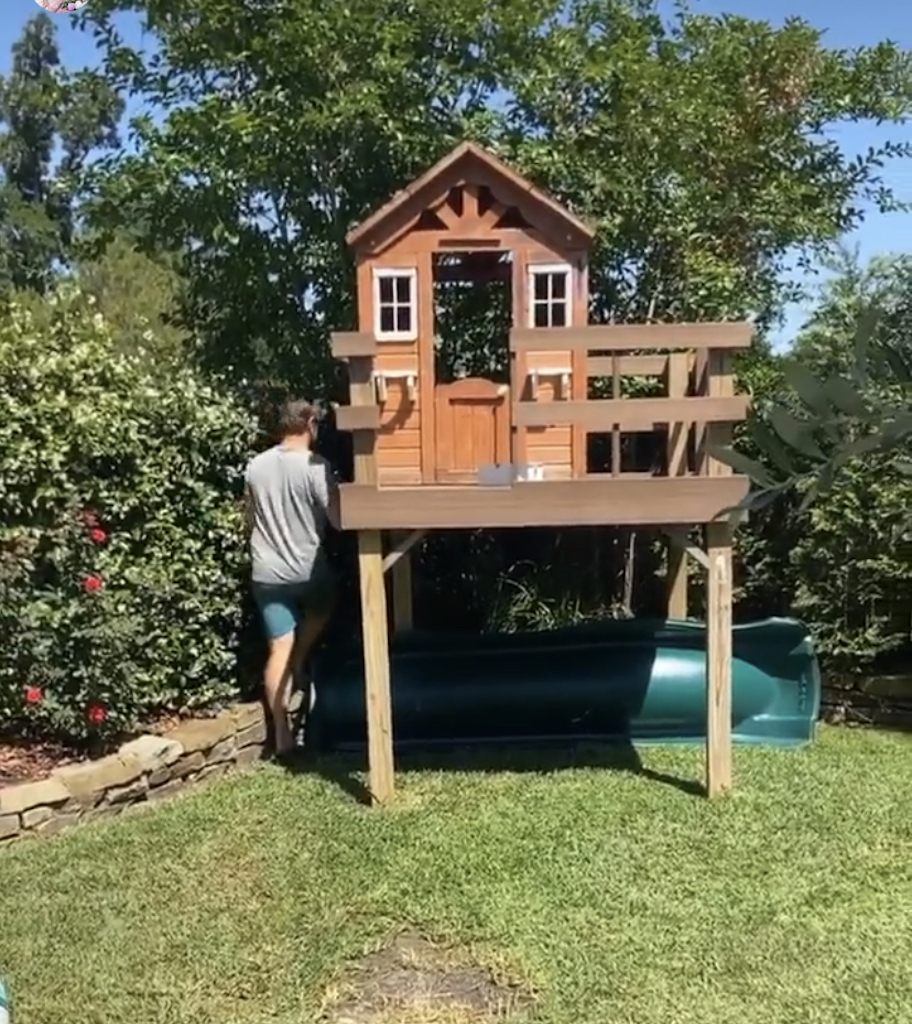 After: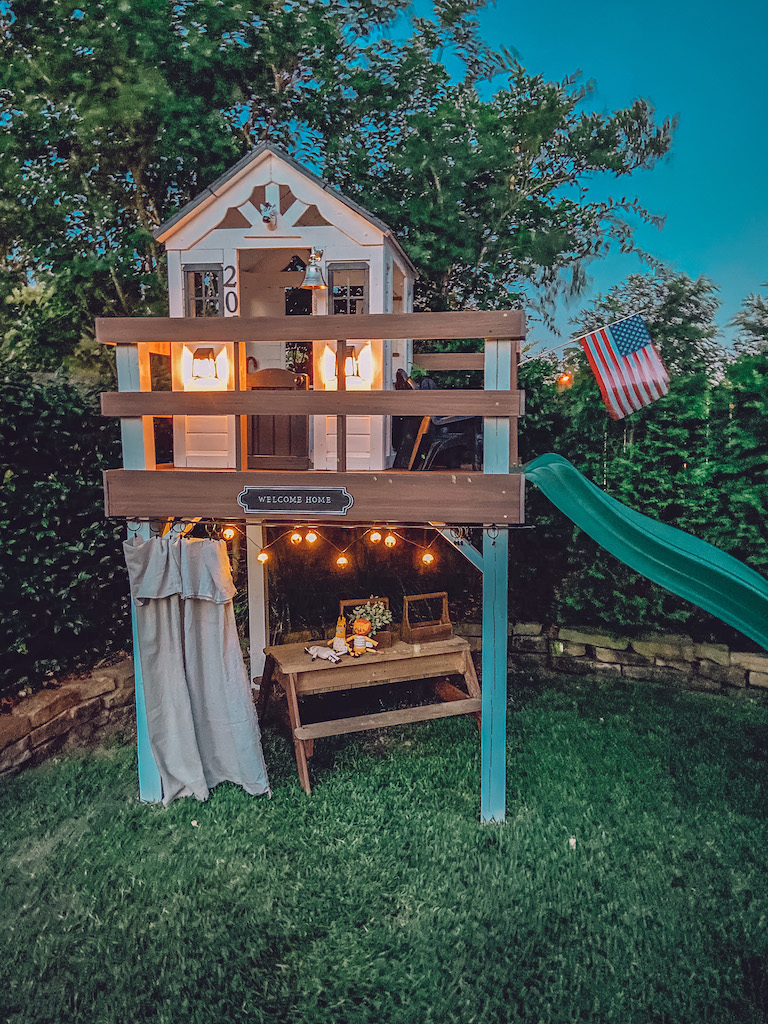 How to Paint a Playhouse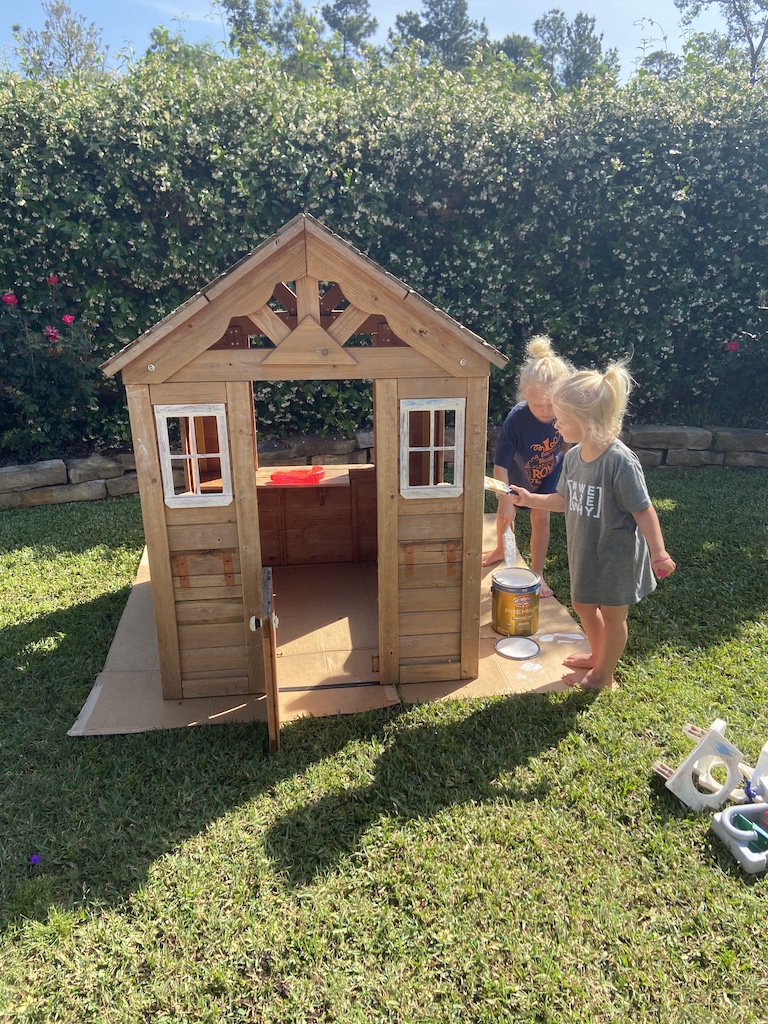 Materials for DIY Playhouse Makover
Pressure Washer
Exterior Paint and Primer Premium Glidden – white and black
Roller
Paint Brush
Direction to Paint a Playhouse
Pressure was the entire playhouse to remove any dirt and grime
Take off the hardware including the windows, sink, door handle
Wait for the house to completely drive over night and begin painting
Paint the inside and outside of the house white
Paint the roof, doors and windows black
Spray paint the sink and door handles using RUST-OLEUM Paint and Primer 2x ultra cover
This really seems like the easiest DIY ever! You could also use a paint sprayer that would take a lot less time to paint! I got the kids involved for the day and it was a fun summer project for us to do together. They loved helping, even if we all got covered in paint!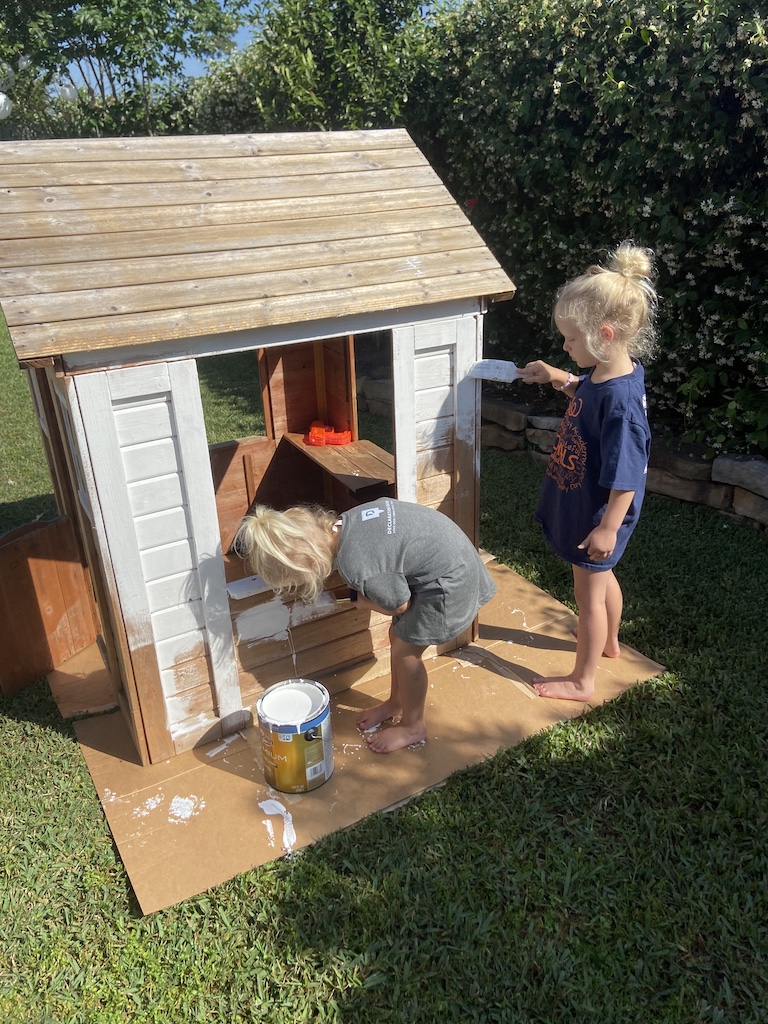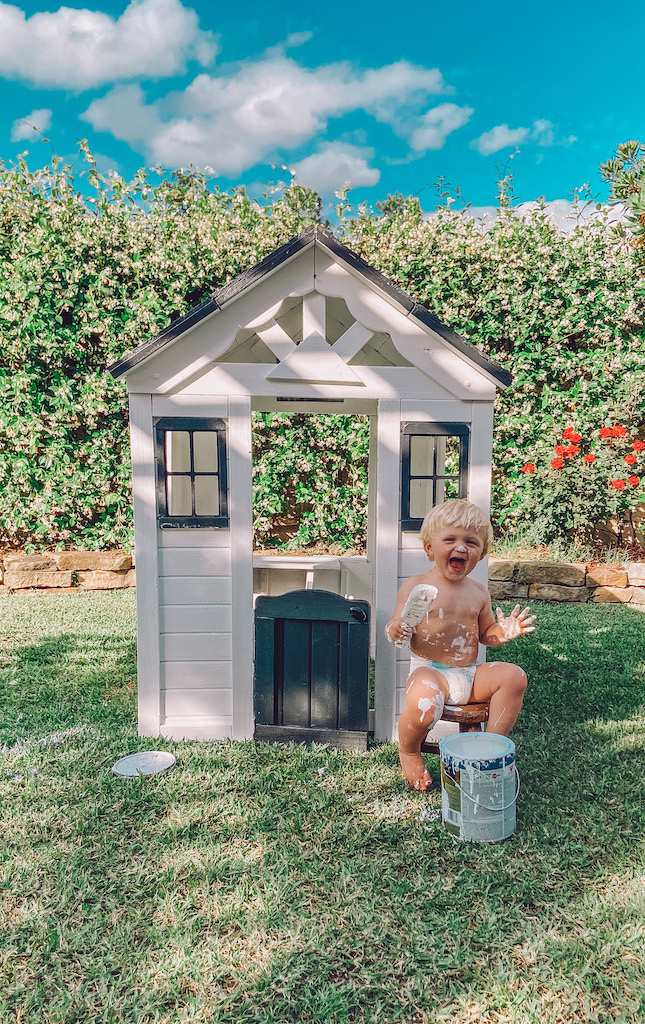 Decorate the Playhouse
I wouldn't be a home decor blogger if I didn't decorate this playhouse with little finishing touches. I found most of the items at either Target or Hobby Lobby.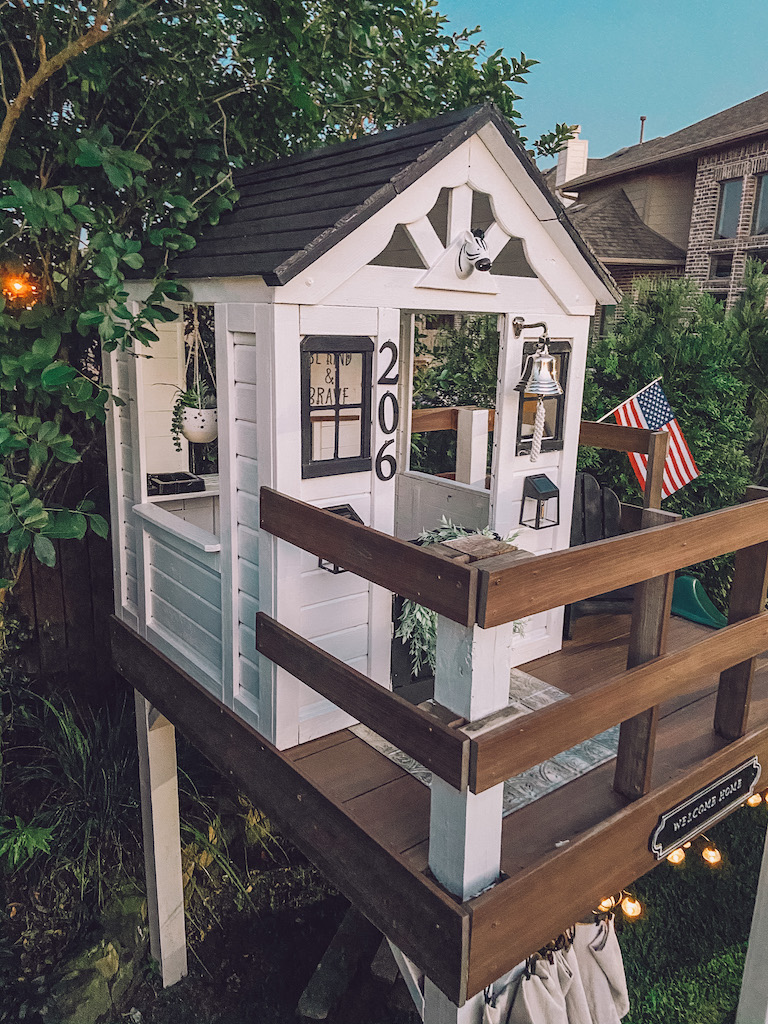 My favorite is the dinner bell, but our neighbors might think differently.
I also found these cute house numbers at the dollar spot at Target! There is no reason for picking the number 206, they were the only numbers left!
To add some light at night, I installed these solar panel lights from Target. They are so cute at night and love how they light up the backyard.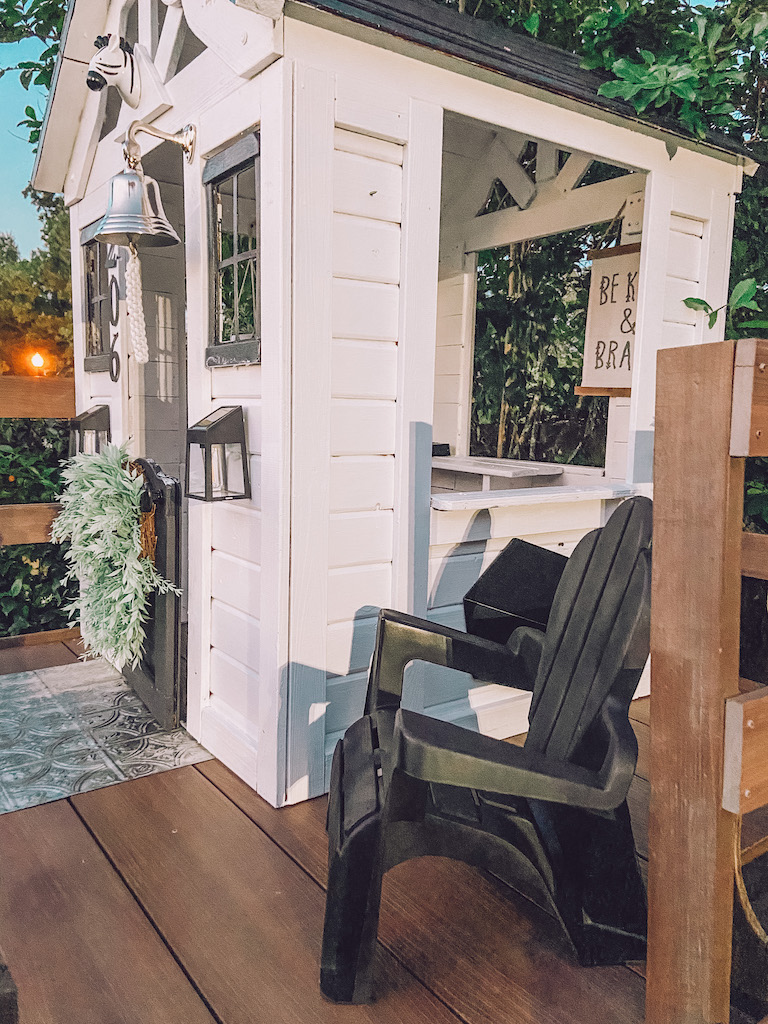 For the bottom of the playhouse, I do have plans for Simon to build out a small deck (shh don't tell him yet). But for now I put their small picnic table under neath and hung some curtains out of drop cloths!
If you want to learn how to make no sew drop cloth curtains I have a blog post about it here!
I then added some battery hanging lights and an american flag for the final details!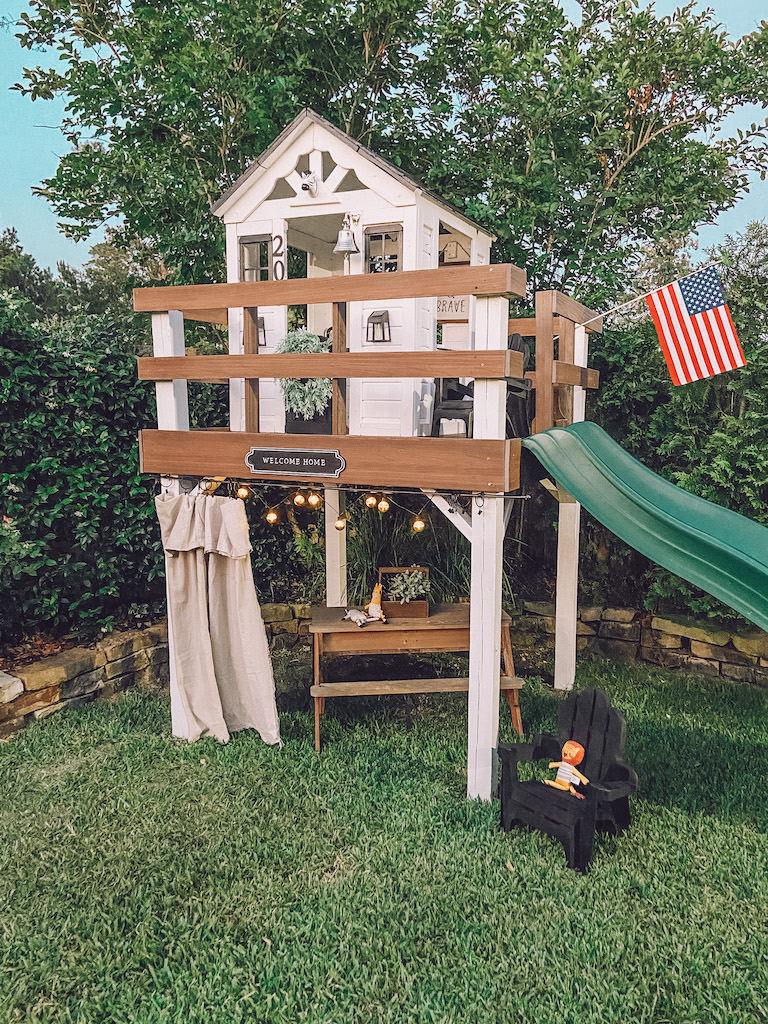 How do you think it turned out? I love to look at the before and after side by side to see what a big difference it made!
xoxo,
Leanna
Here are some links for your shopping convenience