Sharing is caring!
Summer time is one of my favorite times to host parties at our home. I love to throw an outdoor summer party! But one of my favorite outdoor summer parties to throw is for my girl friends. Being at this stage of my life it is so important to have a supportive group of friends. This summer, I threw my favorite gal pals a dinner party to show them my appreciation of our friendship!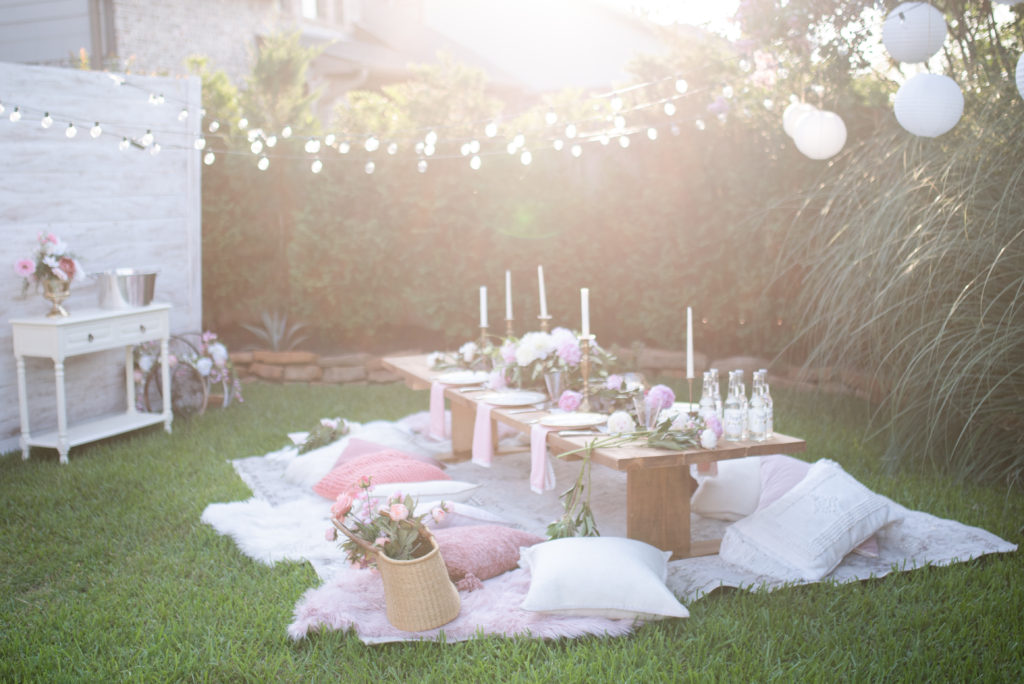 All photos were taken by Shannon Reece Jones Photography. If you live in or near the Houston area, I highly recommend her! She also did our newborn photos for Oliver which you can view here.
How to Host an Outdoor Summer Party
For this post I have outlines some of my tips on how to throw an outdoor summer party for you and your friends! You could also use this idea for a bridal shower, baby shower, bachelorette party and MORE!
Create an Inviting Outdoor Tablescape
My goal for the outdoor summer party was to create a whimsical evening with all things girly.
For this outdoor party my amazing hubby helped me make this long farmhouse style table. I wanted a long table that we could all sit at together with enough room for food and drinks.
Trader Joes is my favorite place to find any flower, especially peonies. Peonies were used everywhere to create this outdoor tablescape. I used antique place settings (which I borrowed from a family friend,) and antique candlesticks that I had around the house.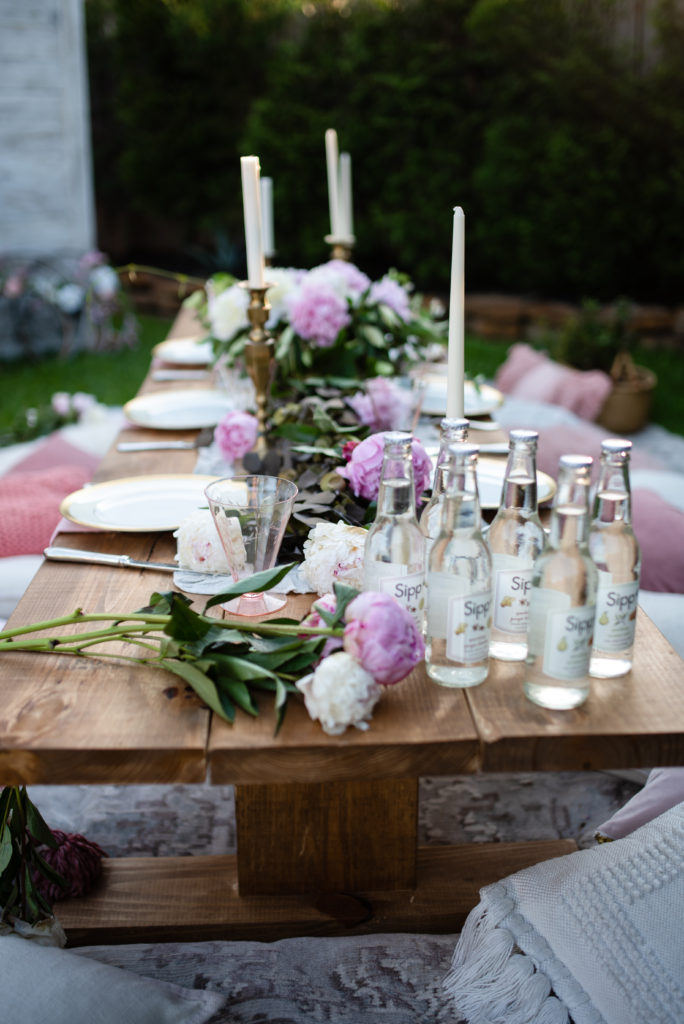 Next, I made a fresh flower arrangement using the peonies from Trader Joes for the center of the table. I draped a eucalyptus garland down the center and added in more fresh peonies.
I used pink napkins to add in more subtle pink touches. To fold the napkins, I folded them vertical in three, and then draped them off the table, under the plates.
Last but not least, I randomly added the candlesticks around the place settings at various heights.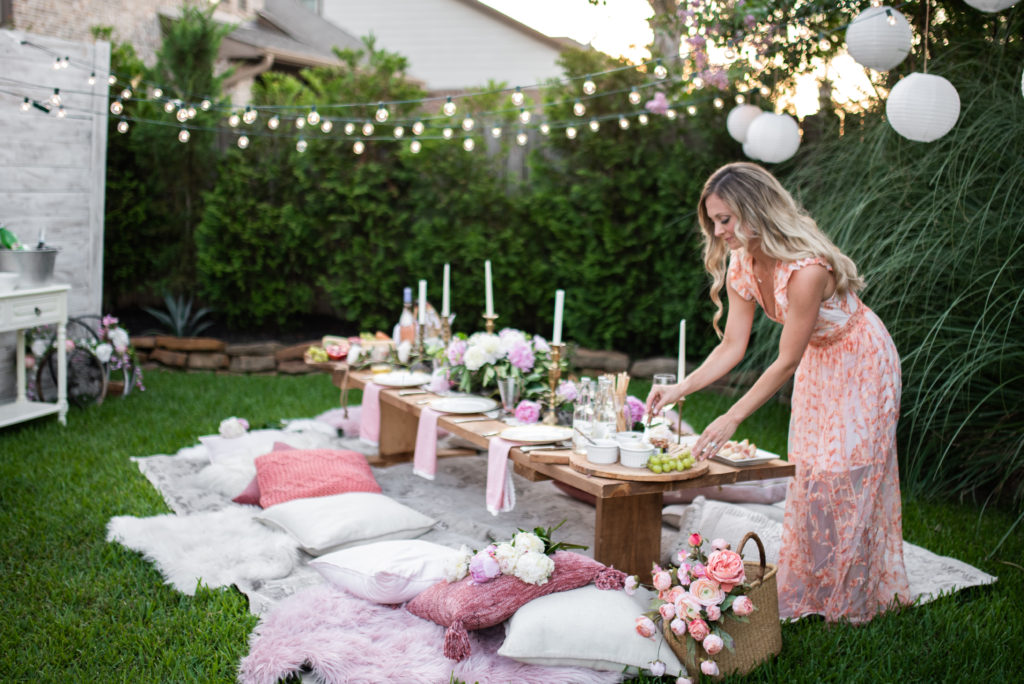 You can see more details on this outdoor tablescape here.
Have Comfortable Seating Outside
Next, I used pillows to create a cozy and comfortable seating environment. I gathered up pillows from around my house to make sure we each had enough to sit on.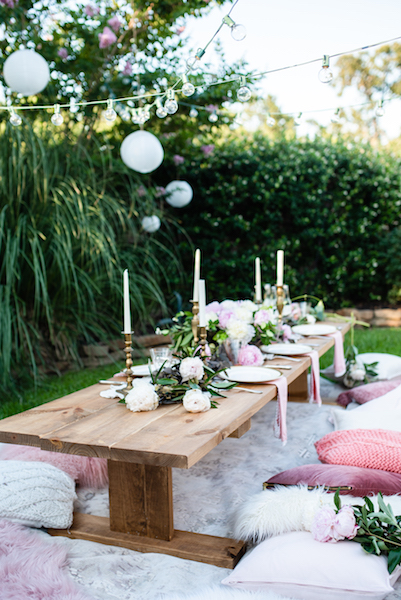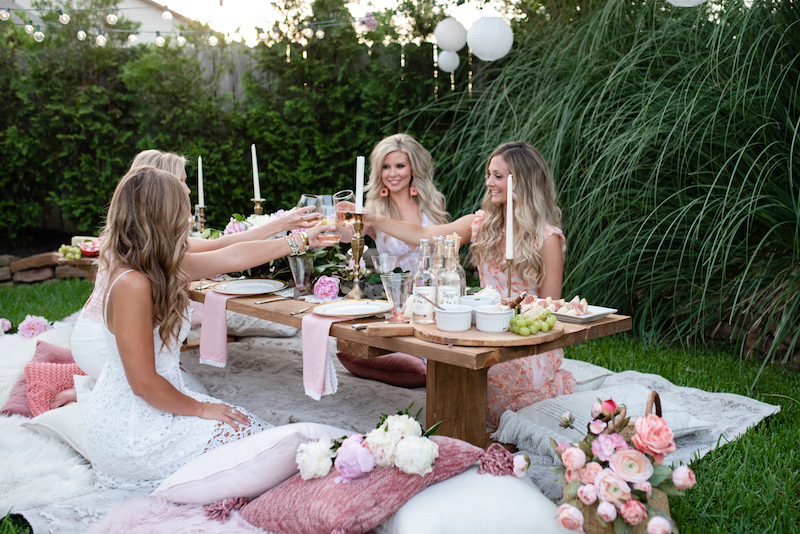 Light Appetizers and Refreshing Drinks
You can't throw a party without food and drinks! I made a simple charcuterie board and styled it with pomegranates, grapefruits and kiwis to add more color. This simple tip made the charcuterie board look so beautiful I almost didn't want to eat it!
I also made a very simple appetizer: pears with goat cheese and pancetta. It is very easy to make and looks so pretty plated!
To make the pear appetizer: Cut pairs in slices, add a dollop of goat cheese and wrap with pancetta.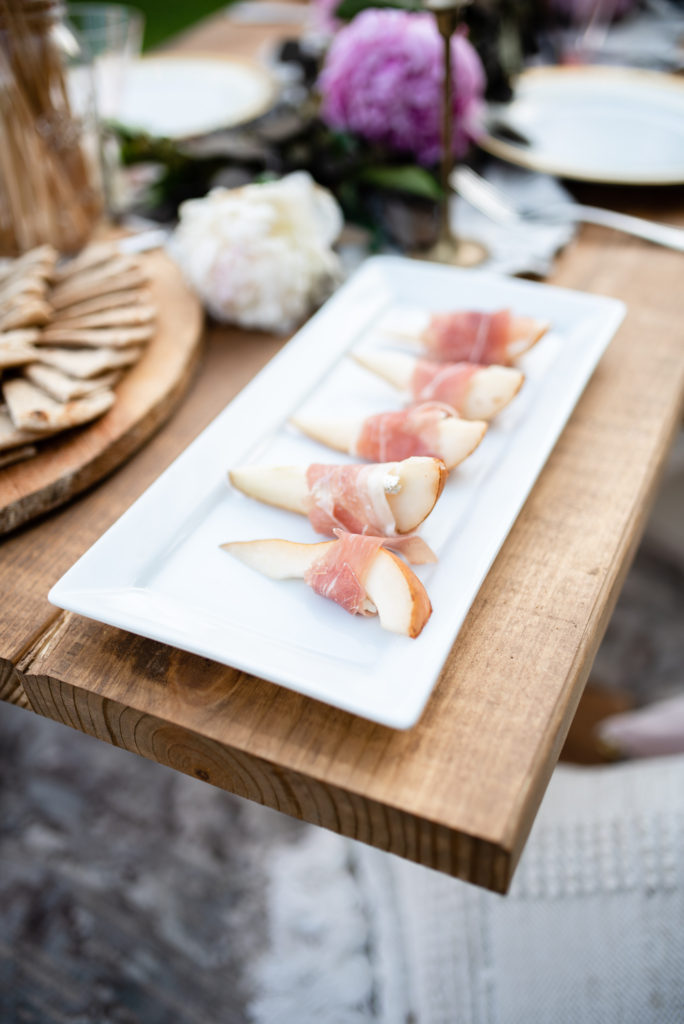 For drinks we drank my favorite Rose and also had some champagne! To keep the drinks cool, I made ice cubes with rose petals.
To make the rose ice cubes; I first used a cheap ice tray and filled it up about half way with water and froze it. Next, I added rose petals and filled up the tray with the rest of the water and then put it back in the freezer. Don't forget to do this a day or so before the party! You will need time for them to freeze! It was such an easy way to make an ice bucket look pretty don't you think?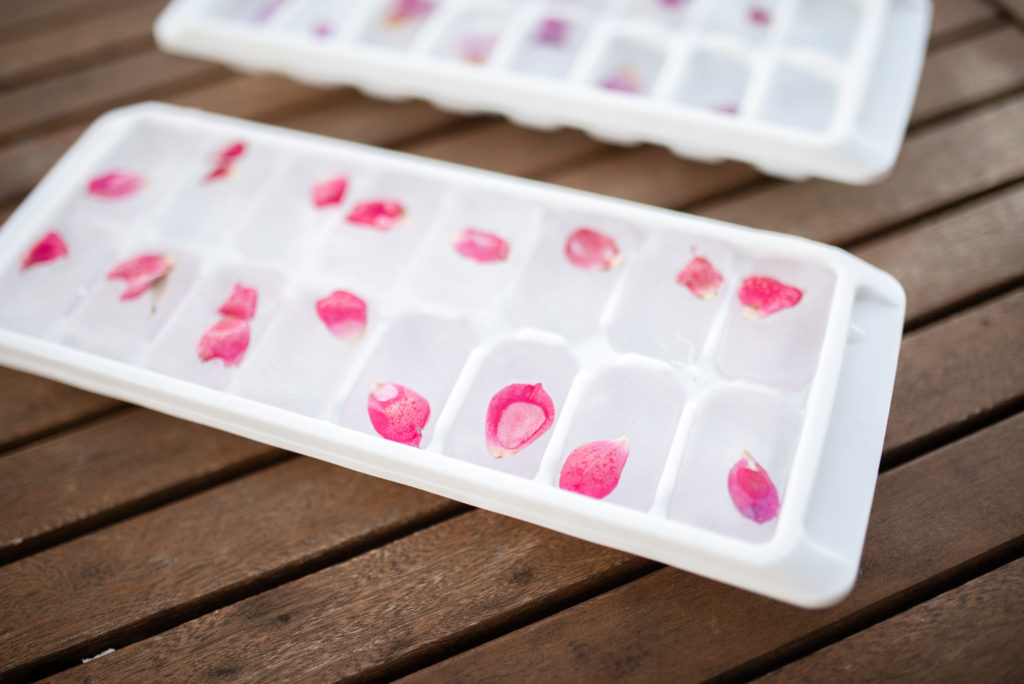 Set the Mood for Your Outdoor Party
Setting the mood seems like a simple idea but it is so important when throwing a party. I wanted this party to be relaxing and calm but of course also fun!! I added candles to the table to creating a calming environment. The final touch was the addition of the string lights that hung above the table for a fun little touch!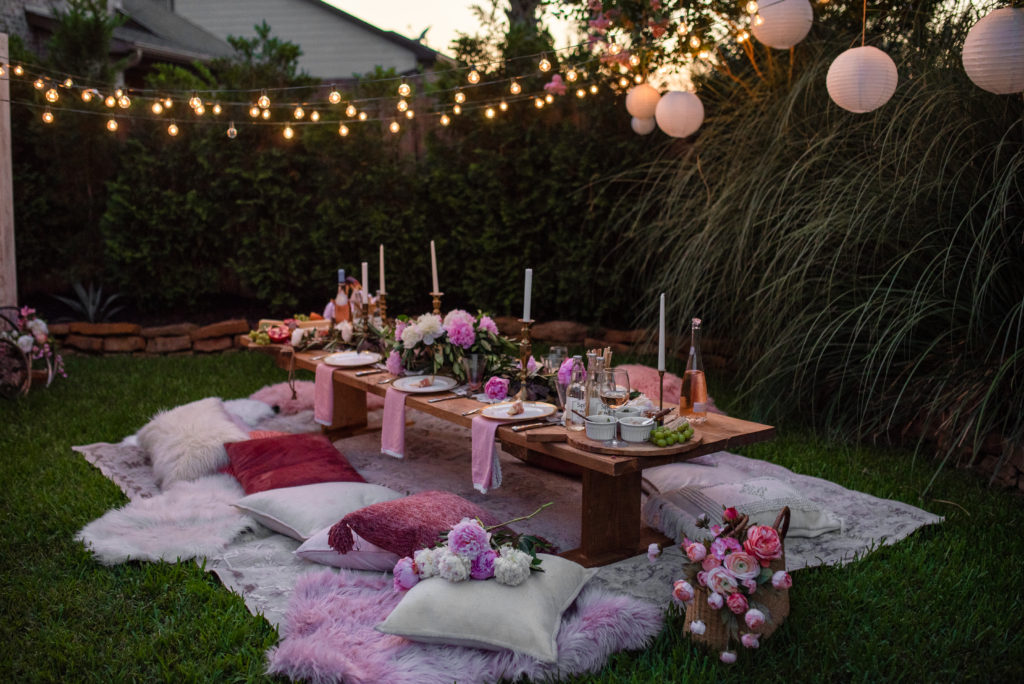 Have fun!
Sometimes for me it is so hard to stop worrying about making sure everything is perfect and to remember to have fun. Don't forget to laugh with your besties, eat good fun, and drink the night away because that's what nights like this are for!
Our Friends have also have also written some amazing posts on how they created beautiful outdoor spaces in their own home!
Deb and Britt over at the Vintage Society Co. has outlined how you can create a beautiful backyard in 5 easy steps! This is a great article to get you started on creating a backyard that you can enjoy with your friends and family this summer!